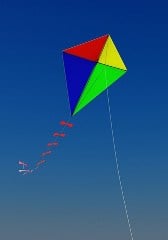 How to Make a Kite
Let's Get Ready for Baby!
Sign up for our monthly pregnancy email series, and you'll get regular updates on your baby's development, helpful timelines to get ready for their arrival, must-have baby needs and so much more! PLUS, you'll get instant access to the MomsWhoThink "Ultimate Guide to Baby Naming in 2022."
CLICK HERE
to get started!
When is the perfect time to learn how to make a kite? When the cold, miserable days of winter have passed, and spring is in the air!  The crocuses are blooming, the temperature is rising, and the days are getting longer.  Before you know it, the kids will be home for the summer, and the days will have gone from warm and breezy, too hot and still.
Learning how to make a kite is the perfect spring time activity. Chances are, you have most of the needed materials in your garage or shed, and if you don't, they can be picked up inexpensively at your local hardware store.  If you plan for it, you can make a whole day out of this kids activity.  The morning can be spent learning how to make a kite, and then decorating it, and then you can pack a picnic lunch, and head to your favorite beach or park to fly them.
Since they're easy and inexpensive, you can let each child make their own, and personalize them any way they'd like.Break out the markers and paint, and let them go wild. On the way to the park or beach, tell stories of your own kite flying days as a child.Recall your triumphs and trials. The kids will be enthralled to learn that mom and dad once ran down the beach, barefoot, the wind whipping, hair flying, clutching a kite string with all their might.
 When you're ready to get started, gather the following supplies:
– One 24-inch stick
– one 20-inch stick
– large piece of paper (at least 26" X 26")
– tape
– lightweight string or rope
– craft knife
– ruler
– pencil
– scissors
– ribbon
– paints, crayons, etc
Now that you've got all your supplies together, you're ready to start the creative process. Follow these simple steps, and you'll be ready to hit the park or beach in no time.
Step 1. Take the two sticks, and make a cross.
Step 2. Tie the two sticks together, making an X with the string. Use a drop of glue to make the joint stronger.
Step 3. Cut a notch in the bottom of each stick. Be sure it's deep enough for the string you're using to fit through. Thread the string through all the notches, keeping the string taut, this will be the frame of your kite. It should be a diamond shape.
Step 4. Pull the end of the string back to the middle of the kite, and wrap the string tightly around both sticks.Make another X with the string while wrapping, and tie it off in a knot.
Step 5. Cut the paper larger then the frame by a little bit.Tuck the extra around the edges and glue or tape down.
Step 6. Poke small holes in the top and bottom points.Cut a 2-foot piece of string, and knot through the holes you just made. This is the bridle of your kite.
Step 7. Take the rest of the string, and tie it about halfway down the bridle, this is your flying string.
Step 8. Tie a two foot piece of string to the bottom tip of your kite; use the ribbon to make bows along the rope. Adding a tail will make your kite more stable.
Step 9. Decorate!
It really is that easy to learn how to make a kite. Why not make it an annual spring ritual for you and your children? Take a picture of them with their kites each year, and keep a special kit album or scrapbook. It will serve as a record of how they've grown from year to year, how their kite making skills have progressed and improved, how fashions have changed, how your favorite beach or park has changed, and even new family members that may have come along. 
Happy Spring! Now, go fly a kite!