Are you a steak lover looking for a new cut of steak to try out? If so, you might want to consider flap steak and skirt steak. While both are delicious options, they have distinct differences that set them apart. In this article, we will dive into the differences between flap steak vs. skirt steak to help you make the right choice for your next steak dinner.
Texture and the location of the cow they are cut from are just two differences between flap steak and skirt steak. It's also important to consider several other factors when comparing the two cuts of beef. Read below to get a complete grasp on what sets the two steaks apart!
Flap Steak vs. Skirt Steak: What Are the Differences?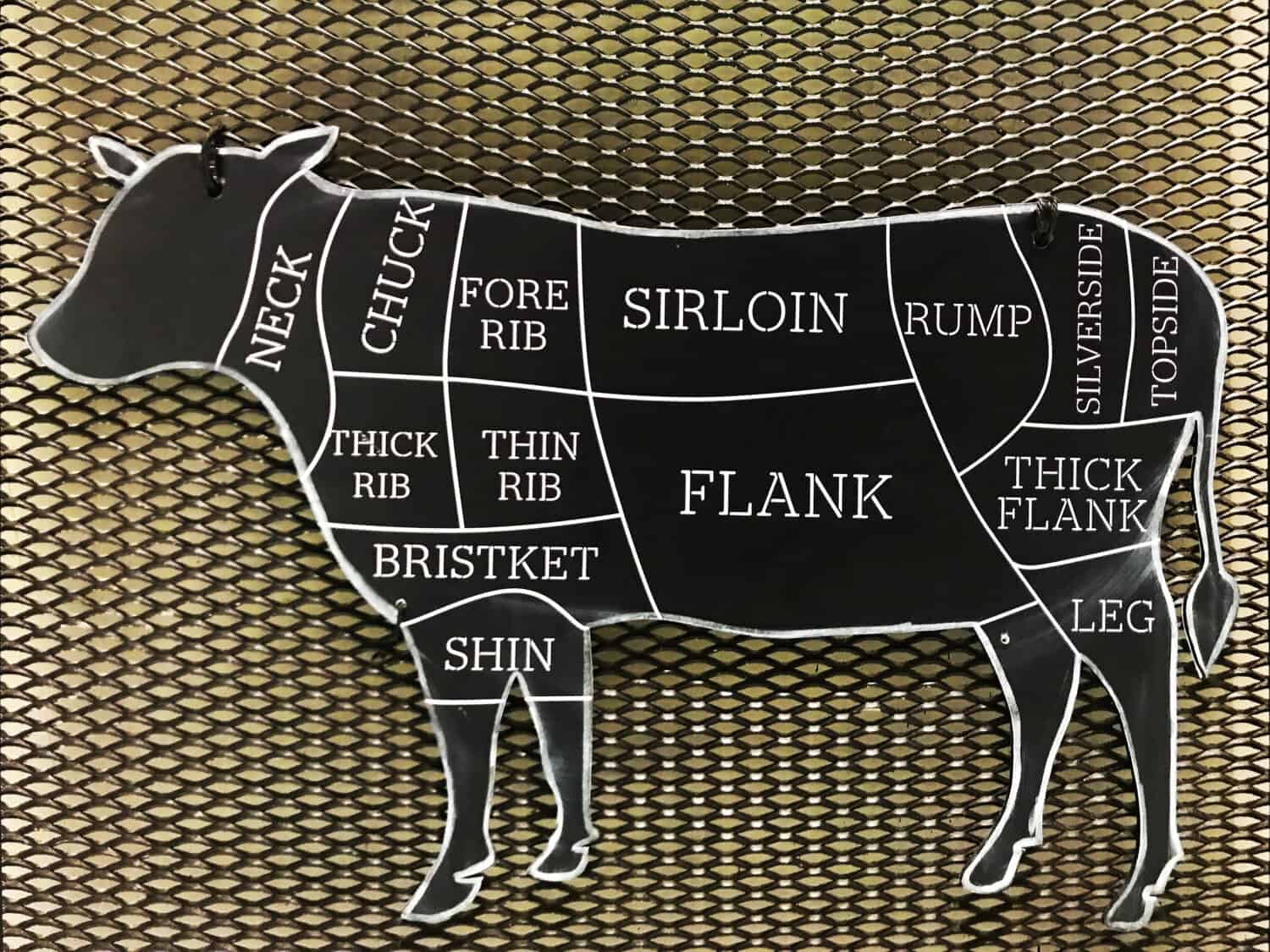 Both flap steak and skirt steak are mouthwatering cuts of beef, but there are many differences to account for when choosing between the two. Let's take a look at the most significant differences between the two!
Texture
The cause of texture differences between flap steak and skirt steak is the fibers within the meat. The fibers in flap steak pack tightly together, while the fibers in skirt steak are more defined but not as close together. Skirt steak's more defined but less tightly-packed fibers make it easier for marinating juices to penetrate deep into the meat.
Flavor
Skirt steak has a stronger, beefier taste than flap steak, which has a more faint beef flavor. The well-marbled meat of skirt steak gives it a rich, bold flavor, making it a popular choice for those who enjoy a robust and beefy taste. In contrast, flap steak has a good amount of flavor but a less intense taste than skirt steak, and it is also a leaner cut.
Cut Location
Flap steak comes from the butt sirloin of the cow, while skirt steaks come from deeper within. Skirt steaks are found in the cow's rib cage or abdominal area. Skirt steaks are also divided into two sections, the inside and outside skirts.
Tenderness
Both steaks can be tender if cut and prepared right, but flap steak will always be noticeably softer. If you want a tender dish, flap steak is the better option unless you don't mind a tougher bite. Marinating for a minimum of a half hour before cooking with help achieve good tenderness with both steaks.
Cutting Methods
Flap steak is usually cut into strips or cubes, but skirt steak is sold whole. Although butchers typically cut flap steak before selling it, you could always request that they trim it and sell it whole. Grocery stores typically sell flap steak pre-cut into strips or cubes.
Nutritional Value
While flap steak and skirt steak are good sources of protein, there are some nutritional differences between the two. A 3-ounce serving of flap steak contains more fat and calories than the same serving size of skirt steak. However, flap steak also has a slightly higher cholesterol content than skirt steak.
Size
When it comes to size, flap steak usually is larger than skirt steak. After trimming and cleaning, an uncut flap steak typically weighs around two pounds, while the inside and outside cuts of skirt steak usually weigh between one to two pounds. This difference in size can be an essential factor when choosing between the two cuts.
What Is Flap Steak?
Flap steak, which comes from the bottom sirloin area of the cow, is a popular cut of beef, also known as sirloin tip or flap meat. This region is found above the hind legs and is known for being a lean and tender cut. If you cook it correctly, flap steak has a juicy and tender texture that is perfect for various dishes.
Because flap steak is a lean cut of meat, it is best to cook it with high-heat cooking methods such as grilling, broiling, or pan-searing. Cutting flap steak thinly and across the grain will help it cook evenly and keep its natural juices, resulting in a delicious and flavorful meal. Whether you're looking to make steak fajitas or a classic steak dinner, flap steak is a versatile option that will satisfy your tastebuds.
2 Best Cooking Methods
If you prepare flap steak wrong or cook it too long, then it can make flap steak tough, despite it being a naturally lean cut of beef. Here are 2 of the most popular cooking methods to prepare flap steak:
Grilling: Since flap steak is a thin cut of beef, grilling it quickly without overcooking is an excellent method. First, brush the grill grates with oil, season your steak, grill the flap steak for 3 to 4 minutes on each side, and then let the meat rest for a few minutes before serving.
Pan-searing and oven-roasting: Pan-searing and finishing cooking flap steak in the oven is a great option to create a juicy and flavorful cut. First, heat an oiled oven-safe skillet, brush the steaks with oil, and season it. Sear the steak for 2 to 3 minutes on each side, and then roast the steak in a preheated oven at 375 degrees Fahrenheit for 4 to 6 minutes, depending on the thickness of the meat.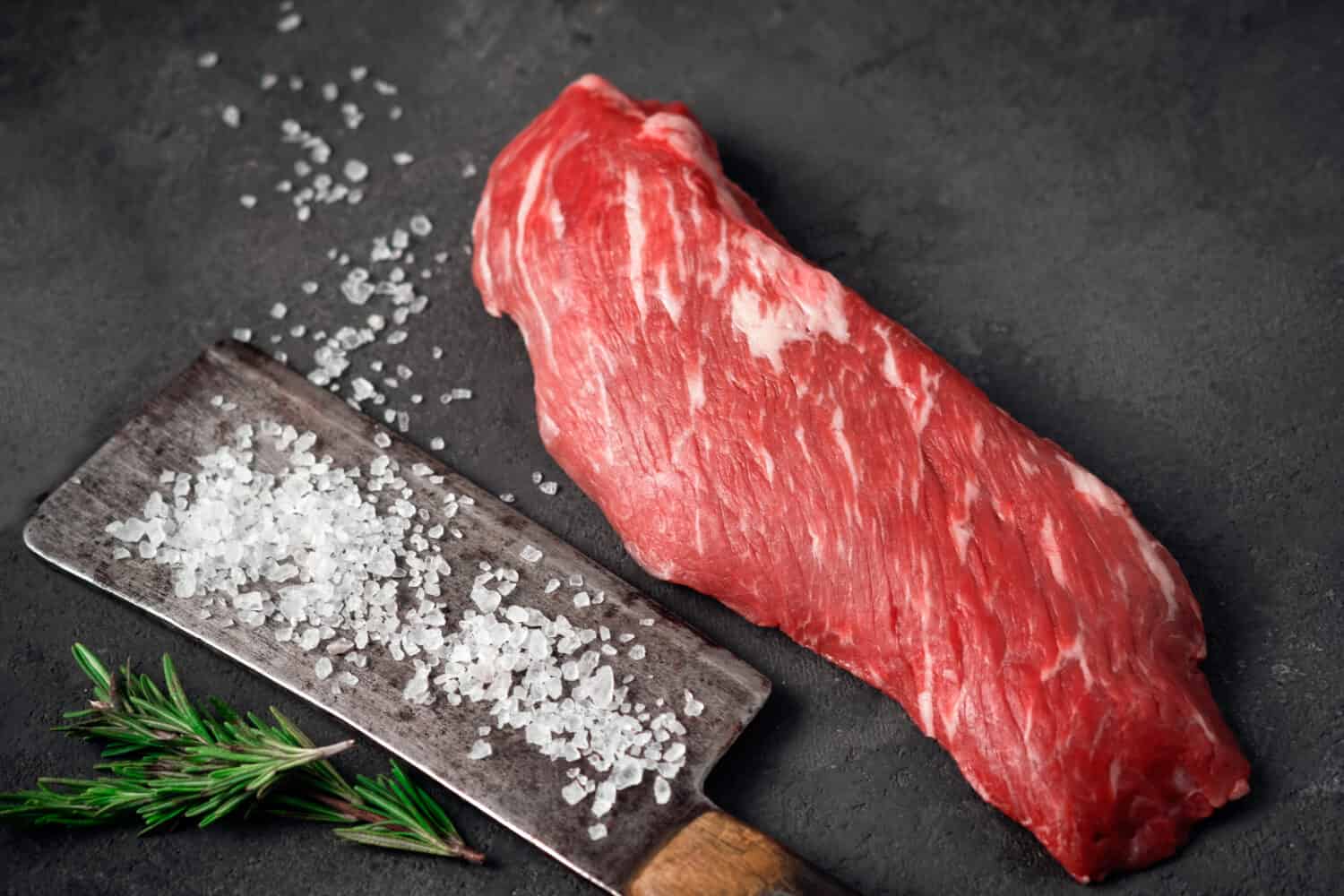 What Is Skirt Steak?
Skirt steak has a unique texture and rich marbling, which makes it a flavorful cut of beef. The plate primal of the cow, located below the ribcage, produces the cut known for its distinctive, tough texture because it comes from a heavily exercised area. However, skirt steak can be incredibly tender and juicy when prepared correctly. Skirt steak divides into two sections, the inside skirt from the inside of the chest, and the outside skirt from the outside
The narrower cut, inside skirt, is typically more tender than the outside skirt. It has a smooth texture and is perfect for grilling, broiling, or pam-searing. The outside skirt is wider and has thicker grains in the meat. People usually use it for dishes that require slow cooking or marinating because it helps break down the tough fibers, creating a more tender result.
2 Best Cooking Methods
Skirt steak offers a delicious cut of meat that you can prepare in various ways, making it a versatile option. Here are two of the best cooking methods used to cook skirt steak:
Grilling: Grilling skirt steak will leave it with a smokey flavor and tender texture. First, brush the grill grates with oil, then season the steak. Then, cook each side for 3 to 4 minutes, and rest at room temperature in a place with foil.
Pan-searing: This is a popular indoor cooking method. First, season the steak, and preheat an oiled skillet over medium-high heat. Then, sear one side for 3 to 4 minutes and the other side for 2 to 4 minutes. Rest on a cutting board or plate with foil for 5 minutes.
Final Thoughts
Both flap steak and skirt steak are delicious cuts of beef, each with its own unique characteristics. The texture, flavor, tenderness, cutting methods, nutritional value, and size are all factors to consider when choosing between the two. Skirt steak has a more robust beefy flavor than flap steak, but flap steak is more tender.
Flap steak is normally cut into strips or cubes, while skirt steaks are sold whole and cut into two sections. When it comes to size, flap steak is usually larger uncut than skirt steak. Ultimately, the choice comes down to personal preference and the intended use of the steak.