Let's Get Ready for Baby!
Sign up for our monthly pregnancy email series, and you'll get regular updates on your baby's development, helpful timelines to get ready for their arrival, must-have baby needs and so much more! PLUS, you'll get instant access to the MomsWhoThink "Ultimate Guide to Baby Naming in 2022."
CLICK HERE
to get started!
I can't believe Halloween is right around the corner!
I love this time of year because of all the holidays that are so close to each other! I really hate the blood and gore part of Halloween, so I like to focus on the friendlier parts of the holiday: pumpkins, fall weather, hot cocoa, and dressing up!
This is a sponsored post written by me on behalf of Wendy's for IZEA. All opinions are 100% mine.
I love seeing what all the little neighborhood kids choose to dress up as each year, and it's fun to greet them at the door. I also enjoy the idea of doing something just a little bit different than the "average bag of candy" as prize options for my trick-or-treaters. One of my favorite people on Earth hands out donuts and hot cider to all their neighborhood friends each year and it's always a favorite house to stop by!
This year an idea I love is handing out Wendy's frosty coupons from their Halloween coupon books. I love this idea not only because it's fun & unique, but also because it supports a great cause. Funds from the sales of the coupons books will go to the Dave Thomas Foundation for Adoption® to support programs such as Wendy's Wonderful Kids.
What kid wouldn't be excited about FREE ICE CREAM??
I never knew the story behind the Halloween coupon books until this year! Did you know that Wendy's® founder, Dave Thomas was adopted and that is a major reason he started this foundation? I love it when people use their life experiences to make a difference in the world! Because he believed that children in foster care "aren't someone else's responsibility, they are our responsibility," his foundation works to find permanent, loving homes for the more than 130,000 children waiting in North America's foster care system.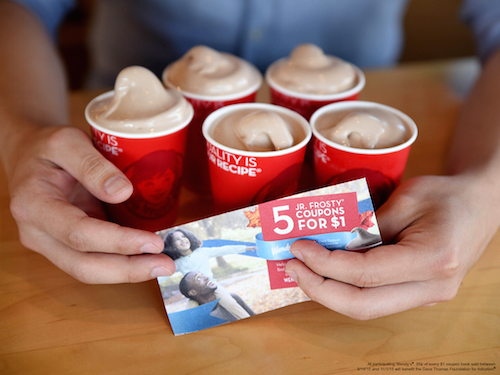 Hand Out Frosty Coupons This Halloween and Make a Difference!
Wendy's is selling its Halloween Coupon Books from September 14 through November 1, .
For $1, customers can get five or 10 free Jr. Frosty coupons.*
More non-candy ideas here: If you want to fill your bowl with a mixture of items like pictured above, check out this post on non-candy prizes for your Halloween Trick Or Treating Bowl!
For more info on the Halloween coupon books, visit Wendy's adoption page.
* Number of coupons per book vary based on location

** $0.85 cents of every dollar from the Halloween Coupon Books will go to support the Dave Thomas Foundation for Adoption.