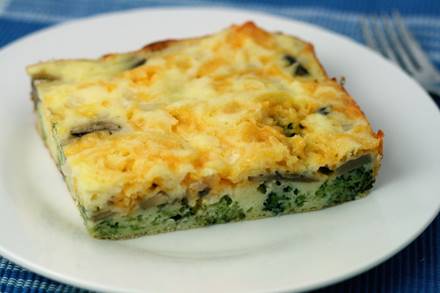 Impossible Broccoli Cheese Pie
Ingredients:
1 10-12 ounce bag thawed broccoli florets
1 1/2 cups shredded cheddar cheese  
1 medium onion, chopped
6-8 white mushroom caps, sliced
1 cup Bisquick baking mix
1/4 teaspoon salt
1/2 teaspoon garlic
5 eggs, beaten
2 cups milk
Directions:
1. Preheat oven to 350 degrees F. Spray 9×13 inch baking dish with non-stick cooking spray.
2.Layer broccoli, cheese, raw onion and mushroom in dish.
3. Mix Bisquick, salt, garlic and eggs. Beat well.
4. Add milk and stir until smooth.
5. Pour over mixture in dish.
6. Bake, covered, for 35 minutes.