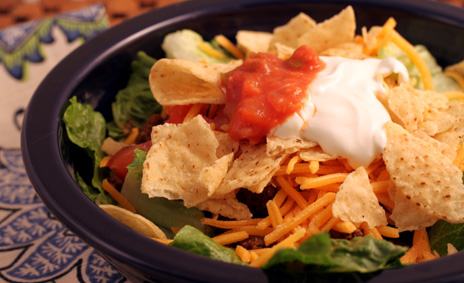 Layered Taco Salad
Ingredients:
1/2 pound 90% lean ground beef
1 1/2 teaspoons chili powder
1 1/2 teaspoons ground cumin, divided
1/2 cup picante sauce
1 teaspoon sugar
6 cups shredded romaine lettuce
2 plum tomatoes, seeded and diced
1/2 cup chopped green onions
1/4 cup finely chopped fresh cilantro
2 ounces nacho-flavored baked tortilla chips, crumbled
1/2 cup sour cream
1/2 cup shredded sharp cheddar cheese
1 package cornbread mix
Directions:
1. Prepare cornbread according to package directions.
2. While cornbread is baking, spray a medium nonstick skillet with cooking spray. Heat over medium-high heat.
3. Brown beef 3 to 5 minutes, stirring to break up meat. Drain fat.
4. Evenly sprinkle in chili powder and 1 teaspoon of the cumin. Let cool.
5. In a small bowl, combine picante sauce, sugar and remaining 1/2 teaspoon cumin.
6. Place lettuce in 11×7-inch casserole dish. Layer with beef, tomatoes, green onions, cilantro and chips.
7. Top with sour cream then sprinkle the shredded cheddar cheese evenly on top.
8. Spoon picante sauce mixture on top.
8. Serve with warm buttered cornbread.