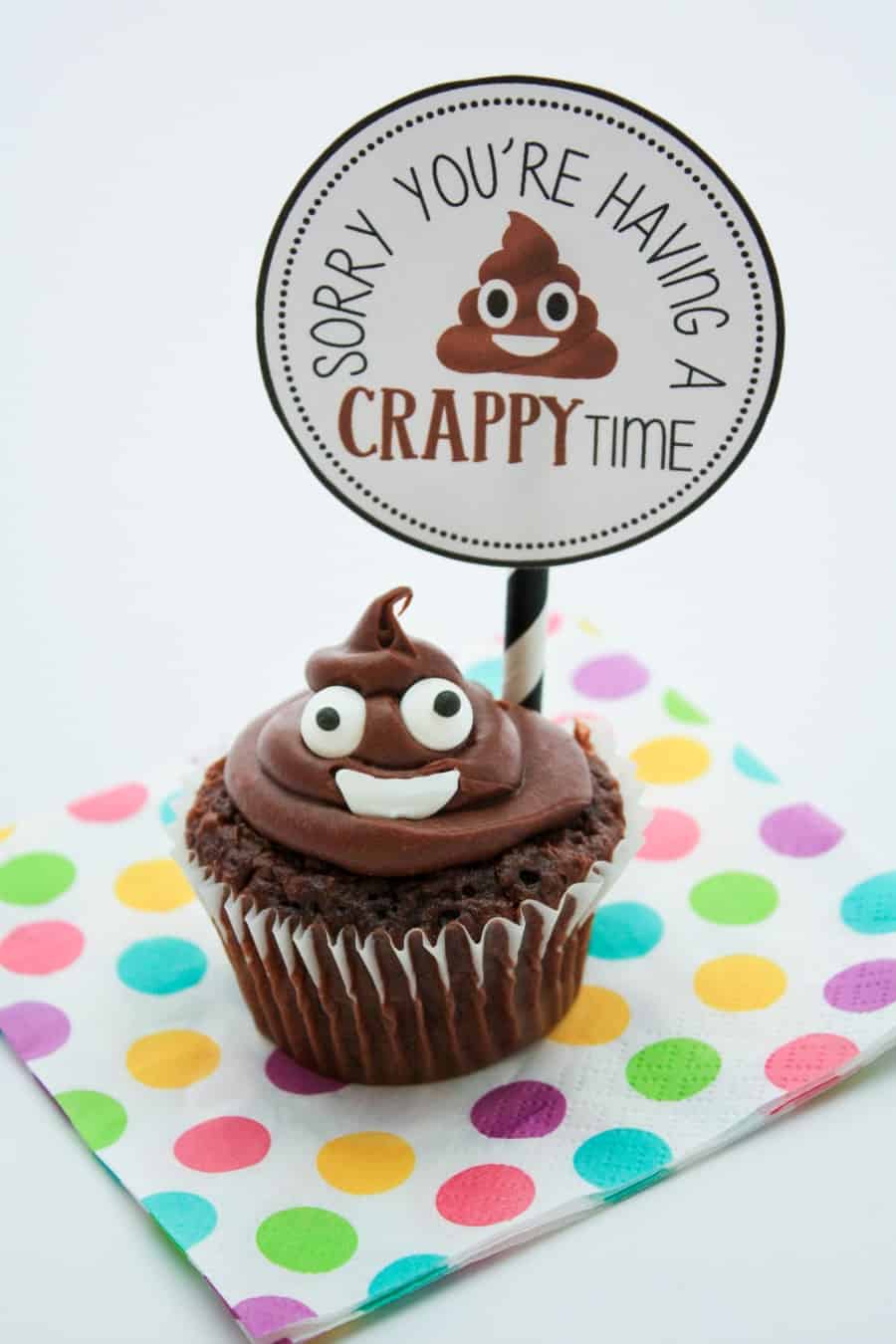 Oh the dear poop emoji that we have all come to love (how can we not love those bright eyes and wide cheesy smile?). Why not some poop emoji cupcakes for someone who could use some cheer??
I was walking through the store the other day and saw an emoji balloon, and thought it would be fun to make a poop emoji gift basket for a friend who was having a rough time. I left a tag saying, "sorry you're having a 'crappy' day." It was a huge hit, and I've done several poop emoji gift variations since, including these adorable Poop Emoji Cupcakes!

You can get the printable tag for your very own poop emoji cupcakes here: Poop Emoji Gift Tag
Even if you don't know someone going through a rough time, kids LOVE these and get such a kick out of them. Have them waiting when the kids come home from school and they will think you are the coolest, hippest mom ever.
If you're looking for other variations for your poop emoji cupcake gift tags, the site I got them from also had the following tags to use:
"Sorry I've Been Such a Poop!"
"Sorry life has been poopy, hope things get better soon!"
"Sorry you feel like crap, get better soon"
"Sorry you're having a crappy time"
I hope you find the perfect gift tag for your very own poop emoji cupcakes!
How to Make Poop Emoji Cupcakes
To make the poop emoji cupcakes, bake chocolate cupcakes according to directions (can use a mix), and use a large round tip for the frosting on top
The eyes are just candy eyes, and the mouth is just a little dab of frosting (but you can also use white baking melts cut in half)! EASIEST Poop Emoji Cupcakes EVER! You can also watch this video if you need step-by-step instructions:
https://youtu.be/leQ8OMyh8Bc
What do YOU appreciate getting on a "crappy" day?!