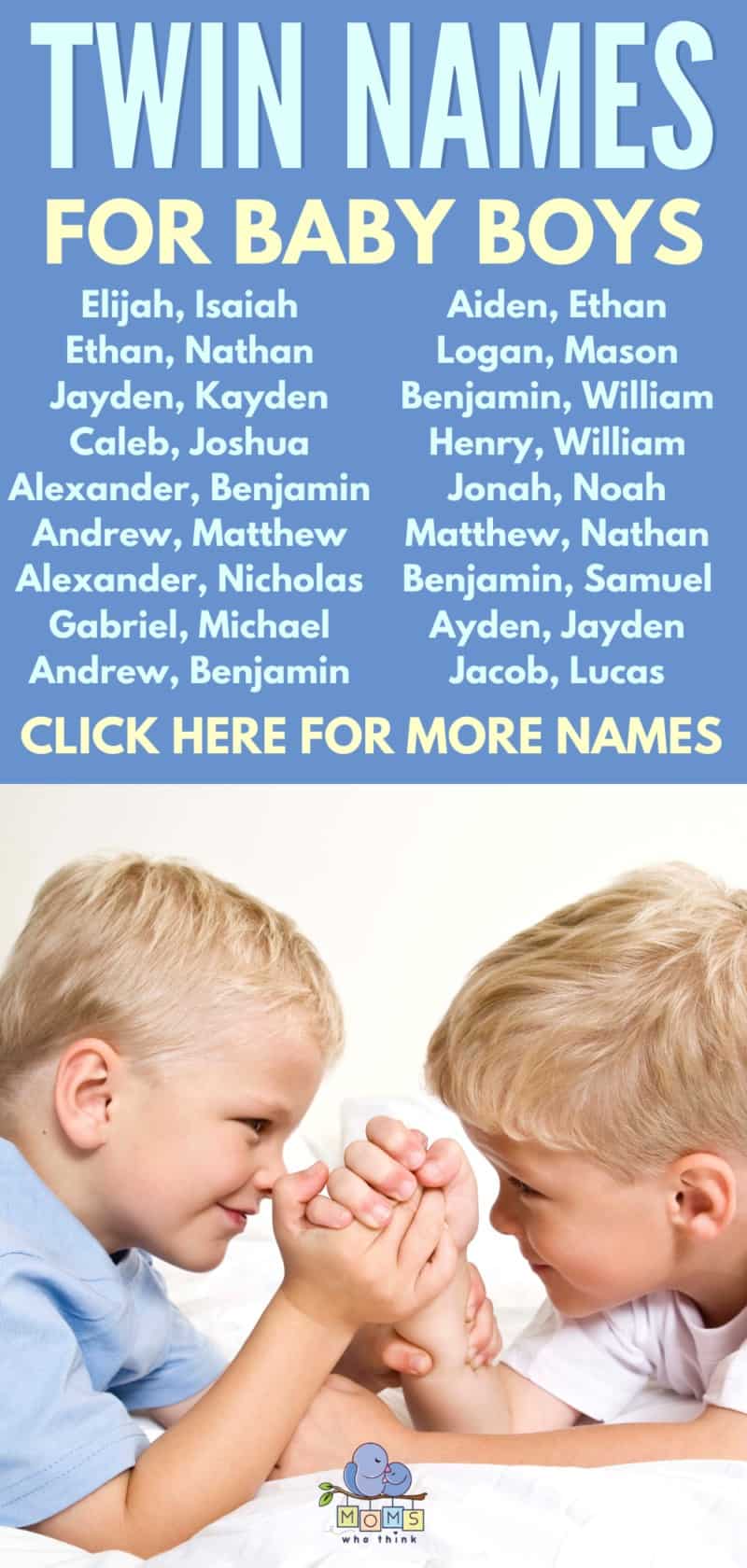 Popular Names for Twin Baby Boys
| | |
| --- | --- |
| Rank | Names |
| 1 | Daniel, David |
| 2 | Jacob, Joshua |
| 3 | Isaac, Isaiah |
| 4 | Jayden, Jordan |
| 5 | Ethan, Evan |
| 6 | Elijah, Isaiah |
| 7 | Matthew, Michael |
| 8 | Jayden, Jaylen |
| 9 | Ethan, Nathan |
| 10 | Jayden, Kayden |
| 11 | Landon, Logan |
| 12 | Logan, Lucas |
| 13 | Caleb, Joshua |
| 14 | James, John |
| 15 | Jeremiah, Josiah |
| 16 | Logan, Luke |
| 17 | Alexander, Benjamin |
| 18 | Andrew, Matthew |
| 19 | Chance, Chase |
| 20 | Hayden, Hunter |
| 21 | Alexander, Nicholas |
| 22 | Gabriel, Michael |
| 23 | Jacob, Joseph |
| 24 | Andrew, Benjamin |
| 25 | Andrew, Anthony |
| 26 | Benjamin, Samuel |
| 27 | Ayden, Jayden |
| 28 | Christian, Christopher |
| 29 | Brandon, Bryan |
| 30 | Jacob, Lucas |
| 31 | Liam, Logan |
| 32 | Nathan, Noah |
| 33 | Alexander, Andrew |
| 34 | Alexander, Anthony |
| 35 | Elijah, Ethan |
| 36 | Nathan, Nicholas |
| 37 | Aiden, Ethan |
| 38 | Aiden, Noah |
| 39 | Jason, Justin |
| 40 | Logan, Mason |
| 41 | Maddox, Mason |
| 42 | Nicholas, Noah |
| 43 | Benjamin, William |
| 44 | Garrett, Gavin |
| 45 | Henry, William |
| 46 | Jayden, Joshua |
| 47 | Jeremiah, Jeremy |
| 48 | Jonah, Noah |
| 49 | Jordan, Justin |
| 50 | Matthew, Nathan |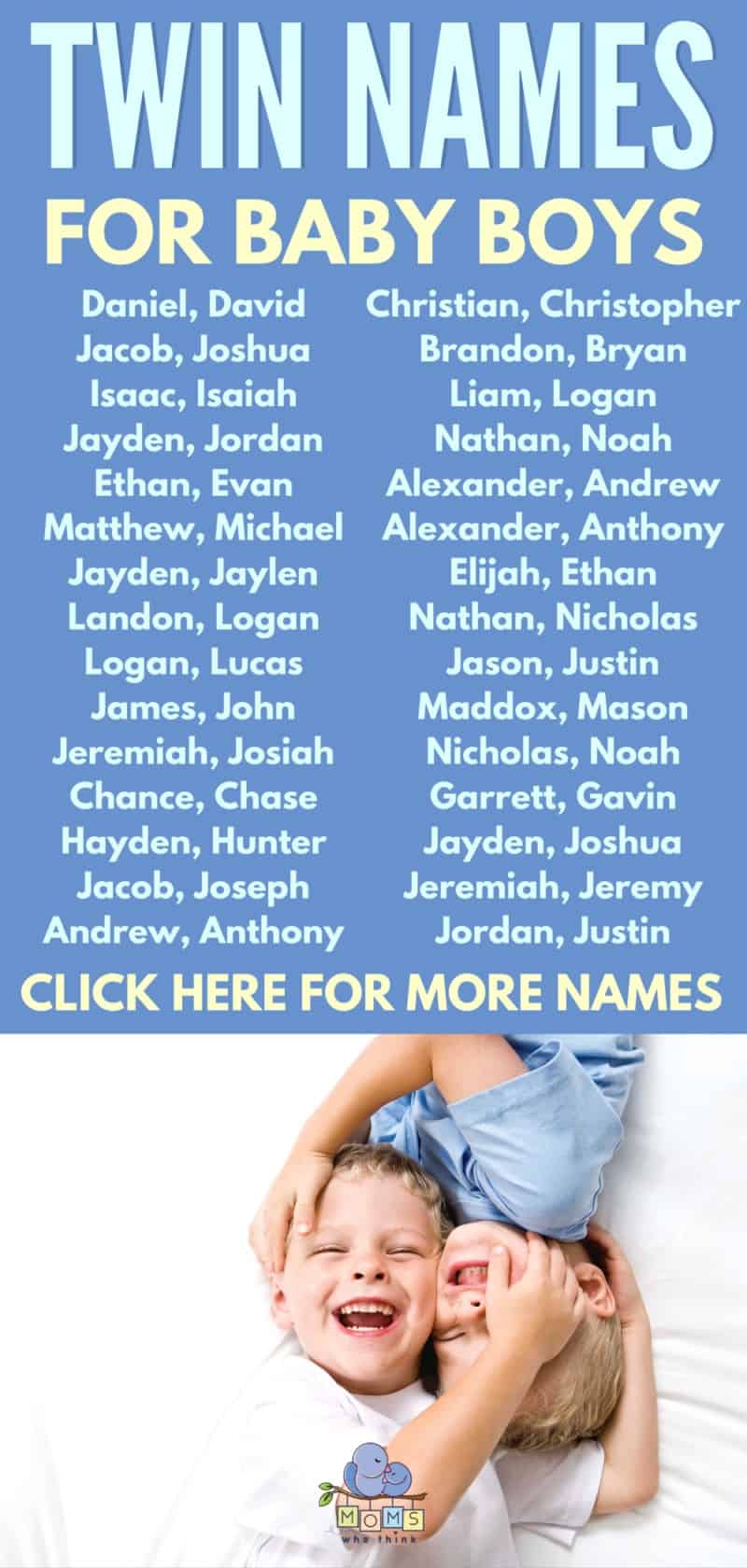 Tips for Picking Twin Names
If you've just found out you're having twins, you may be feeling a little overwhelmed! Twins are so exciting to invite into your family. When thinking about what names to give them, follow these handy tips!
First, try to pick names that are complementary. They don't necessarily have to rhyme, but if they sound good together then it'll be a satisfying bonus. You can also opt for names that start with the same letter; this is an especially good idea if you have identical twins. Or, you can pick a theme and pick two names from that. Perhaps you want names that were popular in the '90s, or names that mean "honorable".
Second, consider picking names you like before seeing how they match together. There are a lot of different ways to mix and match names, so getting a list of names you like and going from there is generally the best idea. Try to limit yourself to 100 names per list, since any more than that and you'll likely feel overwhelmed.
Third, if you're having trouble settling on a name, consider asking others for their opinions! You don't have to listen to anyone's opinion if you don't want to, but the opinions of others can help you decide between names. If the majority opinion goes one way, then go with that name! Sometimes, hearing input from others can also make you see a name differently than you did before.
The image featured at the top of this post is ©Pixabay /Pexels.