Jacob became the most popular boys' name in 1999, knocking Michael out of the top spot. Michael is the most popular boys' name of the entire 20th century, ranking No. 1 for more than 30 years. Be sure to check out the top baby names from 1980s, 1990s and the top names from the 2010s.
Most Popular Boy Names in 2012
Although Charlotte is the 13th most popular name for girls in 2012, it was the most popular girls' name in Australia. The name is the feminine diminutive of the male name Charles.
Meaning 'dear' in Italian and 'mine' in Spanish, Mia is a name given to one in every 19,506 people born in the United States. The name is the shortened version of Maria, although it's also a common name.
Most Popular Girl Names in 2012
The name Elizabeth was most popularly given to newborn girls in the year 1990 when over 23,000 girls were given the name. However, it has been a popular baby name since Biblical times and maintained that status as both a first and middle name, rounding out the top 10 in 2012.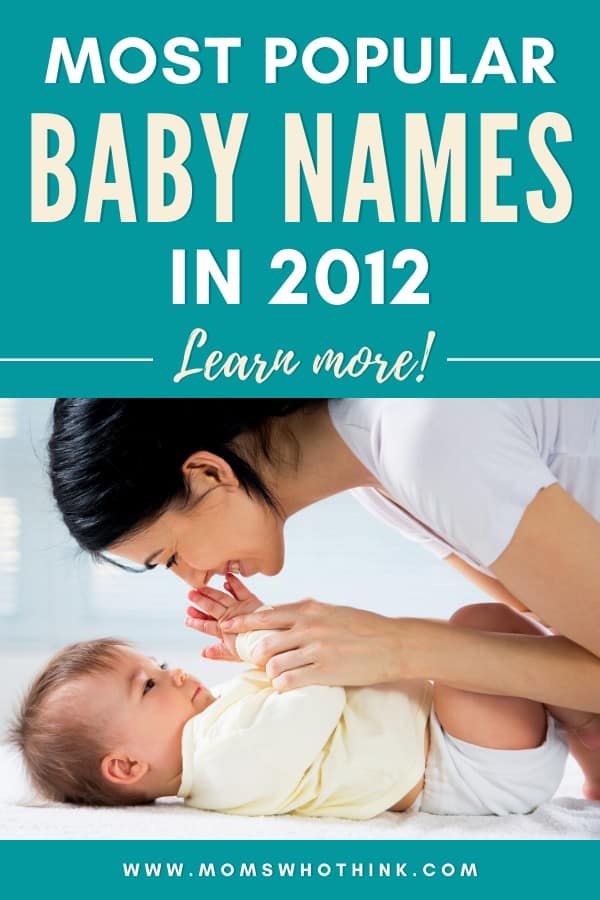 Isabella, one of the most popular names from 2012 for girls, is a name that evokes grace and elegance thanks to its delicate meaning of 'devoted to God; loved.' Izzy, Belle, and Bella are some of the most common nicknames given to girls named Isabella.
King David's wife and many other royal figures have been bestowed with the name Abigail, one of the top 2012 girl names. Many of these women earn the nickname Abby as a result, although most people having this name.
Avery is one of the popular 2012 boy names parents chose, although it's also a name that some parents give to their daughters. Only 1,472 girls have been given the name since record-keeping on baby names began in 1880, although it was one of the poplar 2012 baby names.
David and Zoey round out the top 20 2012 names for babies. David is a Biblical baby name while Zoey is a trending name popularized by American television.
Most Popular Baby Names by Year