Saint Audrey was a popular 7th-century saint who dedicated her life to Christianity from an abbey she founded. She was known as the Patron Saint of neck and throat complaints. The name was popular in the Middle Ages and then again in the 19th century.
Meaning of the baby name Audrey:
English: Noble strength
Origin of the name Audrey :
Old English
Style of the name Audrey:
Classic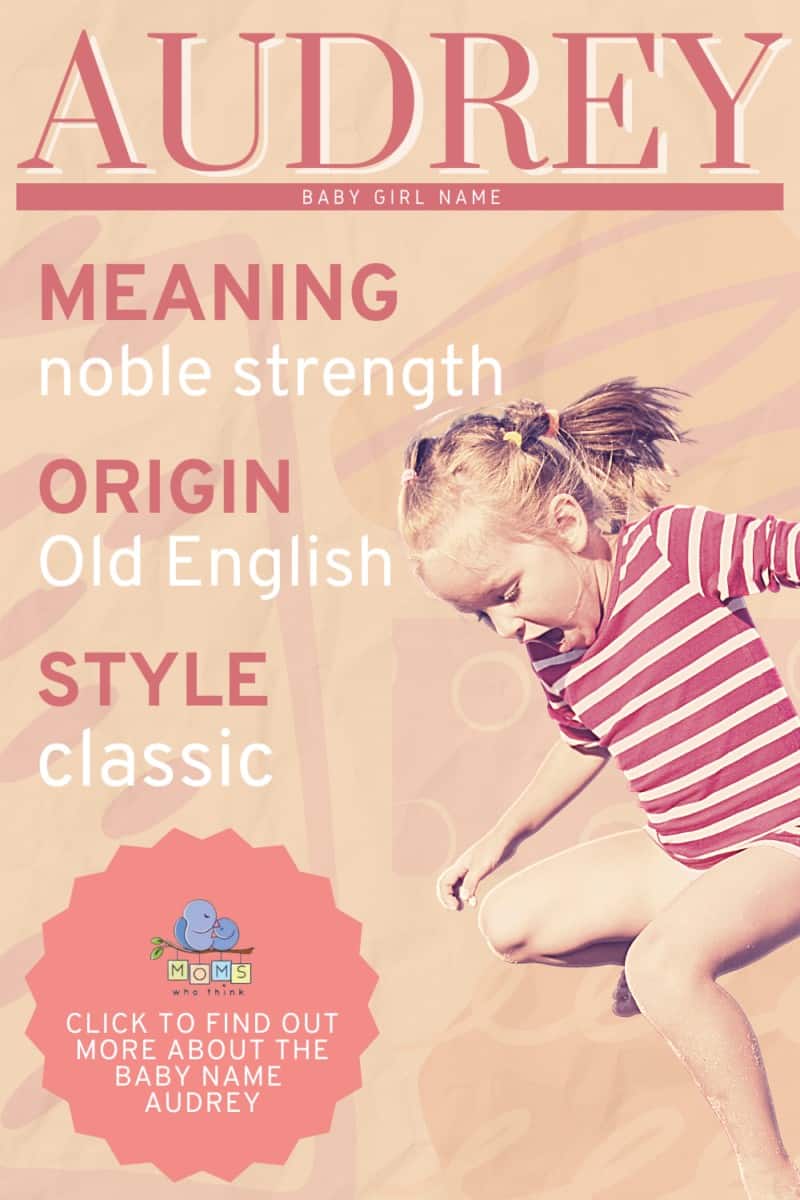 Gender of the baby name Audrey:
Audrey is primarily a female name.
Pronunciation of the name Audrey
AW-dree
Syllables in the name Audrey:
Two
Emotion evoked from the name Audrey :
Kindness, Inspiration
Alternative spellings for the name Audrey :
Audry, Audrie, Aadree, Awdrie
Nicknames for the name Audrey :
Addy, Audie, Drey, Drea, Aud(Odd), Audley
Popularity of the name Audrey:
According to the Social Security Administration index, Audrey was most popular in 2013, with 5,601 baby girls given the name. It ranked # 33 that year.
Related names for the name Audrey :
Great middle names for Audrey and their meanings:
Adele (tender and kind)
Brooke (a gentle stream)
Dawn (beginning of a new day, bright as morning rays)
Faith (trusting in all things)
Faye (Fairy)
Grace (God's favor, love for mankind)
Hope (positive expectation, virtue of hope)
Jade (precious green stone)
Leigh or Lee (delicate, meadow)
Love (girl full of affection)
Lynn (pool beneath a waterfall)
Famous people with the name Audrey :
Audrey Hepburn (actress)
Audrey Faith Perry (country music singer also known as Faith Hill)
Audrey Wells (director)
Movies/Pop culture for the name Audrey:
Audrey (character in Shakespeare's 1623 comedy As You Like It)

Several

using the name Audrey have been recorded over the years including "Audrey, Start The Revolution" by Anberlin, "Audrey" by Amber Oak, "Audrey's Eyes" by Velocity Girl and "Song For Audrey" by Backseat Goodbye.