Jacob and Michael were two of the most popular 2005 names for babies, though each name has held this honor for generations already. In fact, they are the two names of the Top 5 most popular names of all time!
Most Popular Boy Names in 2005
Joshua, meaning 'the Lord is my Salvation,' became a popular boys name starting in 1983. In 1989, just over 44,000 babies born were named Joshua, making it the most popular year for the name.
The baby name Dylan surged in usage in 2003, when babies were given this name at a 219% higher rate than other years. Meaning 'Son of Sea,' Dylan rose in popularity as a name in due part with thanks to poet Dylan Thomas.
Ethan means 'Strong, firm, enduring, and long-lived.' This is a Biblical name that appears eight times in the Hebrew Bible. Biblical baby names, of course, have been popular since…well the Biblical times.
Parents began naming their sons Matthew in the 1960s. It is a Hebrew name meaning 'Gift of God.'
Most Popular Girl Names in 2005
Emily and Emma have ranked as top girl names for 16 consecutive years, including as most popular 2005 girl names.
Samantha is a name that was invented in the U.S. during the 17th century. The name was rarely used until the 18th century and is believed to be the feminine version of the name Samuel.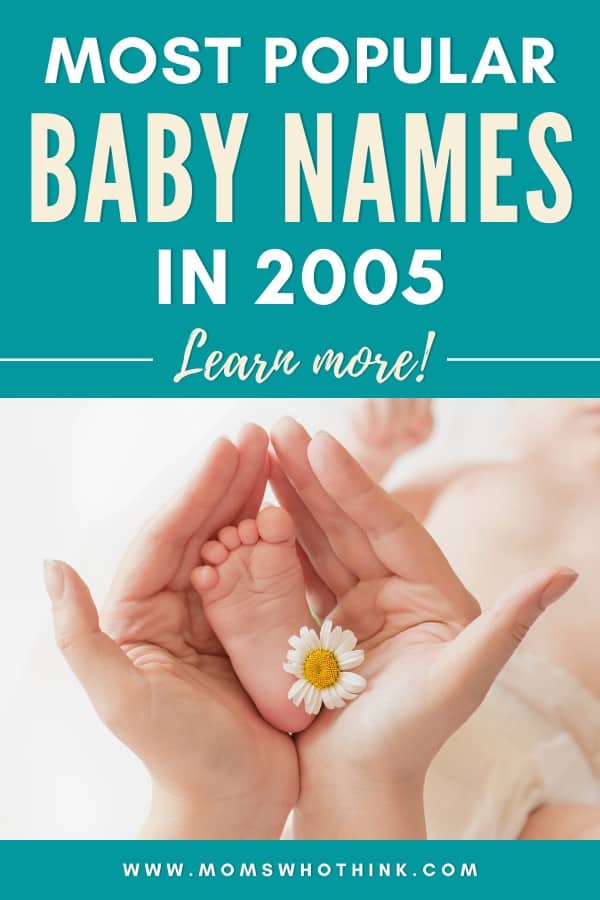 Chloe is a name derived from Greek mythology, meaning fresh flowers and dreams of spring. The name is often given to parents interested in Biblical names for their daughters.
Kaitlyn was one of the most popular names from 2005 for girls. The name means 'pure.'
Kaylee is a combination of the names Kayla and Hayley. It's a modern name that parents chose often in 2005.
Ava is one of the best 2005 baby names for girls. The Persian name means 'voice, sound' and was used as early as the 9th century.
Most Popular Baby Names by Year
[wpdreams_ajaxsearchpro id=2]
---