The Social Security Administration, reports that these were the top 100 baby boy and baby girl names in the U.S. for 2014. With the exception of the boy's name James and the girl's name Charlotte, not much has changed in the top 10 since last year.
Americans are still looking over the pond for names, as evidenced by the royal princess Charlotte moving up a notch. Harper saw one of the biggest rises in rank for girls, nostalgia and vintage names are steadily gaining ground. Boys names still lean very much towards long standing traditional names, even the British inspired favorites.
Use the top 100 to either choose a popular name, or to avoid one if you're looking for something more unusual.
Emily was one of the most popular names from 2014 for girls. This name first made the most popular list in 1993, where it's held strong ever since.
Emma, a close variation of Emily, was popularized in the UK. The name made its way to the United States in the 1990s.
Most Popular Girl Names in 2014
Madison is a popular girl's name popularized by Former President James Madison. It's been popular since 1985.
Popularized during the Middle Ages by European royalty, Sophia is a girl's name that parents loved in 2014.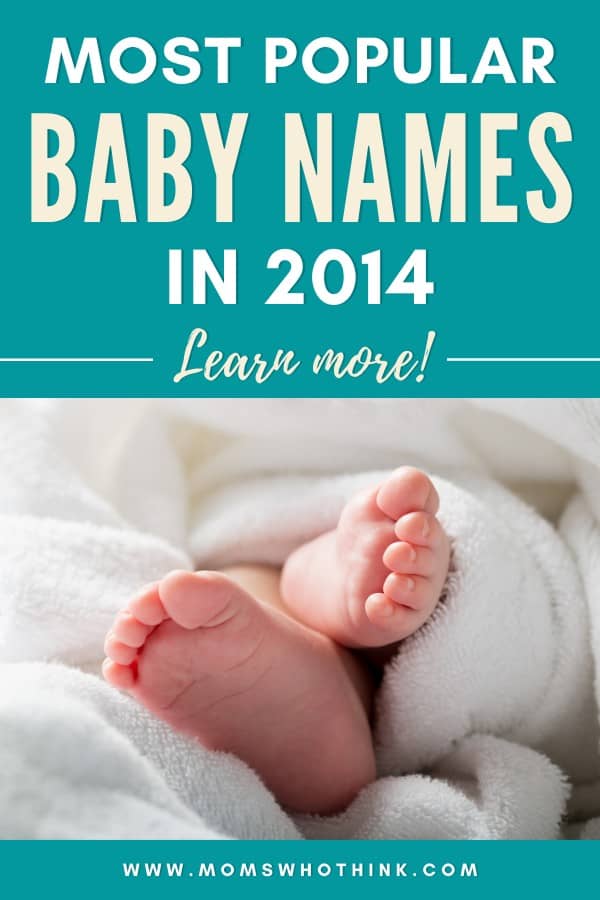 Mia is a girl's name meaning 'wanted for child.' It's of Scandanavian decent, though it has been popular in the U.S. for some time already.
Avery and Harper are two of the best girl's names for 2014. Yes, these unusual but fun, names may first strike you as a boy, but it's usually a girl you'll meet with this name.
Most Popular Boy Names in 2014
Michael is one of the most popular 2014 boy names used, but also the most popular name of the 20th century. The name ranked #1 from 1954 – 1998.
James, Daniel, and Alexander were names chosen for new arrivals more often than others in 2014. Each name has been a part of the most popular baby name list for many years prior to 2014.
Liam is a shortened version of William. The Irish name means 'strong-willed warrior and protector."
Noah is one of the most popular 2014 names for boys that parents now use for their daughters. It's a Biblical name that dates back to the 1800s.
Aiden was one of the most popular 2014 baby names after it gained inclusion in the most popular list in 2003. This year, 2,684 babies born were named Aiden.
Most Popular Baby Names by Year
The image featured at the top of this post is © Carlo Navarro / unsplash.