Since its humble beginnings that date back to the Middle Ages, the name Avery has been a surname, a boy's name and, now, a popular girl's name. Celebrities like Angie Harmon, Kevin Costner, Elisa Donovan and Amy Locane have all named their own children Avery. Some people even predict that this beautiful name with a magical history will eventually replace Ava on the top baby names list.
Meaning of the Name Avery:
English: Ruler of the elves
French: Wise or ruler
Origin of the Name Avery:
The name Avery came to be during the Middle Ages. It originated from the French pronunciation of the Anglo-Saxon name Alfred. When you break down the components of the name, "aelf" meant elf and "raed" meant ruler. That's how this popular baby name came to mean "ruler of the elves" during medieval times.
Symbolism of the Name Avery:
During the Middle Ages, elves were thought to be magical — and sometimes beautiful — creatures. They had supernatural powers that they could use to help or hurt humans. The name Avery represented these beings.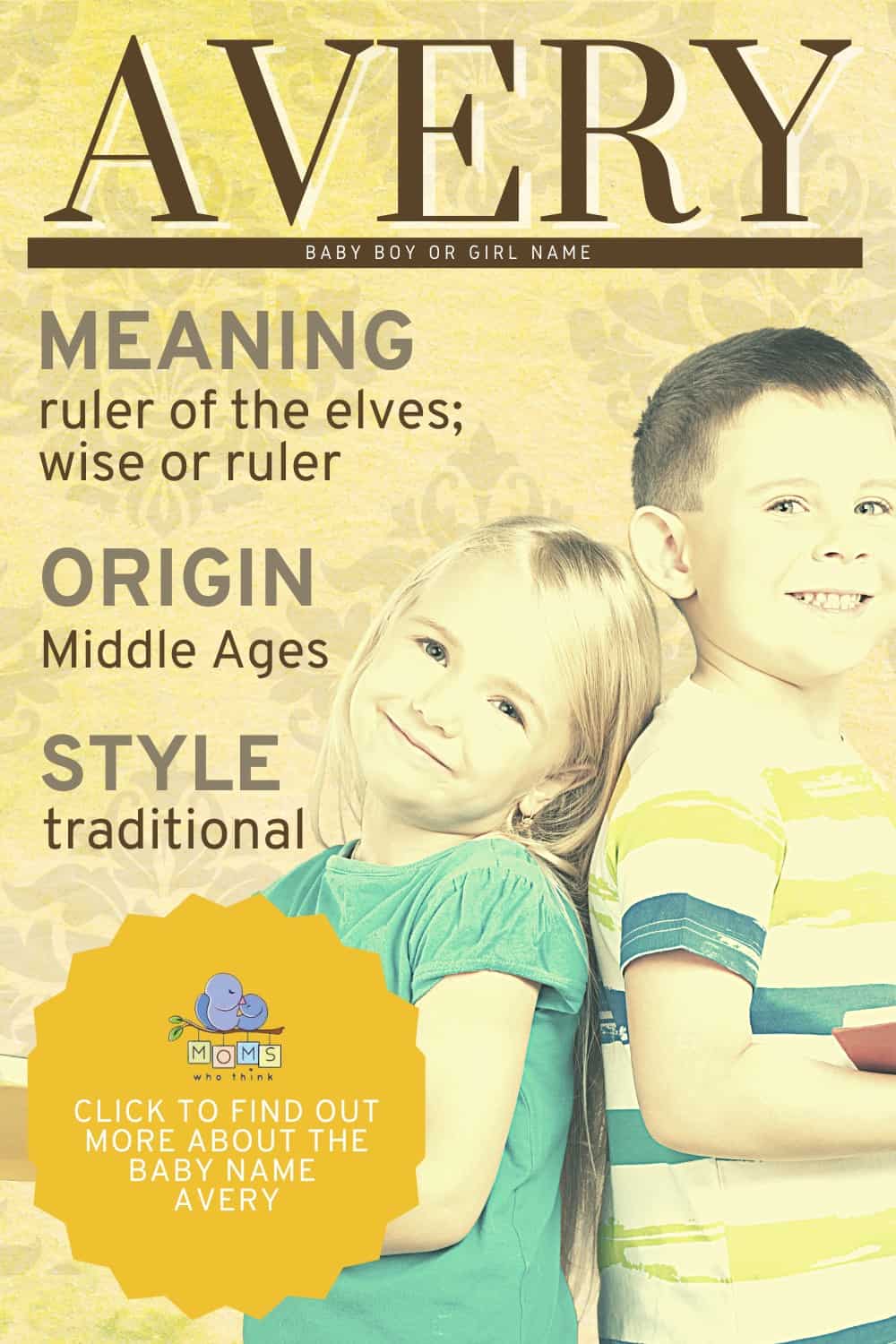 Style of the Name Avery:
Traditional
Gender of the Name Avery:
Boys/Girls — Avery began as a name for boys, but in the late 1980s in North America, parents began using it as a baby name for girls.
Pronunciation of the Name Avery:
AY-vər-ee or AYV-ree
Number of Syllables in the Name Avery:
Two or three, depending on your pronunciation
Emotion Evoked by the Name Avery:
The name Avery evokes the image of a person who is wise and powerful, yet light-hearted and beautiful.
Alternative spellings of the Name Avery:
Averi, Averie, Averee, Aeverie
Nicknames for the Name Avery:
Ave, Ava, Avi, Ree
Popularity of the Name Avery:
According to the Social Security Administration index, Avery was the 19th most popular name for girls in the United States in 2020. It has consistently been one of the top 20 names for baby girls since 2011.
Related names for the Name Avery:
Ava, Ivy, Ivory, Everly, Emory
Great middle names for Avery and their meanings:
Famous people with the name Avery:
People named Avery from movies/pop culture:
Avery Brown (Murphy Brown's baby from the TV show "Murphy Brown")
Avery Arable (Fern's brother in Charlotte's Web)
Avery Tolar (character in the book The Firm)
Avery Jessup (character from the show "30 Rock")
Avery Barkley (character from the show "Nashville")
Avery Bullock (character from the show "American Dad")