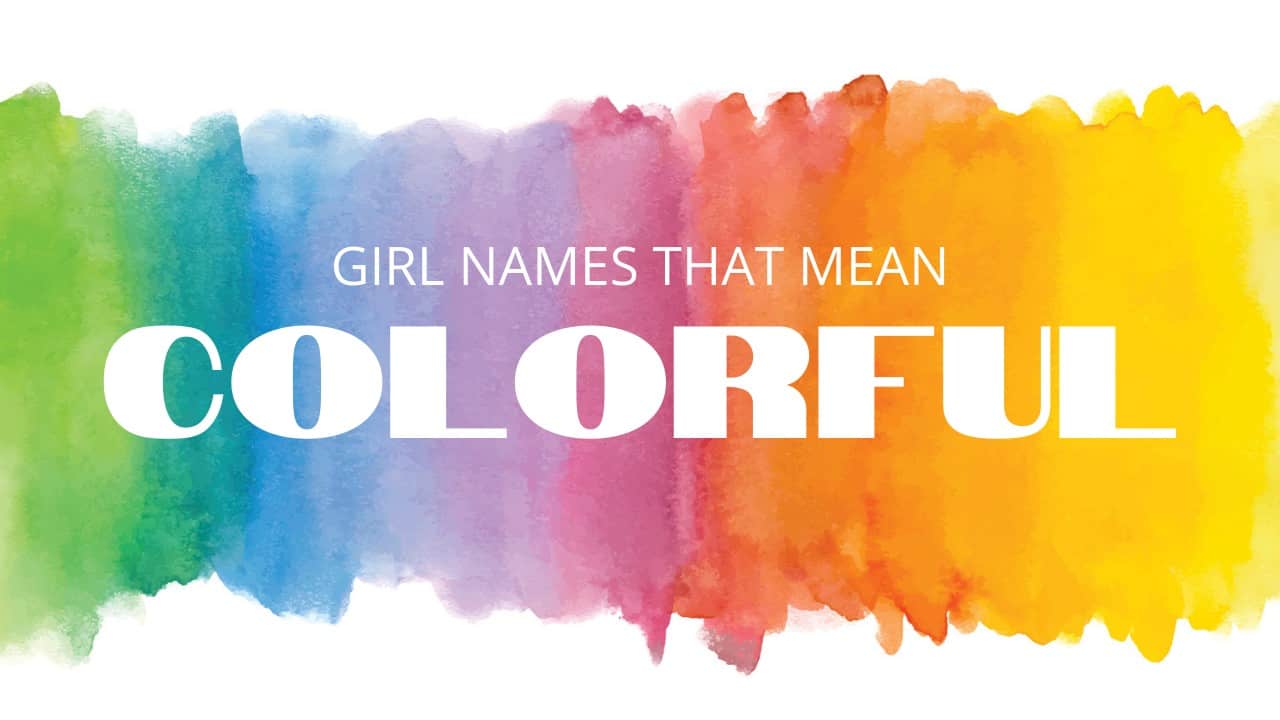 From Ginger to Fern to Ebony and beyond, each of these girl names that mean colorful are delightful and feminine. Infuse some vibrancy into your daughter's name with any one of these options. Explore the list — complete with meanings and origins — and find the perfect fit!
RELATED: More Baby Names That Mean Colorful
Claret

A simple and unusual name for girls, Claret means "dark blue or purplish color." In Latin, Claret means "brilliant, clear, or bright."

Kelly

The name Kelly means "bright-headed." It's a two-syllable common name for girls.

Ginger

The name Ginger is often used as a name for a child with red hair. It's a two-syllable, cool, laid-back name of English origin.

Opal

The name Opal means "gemstone." It is derived from the Sanskrit word Upala. This name was in the top 500 names for girls until the 1950s. Girls named Opal tend to be intelligent, outspoken, and charismatic.

Claramay

This name combines the names Clara and may together for one cute name for girls. It means pink and blue. Girls named Claramay are often quick-tempered, hate for people to disagree with them, but take control of situations.

Ebony

A beautiful name for girls that means "black color" Blanche: The name Blanche means "white" or "pure." The name has English and French origins. It is derived from the word blanc. Blanche Deveroux, aka Rue McClanahan from The Golden Girls, is one of the most famous people named Blanche.

Jade

The name of a green precious jewel, the name Jade is for girls. It has Spanish origins. In 2020, just over 2,150 babies were named Jade.

Violet

This name for girls means "a purple color." It evokes power, grace, and beauty. It has Latin origins.

Amber

The name Amber means "amber-colored" in Old French. It is among the Top 50 names for girls in Canada, the UK, and several other countries. In the US the name was most popularly used in the 1990s.

Marigold

Marigold means "A golden flower." It is of English origin and a name for girls.

Cherry

The name Cherry is derived from the fruit-bearing the same name. Cherry is a deep red in color. It is a nickname for Cheryl and has Latin origins.

Fern

The name Fern means "a green plant." The name was most popular until the 1940s when it ranked as the #152 most popular name for a girl.

Scarlett

A name meaning "dark red," Scarlett has Old English origins. In 2016 and 2017 the name Scarlett was one of the top names for babies in the U.S.

Aurelia

This princess-like name is charming. It means "golden one." It was a popular name during the Roman Empire and made a comeback in 2012 where it continues to increase in popularity.

Iris

The name of a flower and for baby girls, Iris means "rainbow." It was also the name of a famous goddess from Greek mythology. The name was the 127th most popular name for girls in 2020.

Akako

An unusual but cute name for girls, Akako has Japanese origins. The name means "red." In Japanese culture, this name is said to have magical powers.

Keira

This name means "little dark one" and has Irish origins. In 2021, it was the 913the most popular name for girls in the U.S.

Poppy

The name of a flower that means "red," Poppy is commonly used as a name for girls in the UK but not so much in the US. Girls named Poppy are said to be strong leaders.

Goldie

This name means "made of gold" and has English origins. It is a diminutive form of the name Golda. Girls named Goldie share a name with actress Goldie Hawn.

Bianca

Sometimes spelled Bianka, this name means "white" or "pure." It has Irish origins. People with this name are said to be inspiring, outgoing, and expressive.

Ruby

The name of a precious gem, Ruby means "red." It is a common girl's name of Latin origin.

Sienna

Meaning "orange-red," the girl's name Sienna has Latin origins. People with this name are intuitive and sensitive. The name is currently trending, reaching its most popular year in 2021.

Amitola

A graceful-sounding name meaning "rainbow," a very colorful name indeed. This name has Native American origins.

Hazel

The name Hazel refers to the hazelnut tree and also means the color "greenish-brown." This name has English origins.

Tawny

This name for girls means "brown." It is a cute, easy to spell name with two syllables. People with the name Tawny are said to be diplomatic and team players.
Peruse thousands of baby names on MomsWhoThink.com! And follow us on Pinterest for more parenting inspiration!