Let's Get Ready for Baby!
Sign up for our monthly pregnancy email series, and you'll get regular updates on your baby's development, helpful timelines to get ready for their arrival, must-have baby needs and so much more! PLUS, you'll get instant access to the MomsWhoThink "Ultimate Guide to Baby Naming in 2022."
CLICK HERE
to get started!
Ebony was quite a popular name throughout the 1970s, 1980s, 1990s and the early 2000s, but we haven't seen it on the list of the top 1,000 baby names in the United States since 2005. Even so, this feminine English word name still makes for a great moniker for your daughter. It pairs well with classic middle names, like Rose and Nicole, as well as more modern options, like Dove and True.
Meaning of the name Ebony:
English: Deep black wood
Origin of the name Ebony:
Ebony is an English word name for a deep black type of hardwood that comes from several types of trees.
Symbolism of the name Ebony:
Ebony is symbolic of blackness and beauty, and for this reason, it has been especially important to many African-American families.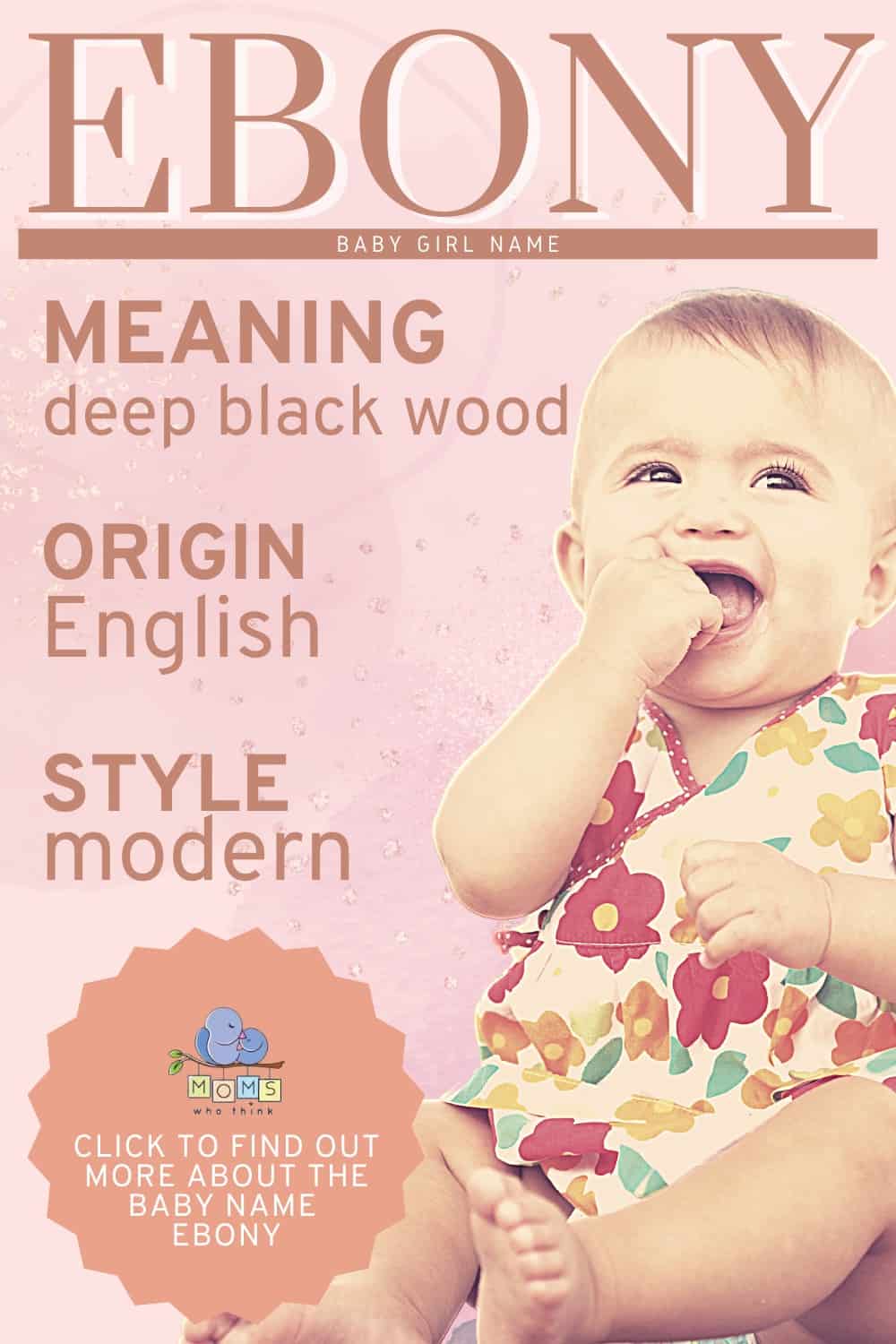 Style of the name Ebony:
Modern
Gender of the name Ebony:
Ebony is a girl's name.
Pronunciation of the name Ebony:
EH-buh-nee
Number of syllables in the name Ebony:
Three
Emotion evoked from the name Ebony:
The baby name Ebony evokes images of someone who is beautiful and confident.
Alternative spellings for the name Ebony:
Ebonie
Eboni
Ebonee
Eboneigh
Ebbony
Nicknames for the name Ebony:
Popularity of the name Ebony:
Ebony was a top 1,000 baby name for girls between 1971 and 2005. It last ranked at number 961, according to the Social Security Administration.
Related names for the name Ebony:
Great middle names for Ebony and their meanings:
Famous people with the name Ebony:
Ebony Bones (singer)
Ebony Rainford-Brent (cricketer and commentator)
Ebony Hoffman (basketball player)
Ebony Jackson (reality TV star)
Venus Ebony Starr Williams (tennis player)
Ebonys in popular culture: