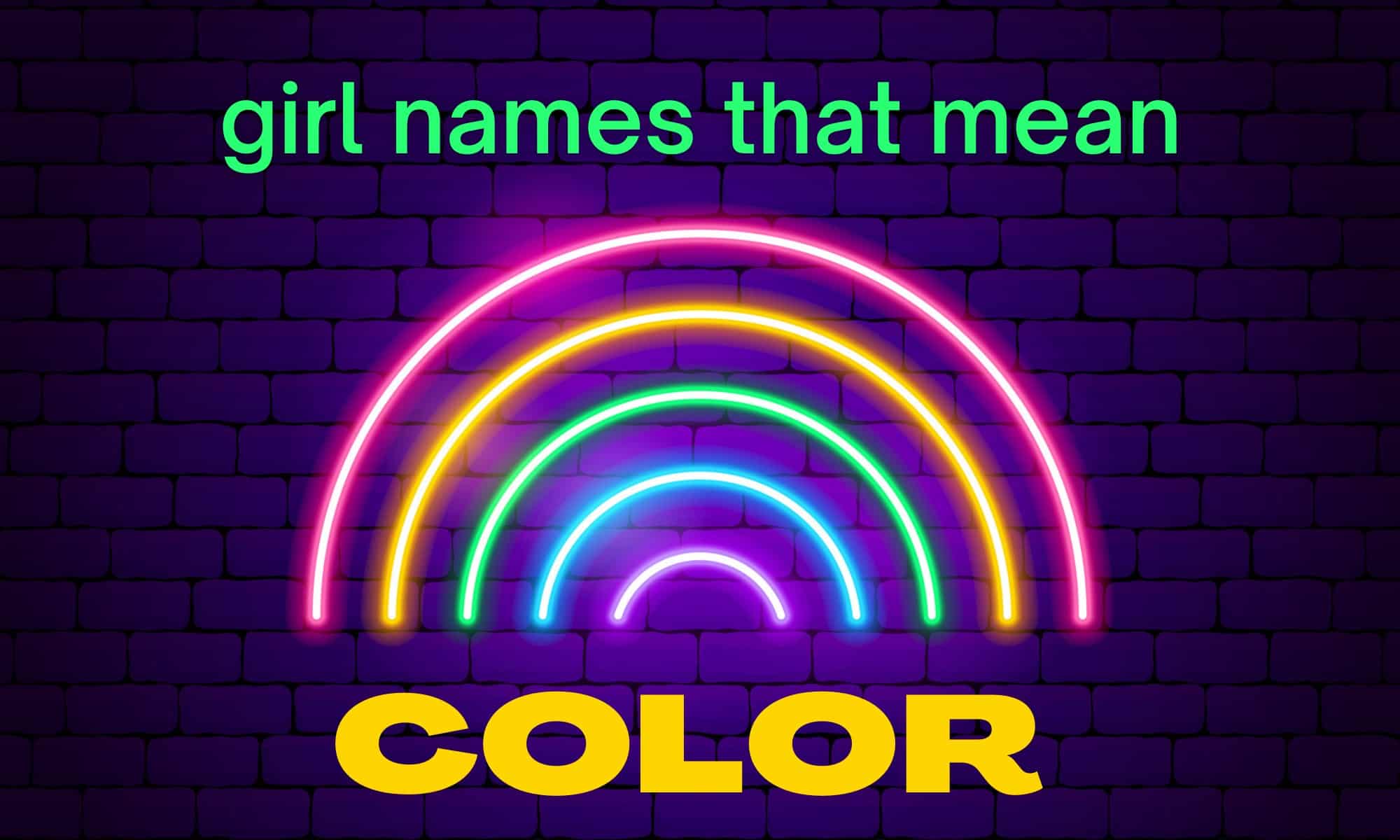 This list of girl names that mean color is filled with a beautiful selection of feminine options. Explore the list and you'll find names that are actual colors, and you'll also find names that literally mean the word "color." Take a look and find the perfect fit for your little girl!
RELATED: More Baby Names That Mean Color
Alani

A unique option for parents is Alani, which is an old Hawaiian word for both the color orange and the fruit of the same name. Alani is the full name of La La Anthony.

Apple

Apple is an adorable girl's name that represents the bright red color of the fruit of the same name. Chris Martin and Gwyneth Paltrow chose this name for their daughter.

Azure

The name Azure stands for a soft blue color such as the color of the ocean or the sky. This name has both Latin and French roots.

Beryl

Also spelled as Beril, Beryl comes from a Greek word for a pale green stone. Beryl is a good option for parents who prefer traditional names.

Bianca

Bianca can mean purity but often stands for the color white. It has Italian roots and is also popular among people with Hispanic heritage.

Cerise

The French word for cherry is Cerise, which is a cute baby name. Other ways to spell Cerise include Cerese and Cerrise.

Cloris

In ancient Greece, Cloris referred to a soft shade of green. Cloris is now an old-fashioned name and is often associated with actress Cloris Leachman.

Cinnamon

Cinnamon brings to mind a deep shade of red with hints of brown. It has Greek roots and last landed in the top 1,000 baby names in the 1960s.

Clementine

Parents will get a kick out of singing to the daughters they name Clementine, which refers to a bright shade of orange. Clem and Clemmie are nicknames for Clementine.

Dove

Though Dove can represent birds, it also means a warm shade of grey. One of the top celebrities with this name is Disney star, Dove Cameron.

Ebony

In both Greek and English, Ebony is a type of dark wood. Eboni and Ebonee are just a few of the different ways to spell this name, which is popular with African Americans.

Emerald

Emerald is both a stunning shade of green and a girl's name. Esmeralda is a fun alternative to this name that works with the nickname Emmie.

Fawn

Though some associate the name Fawn with baby deer, it also stands for the pale color of their fur. Fawn reached its height of popularity in the 1970s.

Fern

Parents looking for a natural name might choose Fern, which describes a deep green color. Fern as a girl's name has both German and English roots.

Giada

In Italy, Giada is both a name and a word that means jade, which is a shade of green. The name became more popular after the success of the TV chef with this name.

Ginger

Ginger is one of the few names that mean color with modern roots where it stands for a reddish-brown color. Fans of Gilligan's Island like this name.

Gwen

Gwen is a shortened version of Gwendolyn and means the color white. This Welsh name was popular through the 1950s and again in recent years.

Rose

The name Rose refers to the flower of the same name, which is often pink or red. Some know this name because of the character from The Golden Girls.

Sunny

Parents can't go wrong with Sunny, which describes the bold color of the sun. Sunny hit its peak as a baby name in the 1970s.

Tawni

Tawni is a girl's name that comes from a French word that described a tan or pale brown color. Many parents choose to spell it as Tawny.

Teal

Teal is a bold color with shades of blue and green. Though not very popular as a baby name, it's perfect for girls.

Topaz

The Greek word Topaz describes a gorgeous and deep shade of yellow. This is one of the more unusual names that mean color.

Violet

Violet is a soft shade of purple that is similar to lilac. It has Latin roots and gained some popularity in the last few years.

Willow

The name Willow comes from an old English word for a soft shade of green with yellow or blue tones. Willow from Buffy the Vampire Slayer and Willow Smith are popular examples of the name.

Wisteria

Not only does Wisteria refer to a plant of the same name, but it also stands for the purple color of the flowers. This name is a unique option.
Peruse thousands of baby names on MomsWhoThink.com! And follow us on Pinterest for more parenting inspiration!