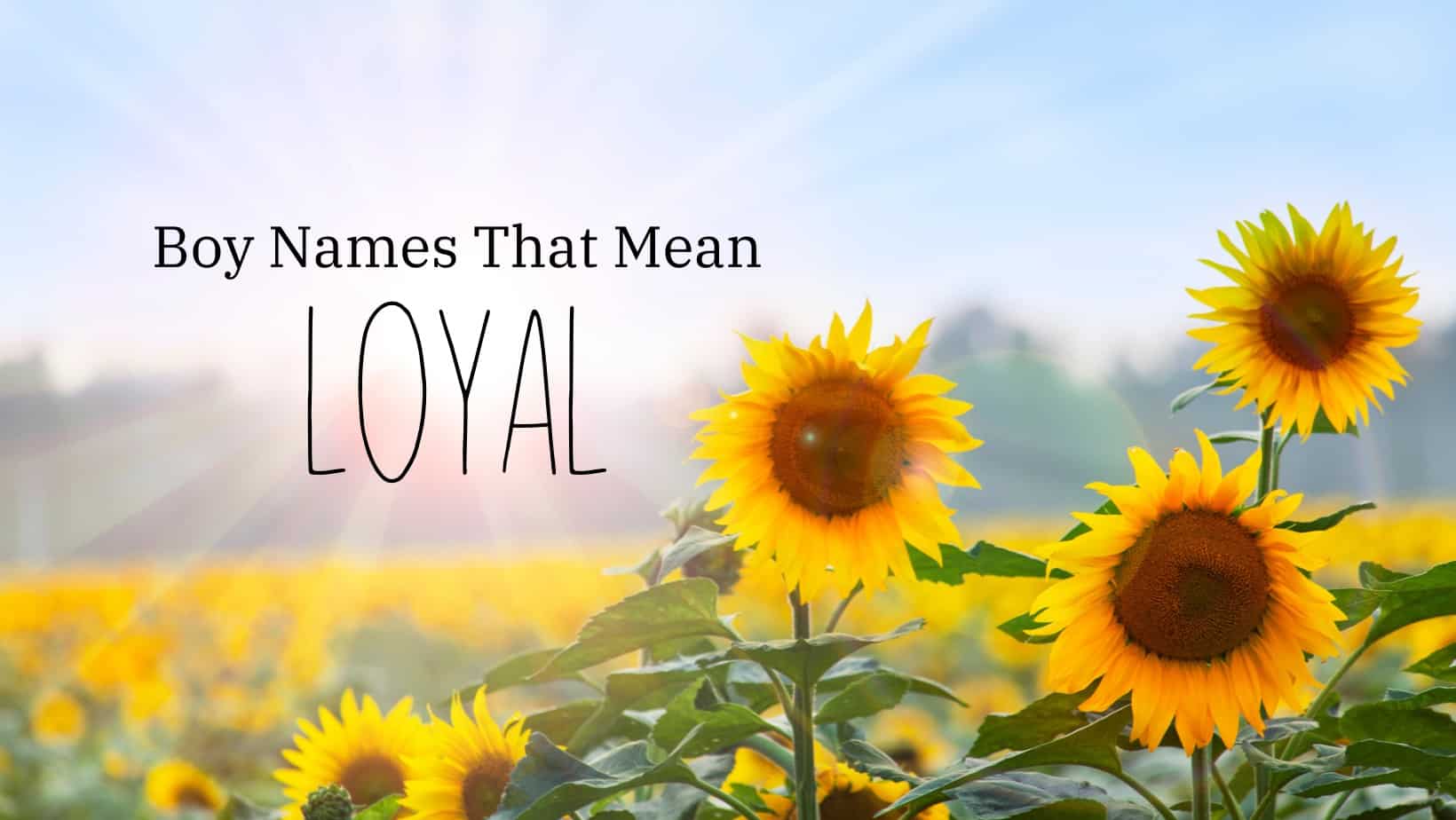 From David to Edgar to Leif and beyond, each of these boy names that mean loyal is masculine and impactful. Explore these options and select the perfect name for your son!
RELATED: More Baby Names That Mean Loyal
Abisai

Abisai is a Hebrew boy's name. It stands for loyalty and also means a faithful warrior or a gift from God.

Bellamy

Bellamy has Irish and English roots but became more popular as parents found the name on the television show the 100. The name shows that the boy is a loyal friend.

Besnik

This name has Albanian roots. The name means a boy who is faithful and loyal to those around him.

Calum

A unique baby name, Calum stands for loyalty. It has Celtic roots and originally referred to white doves.

Corwin

Used as both a first and last name, Corwin comes from a Gaelic word. The name means a friend of the heart who is loyal to others.

Dakota

Used as a boy's name, Dakota has roots in the states with the same name and Native Americans. This name means both loyalty and loyal friend.

Darwin

Darwin was originally an English name that meant a loyal and dear friend. The name became more popular in the United States as parents used it in honor of Charles Darwin.

David

Found in the Bible, David also has Hebrew roots. Standing for a loyal and beloved friend, this name is popular among parents who name their children after celebrities such as David Bowie.

Dimas

Dimas has Greek roots and means someone who is loyal to their friends. It can also refer to a male viewed as a leader by others.

Dill

A shortened form of Dillion, Dill is a modern name that means loyalty. Many believe that it has Irish and Welsh origins.

Drury

Drury is an example of a baby name with a meaning that changed. Originally used in France to show a boy cherished by his family, it now also stands for a son who is loyal to his family.

Edgar

Edgar is an Anglo Saxon name that originally referred to a person who used a spear. The name later came to mean loyal and powerful leader when used by Shakespeare.

Howin

In China, the word Howin means someone who is loyal and is responsible. The name can also mean someone who others trust.

Keller

Keller is a Gaelic name that originally meant a little champion. This name changed to stand for a soldier or warrior who is loyal to his crew.

Leif

Common in Norse and Scandanavian stories, Lief also appears in Swedish and American cultures. The name means a loyal man or boy deeply loved by others.

Lucky

A modern name for boys, Lucky has American roots. Parents often choose it to show that their boys are lucky and loyal.

Paxton

Paxton is a boy's name with both Teutonic and English roots. This name can mean loyal and peaceful as well as trader.

Sadiki

In Egypt, parents used the name Sadiki to show a male child who was faithful to his family and loved ones. The name still means this as well as loyalty.

Sadiq

Sadiq is an Arabic name that means a boy who is loyal. It became more popular after The Walking Dead introduced a character with the same name.

Salem

Not only is Salem a city name, but it's also a boy's name. Found in both Hebrew and Arabic cultures, the name means loyalty and peace but can also mean a boy who is free.

Scout

Popular as a boy's name, Scout means loyalty. This name became more famous as the name of a character in the book 12 Angry Men.

Treowoman

Though it sounds like a girl's name, this boy's name comes from old English. Most believe that it means someone who is loyal or successful.

Truman

Truman is an old English name and also the name of a former American president. The name gained popularity in recent years and means a loyal person.

Verril

Verril comes from a French word that means true. This name came to also mean loyalty and a person who others trust.

Wafiyyah

This elegant and unusual name comes from Africa. It means a girl who is both loyal and faithful to her loved ones.
Peruse thousands of baby names on MomsWhoThink.com! And follow us on Pinterest for more parenting inspiration!