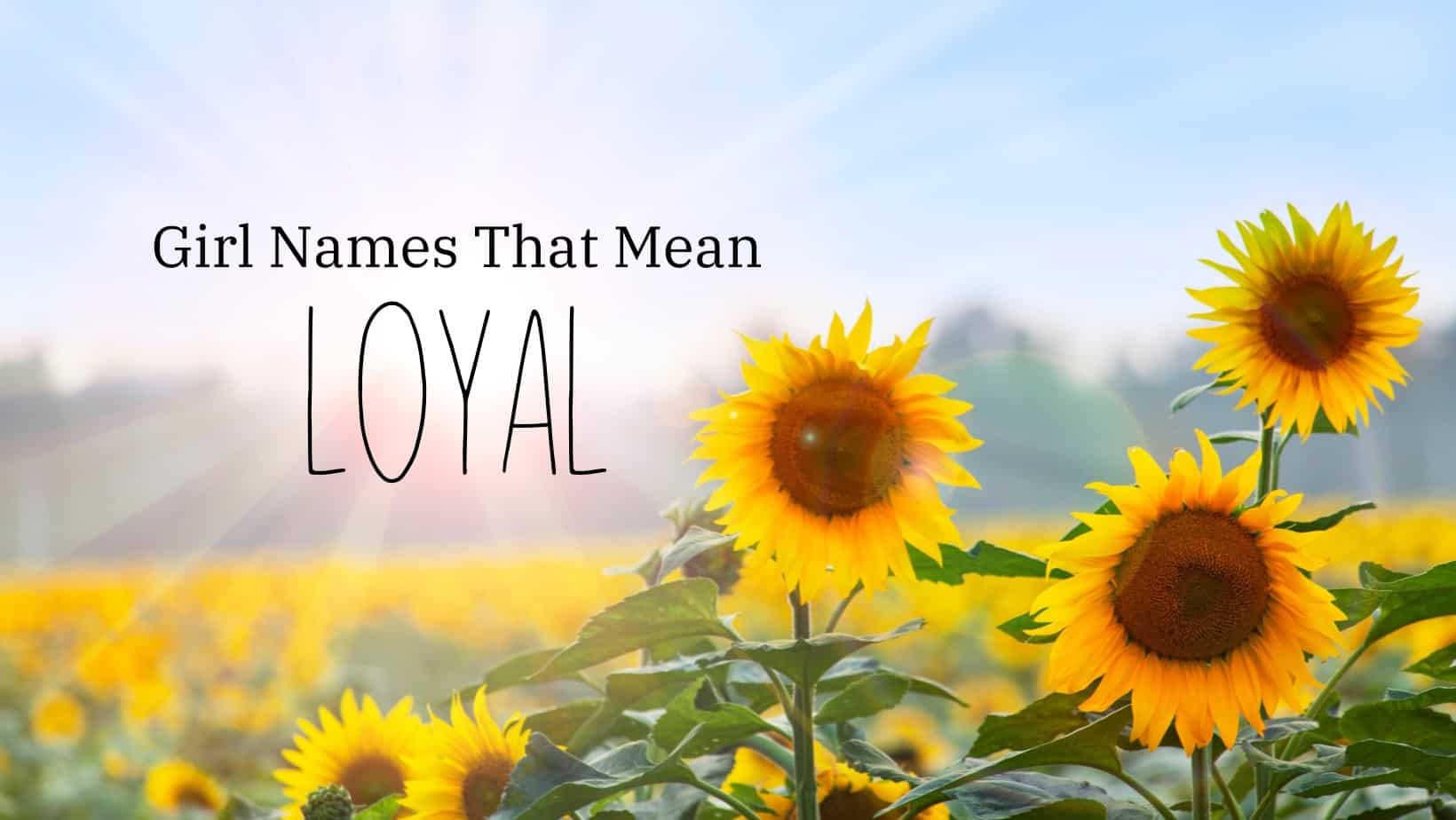 If you envision your daughter being a loyal and faithful human, then consider giving her a name from this list of girl names that mean loyal. From Amity to Leona to Carla and beyond, each brings a feminine and meaningful quality. Take a look!
RELATED: More Baby Names That Mean Loyal
Alexandra

Alexandra is the feminine form of Alexander. This name has Greek roots and can mean both loyal and a woman who defends men.

Alicia

Not only does Alicia mean loyal, but it can also mean protective. This name has modern roots and is sometimes spelled Alycia.

Ally

Though some use this as a nickname for Alison, it is also a full name with American roots that means loyalty. It is occasionally spelled Allie.

Amity

Though this name is similar to the name of a city in New York, it is Latin. Amity can stand for loyalty or friendship.

Benny

Also spelled Bennie, this is a name that comes from Spain. Benny means both loyal and brave and can mean strength.

Carla

Though not as popular as it once was, Carla is a German girl's name. The name means both loyal and free man to represent those who are free to find their loved ones.

Chicago

Chicago is the name of an Illinois city and comes from an old Native American term. Native Americans used the term for animals who were loyal to their packs.

Etelvina

Coming from Germany, this name shows that the child will grow up to be a good friend. Girls with this name are noble and loyal.

Faye

Faye is a modern name with French roots that came to mean loyalty and trust or belief. Parents can use different spellings such as Fay.

Fideline

This French name for girls means someone who is loyal. The name is a team of endearment.

Leala

Leala has both French and Spanish roots. Some also spell this name as Leela in honor of the Futurama character of the same name.

Leona

Leona is a Latin name that refers to a lion, which is an animal known for its loyalty. The name became more popular after the success of singer Leona Lewis.

Leola

A French name for girls, Leola means loyalty. A similar name is Leya, which comes from Spain and means the same thing.

Matilda

Originally used in Germany, Matilda means a loyal fighter who is strong in battle. Some also spell this name as Mathilda.

Meredith

Meredith is a Welsh girl's name that means a loyal and good ruler of others. This name gained popularity due to the character of the same name on the TV show Grey's Anatomy.

Mildred

Mildred was the name of several famous women throughout history. The name comes from old English and refers to a woman who has a gentle strength and is loyal.

Murphy

Irish people once used this name for people connected to the sea people. It is a cute girl's name that can mean loyalty.

Nicole

Nicole has French roots and stands for loyalty and victory. This name has several other spellings such as Niccole and Nicolle.

Philomena

Philomena is a traditional name for baby girls that comes from the ancient Greeks. In addition to loyalty, the name means a powerful type of love.

Phoebe

Phoebe means both loyalty and pureness. The name comes from ancient Greece and can also mean bright.

Shelbie

This cute name is a modern and updated name for girls. Though no one knows its origins, it means both loyal and kind.

Shylah

Shylah is a girl's name with Irish origins. Unlike other names that refer to loyalty in general, this name means someone who is loyal to God.

Takako

Japanese people used this name before it became popular in other regions. Girls with this name are loyal to their families and loved ones.

Themba

Themba is a girl's name that comes from an old African name. It means loyalty and faith as well as hope and truth.

True

A popular name for girls, this is a shortened and feminine version of Truman sometimes spelled Tru. The name means loyal one and comes from old English.
Peruse thousands of baby names on MomsWhoThink.com! And follow us on Pinterest for more parenting inspiration!