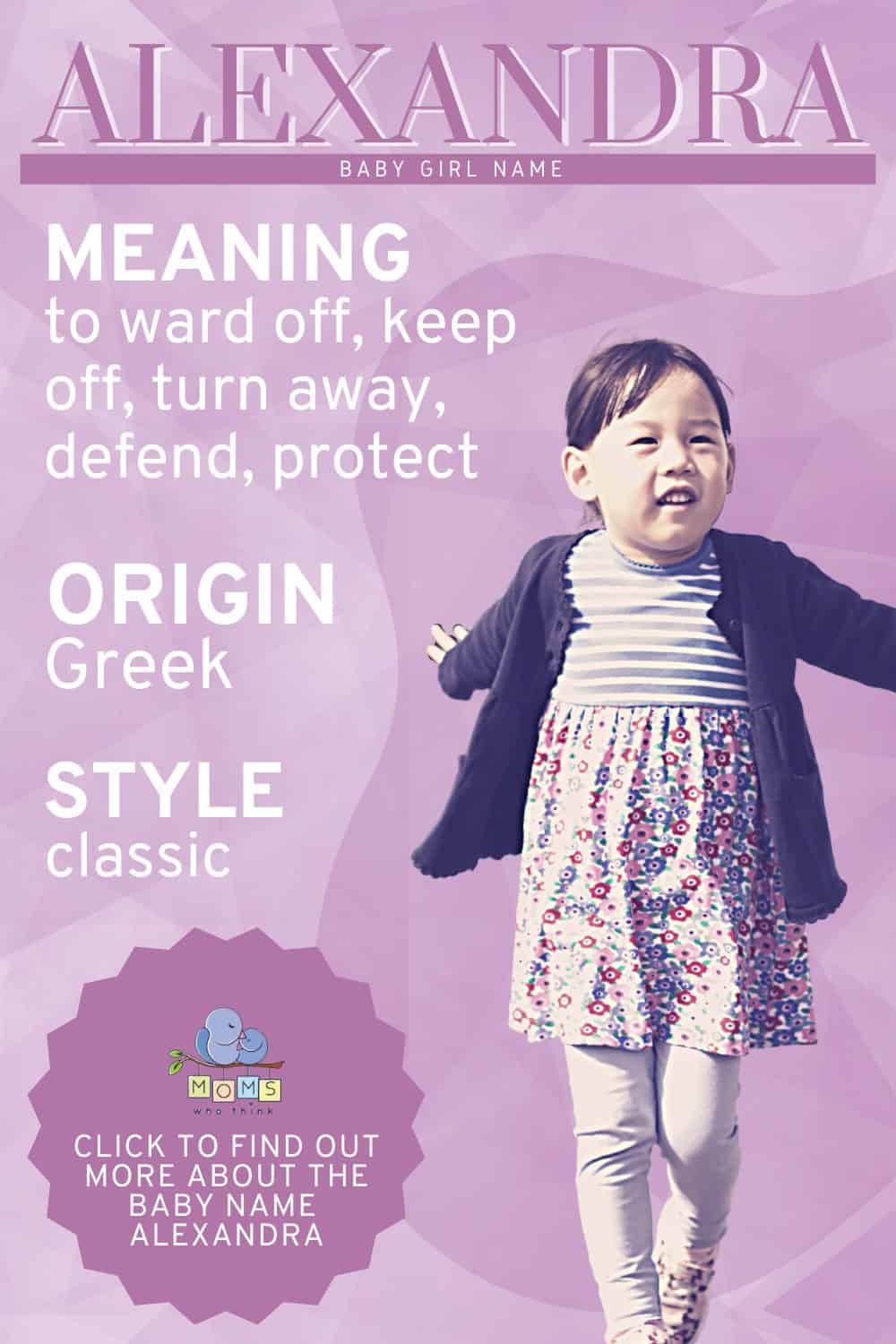 Let's Get Ready for Baby!
Sign up for our monthly pregnancy email series, and you'll get regular updates on your baby's development, helpful timelines to get ready for their arrival, must-have baby needs and so much more! PLUS, you'll get instant access to the MomsWhoThink "Ultimate Guide to Baby Naming in 2022."
CLICK HERE
to get started!
The name Alexandra is a feminine version of the Greek name Alexandros but has been used in many different ethnicities such as German, Hungarian, Scandinavian, Slavic, Spanish, and more. Learn more about this beautiful baby name.
Meaning of the name Alexandra:
Biblical: protector of men
Greek: to ward off, keep off, turn away, defend, protect
Spanish: defender of mankind
Origin of the name Alexandra:
Coming from the Greek name Alexandros, Alexandra is an English name.
Symbolism of the name Alexandra:
The endurance of the name Alexandra, and Alexander for masculine names, is greatly influenced by Alexander the Great. He is still considered probably the best military leader of all time.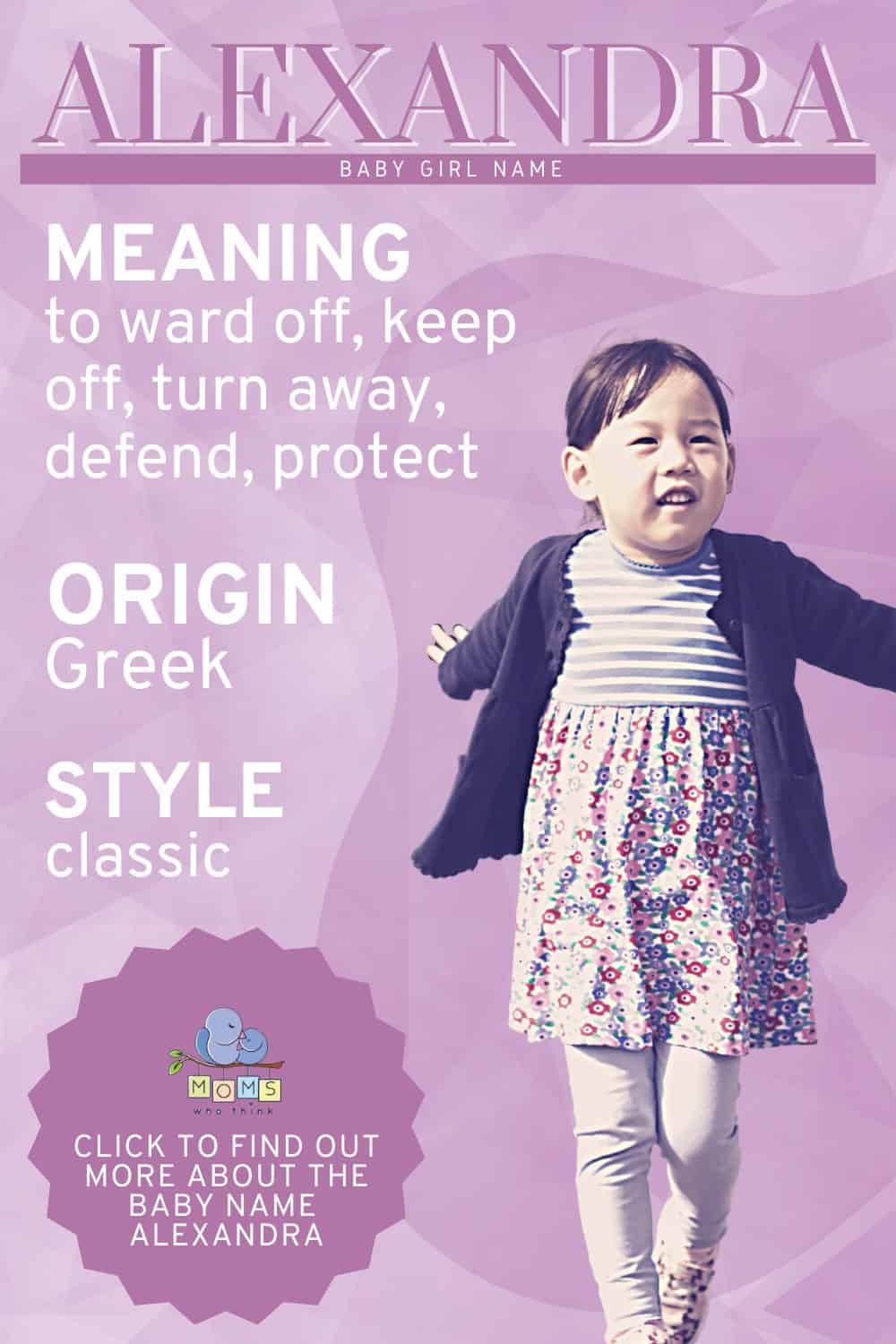 Style of the baby name Alexandra:
Classic
Gender of the name Alexandra:
Female. The male version of Alexandra is Alexander.
Pronunciation of Alexandra:
AL-ic-SAND-ra
Number of syllables in Alexandra:
4
Emotion evoked by the baby name Alexandra:
Alexandra provokes feelings of power and authority.
Alternative spellings of Alexandra:
Alessandra, Alejandra
Nicknames of Alexandra:
Alex, Alix, Allie, Allex, Allix, Ally, Lexi, Lexie, Sandi
Popularity of the name Alexandra:
Alexandra is ranked 137th in popularity with the Social Security Administration Index. It was the most popular in the year 2000, when it ranked 26th in popularity
Related names of the baby name Alexandra:
Alexandria, Alex, Alexa
Great middle names for Alexandra and their meanings:
Elizabeth (God is my oath)
Faith (Confidence, trust, belief)
Paige (young helper, mate of young nobles)
Rae (grace, timid, or bashful)
Hermione (messenger, earthly)
Renee (reborn or born again)
Jane (gracious/merciful)
Skye (Simply means sky)
Viola (purple)
Willow (willow tree, freedom)
Famous people with the name Alexandra:
People named Alexandra from movies/pop culture:
Alexandra Finch, sister of Atticus Finch in To Kill A Mockingbird
Alexandra Danvers, a.k.a. Alex Danvers, Kara Danvers' sister in Supergirl
Alexandra

a.k.a. Alex Mack, the main character in the popular American television series "The Secret World of Alex Mack"

Alexandra

DiMera, a.k.a. Lexie Carver, a character on the American soap opera "Days of Our Lives"

Alexandra Nuñez, a.k.a. Alex Nuñez, character in "Degrassi: The Next Generation"
Alexandra

Russo, a.k.a. Alex Russo, a character in "Wizards of Waverly Place"

Alexandra

a.k.a. Alex Dunphy, a character in the popular American Television series "Modern Family"

Alexandra

a.k.a. Lexie Grey, a character in the American Television Drama "Grey's Anatomy"

Alexandra

Cahill, character in the American Television series "Walker, Texas Ranger"