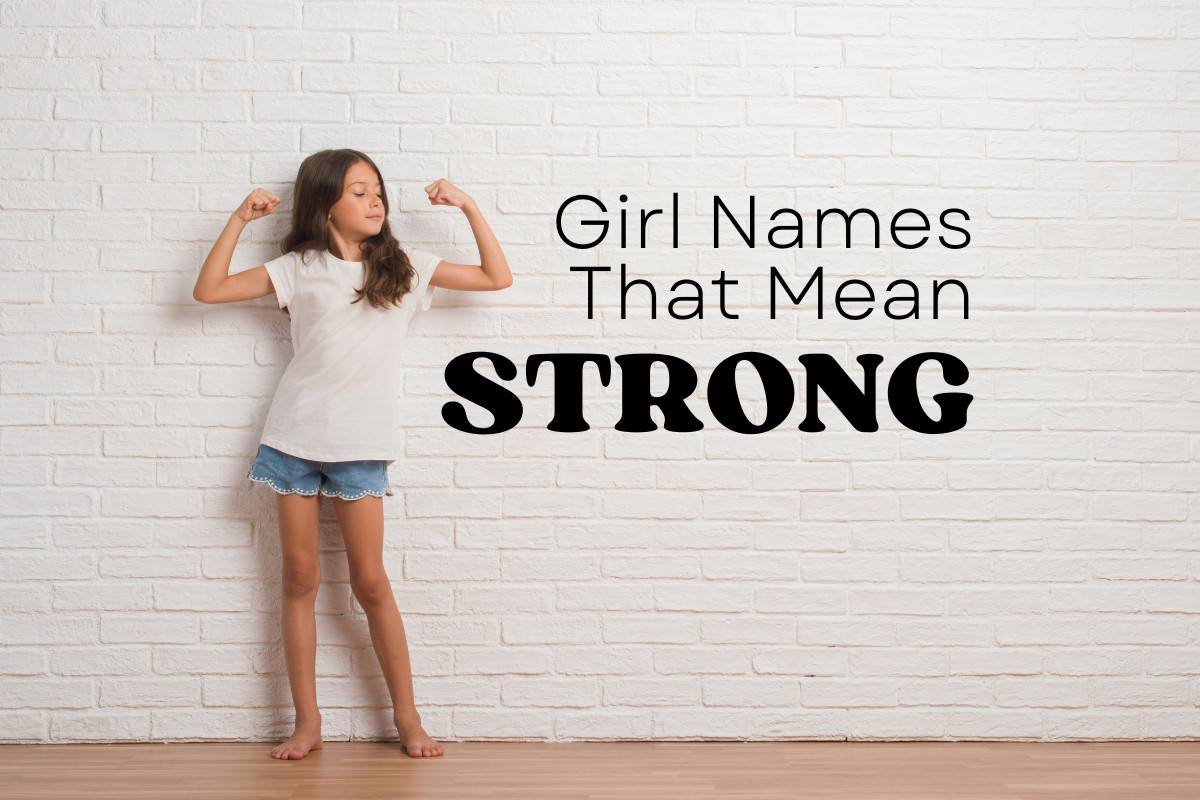 Strength. Confidence. Resilience. All of these are qualities a parent desires for their child. Set the foundation for your daughter to grow into an amazing woman by selecting for her a girl name that means strong. Here's a list to get your wheels turning. Take a look!
RELATED: Baby Names That Mean Strong
Adira

Adira is an obscure Biblical and Hebrew baby name that means "strong" and "powerful." It is the feminine form of Adir, used in the Bible to describe the strength of God.

Gertrude

Gertrude translates to "spear of strength." In German, it comes from the words "ger, which means "spear," and "thrud," which means "strength."

Imara

Imara comes from the Swahili people in Afrida. It is a beautiful name for a warrior-like woman as it means "strong" and "resolute."

Maude

Maude is a Germanic baby name meaning "mighty in battle." Maude is the more modern and Latin form of the name Matilda.

Bree

Bree is Irish and means "strength" and "exalted one." Not only is this a standalone name full of strength, but it can also be short for Brianna.

Drusilla

Drusilla means "strong" or "fruitful." This option is related to the Roman name Drusus, seen in the Bible who was the nephew of Nero.

Melisande

Melisande is a fairy-tale name that is rare in the modern age, though it comes from the German word "swinth" that means "strength." The full meaning of Melisande, however, is "strong in work."

Bernadette

Bernadette is a name that relies on symbolism, as it relates back to one of the most powerful animals in the world. The meaning, therefore, is "strong and wise as a bear."

Gerda

Gerda means "enclosure" and "stronghold" in Scandinavian countries. The name originated with a god in the Scandinavian culture, who oversaw peace.

Trudy

Trudy is a lighthearted baby name from Germany that means "spear of strength" or "universal strength." It began as a diminutive of the name Gertrude mentioned above.

Millicent

Millicent, in modern times, is more well-known for its nicknames, including Millie. The baby name dates back to Medieval times, however, meaning "strong in work."

Isa

Isa is the Muslim name for Jesus. It actually means "strong-willed" and "salvation of God," however.

Philomena

Philomena is a classically Greek baby name meaning "friend of strength." It was the name of a famous saint in the early church who was a martyr.

Valentina

Valentina means "healthy" and "strong" in the Latin language. It originated as a feminine version of the Roman names Valentino, as mentioned above, and Valentinus.

Brianna

Brianna is an Irish baby name that means "resolute," "strong," "virtuous," and "honorable." It is a feminine form of the name Brian that has the same meanings.

Audrey

Audrey is an Old English name meaning "noble strength." It is a variation of the ancient name Ethelred, who was a saint who founded a monastery.

Matilda

Matilda means "mighty in battle" in German. The root word of the first part of Matilda, "maht," translates to "might" or "strength."

Bridget

Bridget is a Gaelic baby name meaning "power," "vigor," "strength," and "virtue." Bridget comes from the ancient Irish name Brighid, who was the goddess of fire and poetry.

Mildred

Mildred is an Old English name that means "gently strength." The name originated with a saint in the seventh century who was an abbess.

Briella

Briella means "God is my strength." It is a shortened form of Gabriella, similar to nicnames like Gabby.

Carla

Carla means "warrior" and "free woman" as the feminine variation of Charles from the Germanic language. Though Carla does not outright have a meaning of strength, a warrior is one of the most powerful labels.

Karleen

Karleen is a Scandinavian baby name that means "womanly" and "strength." The male's version of this name, Karl, means "manly" and "strength."

Lenna

Lenna is an Old German name that translates to "strong as a lion." Most believe that Lenna is the feminine version of the ancient name Leonharda, with "leon" meaning "lion" in German.

Valerie

Valerie is a Latin name that originates from the ancient Roman name Valerius. It means "strong," "brave," "valiant," and "fierce."

Minka

Minka is a traditionally Polish baby name that means "strong-willed warrior." Others believe it means "with gilded helmet," however, as it could be a nickname for Wilhelmina.
Having a little boy? Here is a list of boy names that mean strong.