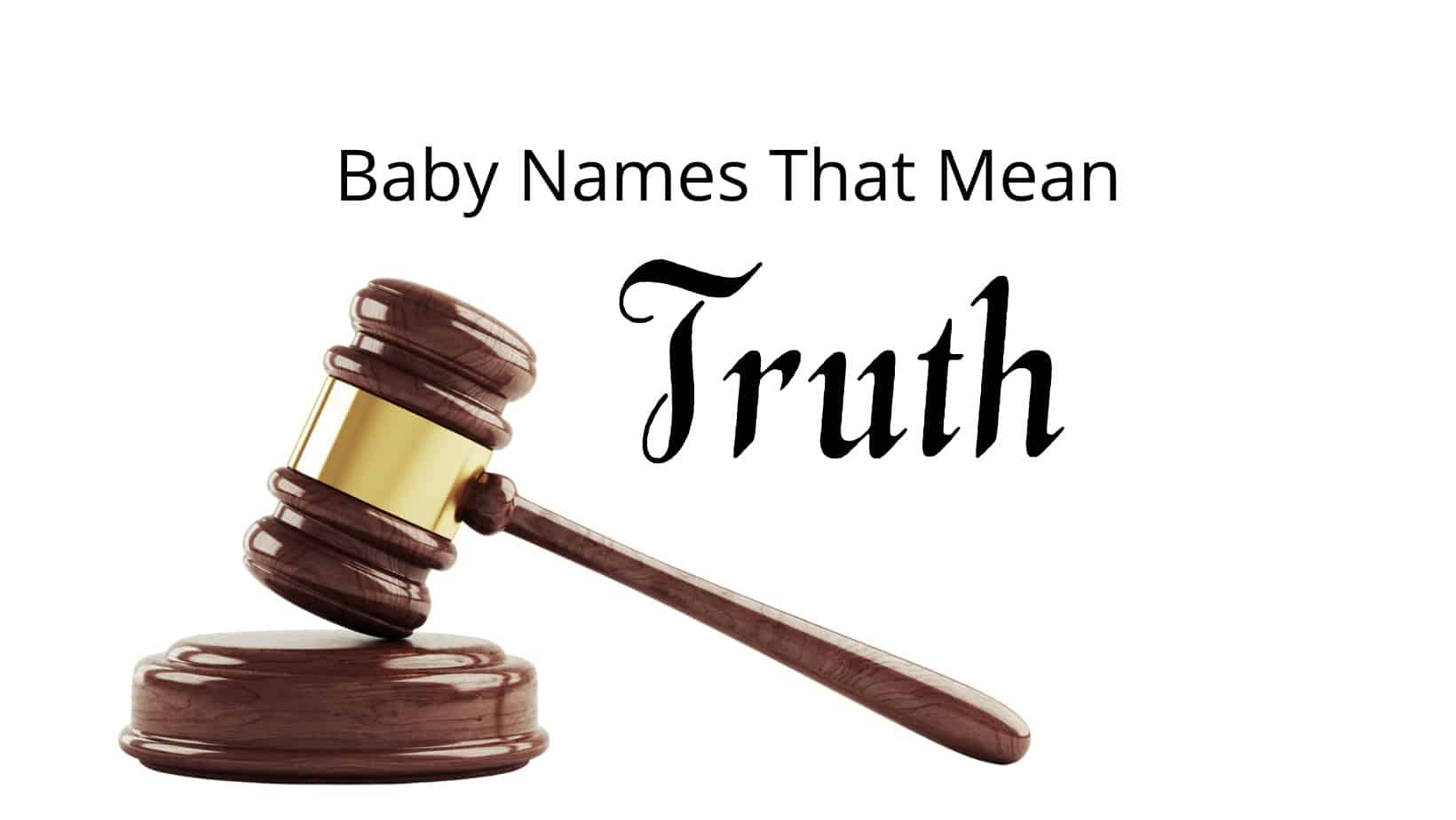 There is perhaps no more virtuous quality than that of truth. If you'd like to honor that quality in your child, consider giving them a name that means as much. Below is a list of baby names that mean truth, and each of the names is impactful and interesting. From Makoto to Dharma to Frankie, the variety runs the gamut.
RELATED: Boy Names That Mean Truth AND Girl Names That Mean Truth
Alika

Alika has roots in several dialects. In Hawaiian, it means truthful.

Dharma

In Hinduism, truth is the supreme dharma that provides the groundwork for all virtues. Dharma has roots in the Buddhist principles of cosmic existence: law, duty, and integrity.

Frankie

Frankie means 'free and truthful.' It's a diminutive of Frank and Frances. Variant spellings of this American moniker include Frankee and Franky.

Haqikah

A beautiful Arabic moniker, Haqikah symbolizes honesty. It's a unisex name, so you can use it to name a girl or a boy.

Honesty

If you want your child to grow up practicing radical honesty, give them this name as a constant reminder. It originates from the Old French honeste, meaning 'absent of deceit.' Some parents use the stylish spellings of Aunesti or Au'nesti to make the name stand out.

Joule/Joules

In scientific terms, a joule is a unit of energy. Named after the physicist James Prescott Joule, the moniker has English roots. It refers to an 'honest, courageous, brilliant and creative person.'

Justice

In the judicial system, "Justice" must sort through the facts and render a fair verdict. As a name, Justice is a gender-blind moniker that stems from the Latin justus.

Kabili

Kabili has Swahili roots and points to a 'brave and honest' person. An alternate spelling is Kabeeli.

Makoto

Of Japanese origin, Makoto symbolizes 'sincerity and truth.' It's a gender-neutral moniker but given males more often.

Maat/Ma'at

Maat is an African name that embodies the concepts of harmony, truth, and morality. In Egyptian mythology, Maat refers to the goddess who regulates the seasons and the stars. Some parents spell the name Mayet.

Naoki

Like most Japanese names, Naoki takes on different meanings. One of its definitions represents honesty. Both genders bear this name.

Prama

Prama is an Indian unisex name. It means 'knowledge of the truth.'

Pranjul

Babies who go through life with the name Pranjul may have a slight advantage. This gender-neutral Hindi name means 'truthful and dignified.'

Satya

Satya is a genderless name of Sanskrit origin. In Indian culture, Satya refers to virtue. And to exhibit "satya," a person must be truthful in deeds, thoughts, and words.

Seiko

One meaning of the Japanese name Seiko is truth. You pronounce this gender-fluid moniker SEH-ee-ko.

Setia

Setia is a gender-neutral Indonesian moniker. It means 'truth and faithfulness.'

Sincere/Sincerity

and Sincerity are English word-names borne of the Puritan period. These monikers represent authenticity.

Tam

Tam is a unisex name of Hebrew influence. It means 'honest and innocent.' In Scotland, the moniker is a short version of Thomas.

Thabiti

Thabiti is an African name given to Kenyan boys. It represents a truthful man.

Tru/True

Since the naming of Khloe Kardashian and Tristan Thompson's daughter, the moniker True has skyrocketed. It's a nonbinary English name most often given to girls.

Truly

If you want to carve out a straight path for your child, the name Truly shows promise. This English-origin name is suitable for both genders. Variants of the name include Truleigh and Trulee.

Truman

From the ancient Anglo-Saxon surname, Truman embodies loyalty, integrity, and truth. It's also the last name of the 33rd president of the United States, Harry S. Truman. He inspired many parents to name their boys Truman.

Truth

Believe it or not, Truth is a unisex name that increases in popularity each year. From the Old English trīewth, it refers to one who is faithful.

Verity

Verity is one of the virtue names embraced by 17th-century Puritans. It has Latin and English origins and signifies truth.

Vrai

In French, the name Vrai means true. This moniker is gender neutral.
Peruse thousands of baby names on MomsWhoThink.com! And follow us on Pinterest for more parenting inspiration!