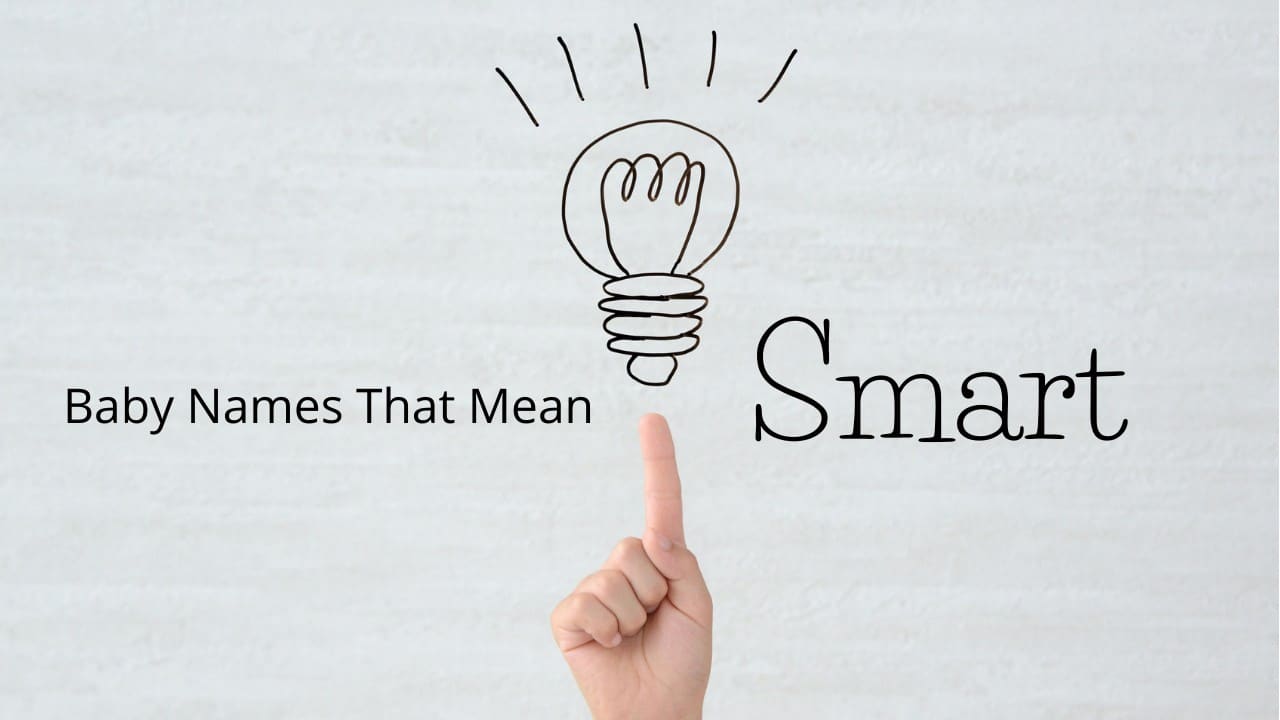 Every parent desires to have a smart child, which can take form in many ways … book smart, street smart, emotionally intelligent … These baby names that mean smart run the gamut and work for both boys and for girls. Take a look at the options and find a great name for your child.
RELATED: Boy Names That Mean Smart AND Girl Names That Mean Smart
Alden

Thanks to Alden Ehrenreich, this English surname has a new image. Alden suits either gender and means 'old, wise friend.

Beren

Maybe it's the similarity of the name Barron. Or perhaps it's the sweet sound of this two-syllable moniker. Either way, Beren gives off savvy vibes. The name has Turkish and English origins and means 'strong and smart.' In Turkic communities, parents give the name to girls. It typically goes to boys in English-speaking communities.

Cassidy

Cassidy is a perfect choice for a baby born with a head full of curls. This genderless moniker is of Irish origin and refers to a 'clever' or 'curly-haired' person. Cassidee is an alternate spelling.

Cato

In Latin, Cato means 'all-knowing.' It is a gender-neutral name.

Conary

There's something special about the name Conary. This gender-fluid moniker is of Irish origin and means 'full of knowledge.'

Dana

Dana is a multicultural name. It has roots in Arabic, English, and Persian languages. Queen Latifah (born Dana Elaine Owens) and comedian Dana Carvey share this name.

Dola

If you imagine having a budding genius on your hands, Dola provides the right fit. This unisex name is of Sanskrit origin and refers to someone 'eager for knowledge.' Also, it describes an oscillating object.

Ganya

Ganya is a gender-fluid name rooted in Hebrew and Russian languages. It means 'clever, and translates to 'Garden of the Lord.

Ismintis

Ismintis is a gender-neutral moniker. Derived from Latvian, the name refers to a person with 'wisdom.'

Kei

In Japanese, Kei means 'intelligent.' This nonbinary name also means 'wise' in French.

Kendry

Although Kendry means 'wise man,' it is suitable for either gender. Derived from Malagasy, it makes an excellent alternative to the name Kendall.

Mackenzie

From the Gaelic surname Mac Coinnich, Mackenzie refers to a 'child of the wise one.' This gender-neutral name also means 'good looking.'

Matalino

The Filipino name Matalino means 'wise.' In Swedish, Matalino translates to 'bright.' It means 'brain' in Swahili.

Nzeru

Nzeru conveys 'wisdom.' It is a unisex name with African roots.

Quinn

Derived from the Irish vocabulary, Quinn means 'chief leader,' or an 'intelligent leader.' It also refers to 'descendants of Conn The name is suitable for both genders.

Sage

Sage is an English word that refers to a 'spice or wise person.' In the 1990s, the name was in the Top 1000 for males and females.

Saviesa

With the letter 'a' at the end, Saviesa may sound like a feminine moniker. But it's a genderless name, meaning 'wise.'

Schlau

Before your little brainiac enters the world, consider using the name Schlau. This German name signifies 'smartness.'

Shannon

People say a child named Shannon is wise beyond his/her years. This gender-neutral name is of Irish origin and represents 'old and wise.'

Skylar

If you're determined to raise an academic, Skylar is a solid choice. The originates from the Dutch surname Schuyler. It means 'scholar' or 'intelligent.'

Thanh

One out of every 165 persons in Vietnam carries the name Thanh. It is a gender-neutral moniker, meaning 'brilliant.'

Vitur

Vitur comes from the Old Norse vitr. This genderless moniker translates to 'knowledgeable, wise.'

Wisdom

With a name like Wisdom, people may perceive your child as 'smart.' This Old English moniker suits both males and females.

Zeki

The name Zeki is a rare Turkish moniker, so the chances of your child having the same name as a classmate are slim. This adorable moniker means 'clever or intelligent.'

Zhihui

This Chinese name conveys 'perception and wisdom.' It also means ambition.
Peruse thousands of baby names on MomsWhoThink.com! And follow us on Pinterest for more parenting inspiration!