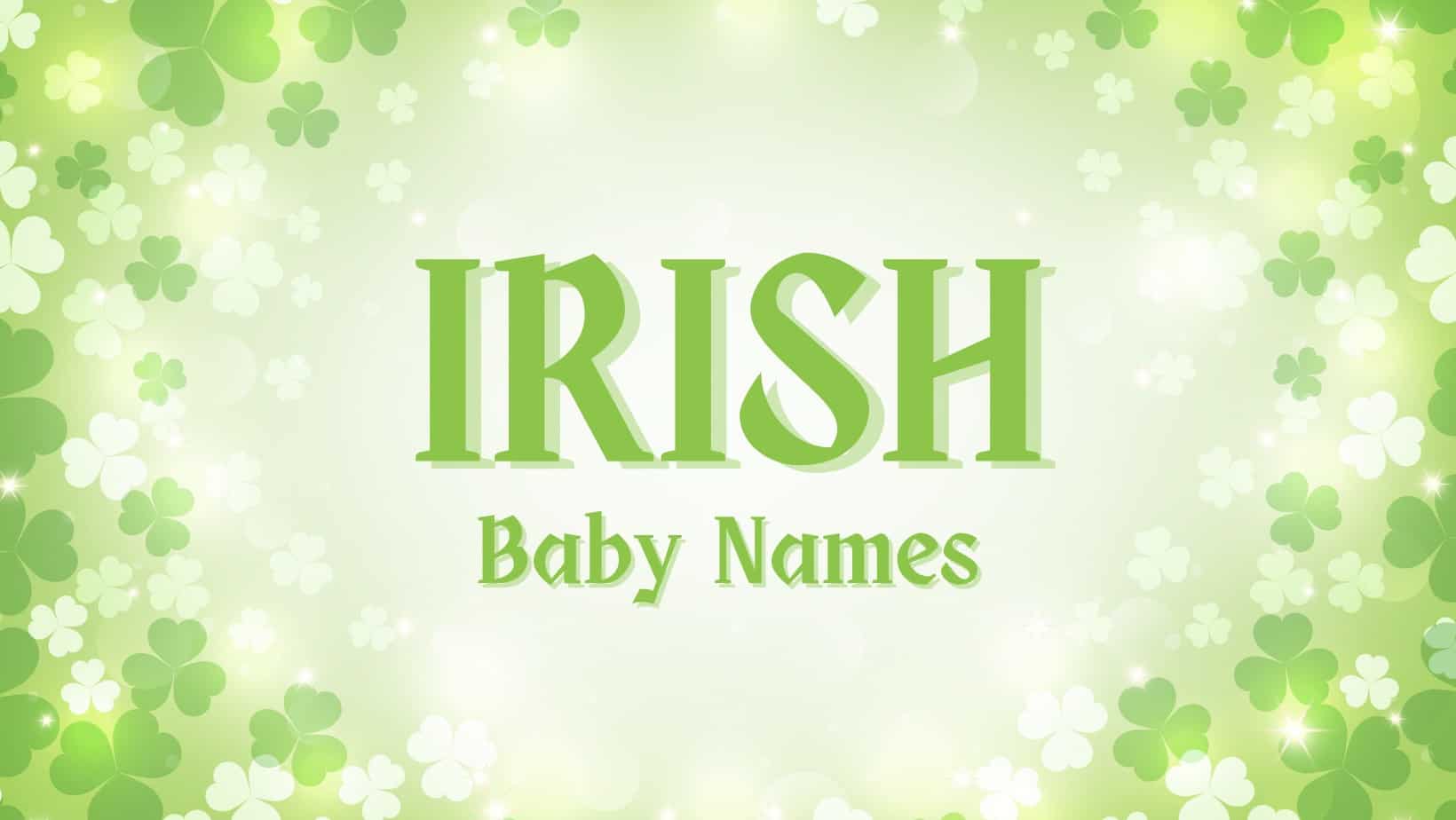 Irish folks are known for being stubborn but lovable, warm and talkative. So many wonderful qualities are embodied by the Irish population, many of which are captured in this list of Irish baby names. Take a look and find the ideal moniker for your little one!
RELATED: Irish Baby Names for Boys AND Irish Baby Names for Girls
Aodhan

This gender-neutral Irish moniker is influenced by Aodh, the Celtic god of sun and fire. It means 'little and fiery and includes the variants Aiden and Aidan.

Bellamy

The name Bellamy has roots in Irish, English, and French. It is a gender-neutral name that means 'fine friend.'

Brady

Brady comes from the Irish surnames Ó Brádaigh or Mac Brádaigh. It is used as a first name for either gender and means spirited or 'one with broad eyes.'

Cagney

The name Cagney is a traditional Irish surname that works as a first name for a male or female. In Irish cultures, the name means tribute.

Caoilainn

The name Caoilainn looks difficult to pronounce. But it isn't. Pronounced Kay-lin, this genderless name comes from the Irish words caol and fionn, which means slender and pure.

Carlin

The moniker Carlin is a bold choice for parents who hope their child will grow up to conquer the world. It is of Irish origin and means 'little champion.' Other variations of the spelling include Carlan and Carlyn.

Cody

This once-popular Irish boy's name has evolved into a genderless name. It means helpful and has multiple spellings, such as Codee, Codi, and Codey.

Cory/Corey

The origin of the gender-neutral name Cory/Corey is from Ireland. In Irish culture, the meaning translates to 'from the hollow.'

Dallas

The name Dallas may conjure up images of a city in Texas, but it is of Irish origin. It is a gender-neutral name that means skilled.

Declan

Pronounced DECK-lin, this moniker comes from the Gaelic name Deaglan. Although the meaning is unclear, it grew in popularity in the mid-20th Century. The name also refers to a 5th-century disciple and missionary who brought Christianity to Ireland.

Delany

A variation of the surname Delaney, this Irish moniker means 'dark challenger.' It is one of the top names for females but is used to name males as well.

Dempsey

The moniker Dempsey suits a boy or a girl. It is of Irish origin and means proud or haughty.

Devan

The name Devan can be traced to the Irish surname Devin. It means poet or fawn and typically references someone with a 'gentle disposition.'

Dillon

Dillon comes from the Irish word dealan, which means 'flash of lightning. The unisex name also refers to someone who is 'faithful and loyal.'

Gael

Gael is a cross-gender name that refers to a descendant of ancient Celts. It also means 'full of joy.'

Keagan/Keegan

The name Keagan is generally more common for boys. Its pronounced KIY-GaeN and is an Irish name of Celtic origin that is also used to name girls.

Kelly/Kelley

Used primarily in Irish and English languages, the unisex name Kelly is of Celtic origin. It comes from an Old Irish surname O'Ceallaigh or Cellagh and takes on several meanings, including church, monastery, war, or warlike.

Killian

The name Killian (also spelled Cillian) is derived from the Gaelic word cille. It is a genderless name that means 'affiliated with a church.'

Larkin

Larkin is a moniker used for a boy or a girl. It is of Irish origin and refers to the feminine bird or masculine surname.

Quinn

Quinn is a well-known surname in Ireland that comes from O'Cuinn. It refers to 'a person of high intelligence,' and can be used as a feminine or masculine moniker.

Regan

Regan is a gender-neutral name used for males and females. It comes from the Irish word ri, and means the king's child.

Rauari

Rauari is the Irish version of the name Rory. Initially, the name was given to boys to pay homage to the last high King of Ireland. Now, the moniker, which means rust-colored or red is used for males and females.

Siobhan

Several Irish Queens bore the melodic name Siobhan (shiv-awn). This Gaelic Irish name means 'God is gracious.'

Saorirse

Pronounced Sor-cha, Saorirse means freedom. This Irish moniker was originally given to boys, but some parents find it is a suitable girl's name.

Teagan

The name Teagan is of Irish origin. It is a unisex name that means 'little poet' or fair.
Peruse thousands of baby names on MomsWhoThink.com! And follow us on Pinterest for more parenting inspiration!