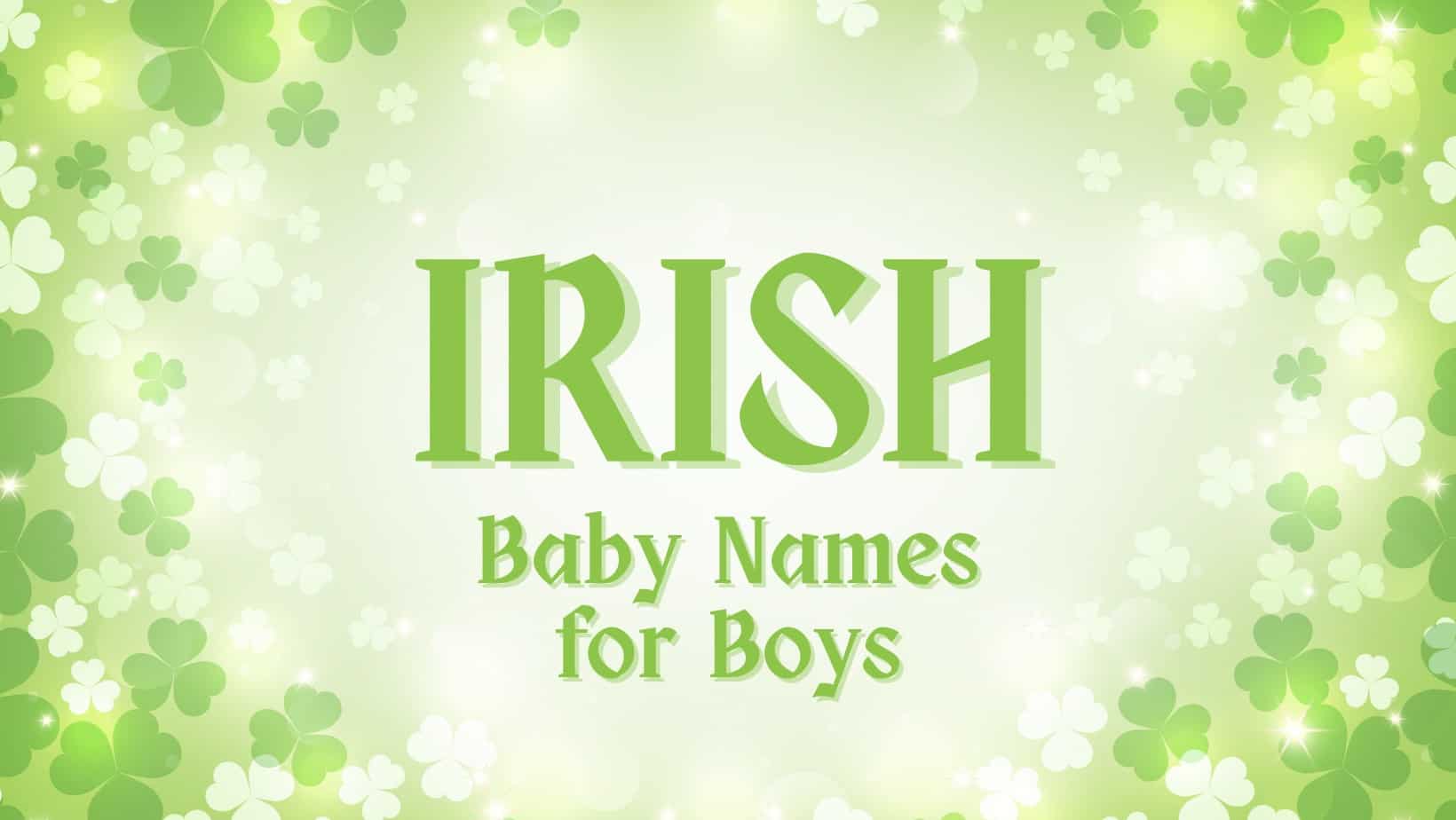 From Coltrane to Liam to Devlin, this list of Irish baby names for boys features a variety of handsome options. Peruse these names and explore their meanings, and you're bound to find the perfect fit for your son.
RELATED: 25 Irish Baby Names We Love!
Aengus

The name Aengus is not well-known outside of Ireland, but it is commonly found in Irish mythology. It is a masculine name that translates to strength or vigor.

Banning

Banning is a rare boy's name derived from a surname. It is of Irish origin and means, 'small, fair one.'

Brendan

Brendon is an Irish boy's name that originates from Old Irish Brénainn. The moniker comes from the word brenhin, which means prince.

Brody

Originally a surname, the name Brody is generally given to boys. It is taken from the Gaelic brothaigh and refers to a person with 'broad eyes.'

Brosnan

The moniker Brosnan is a strong, masculine name derived from the surname O Brosnachain. It refers to 'one who resides near the Brosna River.'

Cathal

Cathal is a boy's moniker assigned to a 7th-century Irish saint. It is taken from the Gaelic words cath and val, which refers to someone 'strong in battle.'

Coltrane

The name Coltrane is a masculine moniker. It comes from the Irish surname and refers to the descendants of Coltaran.

Criostoir

Criostoir is a boy's moniker rooted in several etymologies. In Irish, the name means 'Christ bearer.'

Devlin

Devlin is a masculine moniker. In Irish, the name translates to brave.

Donnacha

– Derived from the Gaelic words donn and cath, Donnacha means 'brown-haired warrior.' Donnacha was also a high king of Ireland.

Eamon

Eamon is a male's name of Irish origin that means 'keeper of riches' or 'wealthy protector.' It also refers to the first head of the government of Ireland.

Eoin

Eoin is the Irish Gaelic alternative to the monikers John or Ian. It is pronounced o-wen, and translates to the 'Lord is gracious'.

Fintan

Fintan is a male's moniker of Irish origin. It refers to a 'white fire.'

Gaibrial

Gaibrial is a masculine name of Irish origin. It is the Gaelic form of Gabriel and means 'God is my strength.'

Gallagher

The name Gallagher is of Irish origin. It means' descendant of foreign helper.'

Geroid

An Irish variant of the name Gerald, Gearoid comes from the Celtic word gear (spear). The name itself is popular among Irish boys and means 'spear carrier.'

Grady

The moniker Grady is an Irish surname that has evolved into a boy's first name. It's Gaelic in origin and means noble.

Liam

The name Liam is a boy's moniker derived from the Irish name Uilliam. It translates to 'someone who protects.'

Lucan

Lucan is the Irish variation of the moniker. Luke. Besides the name of a town in Ireland, Lucan means light.

Lugh

The moniker Lugh comes from the Old Irish lugu, which means 'shining light. In Irish mythology, the masculine name refers to the 'god of the harvest' or 'Celtic sun god.' In some parts of Ireland, the Autumn harvest or Lughnasadh is celebrated with bonfires and dancing.

Malachy

The name Malachy is the Irish version of the Hebrew name Malachi. It is a boy's name meaning messenger.

Naomhan

Naomhan is a unique Irish boy's name. It is pronounced nee-vawn and is derived from the word naomh, which means saint or holy.

Peadair

Peadair is the Irish form of Peter. It is a masculine name that means rock.

Rearden

Rearden is an Irish boy's name that refers to a royal poet. It is a variation of the moniker Riordan.

Senan

The name Senan is generally given to little boys. It is of Irish origin and means 'little wise person.
Peruse thousands of baby names on MomsWhoThink.com! And follow us on Pinterest for more parenting inspiration!