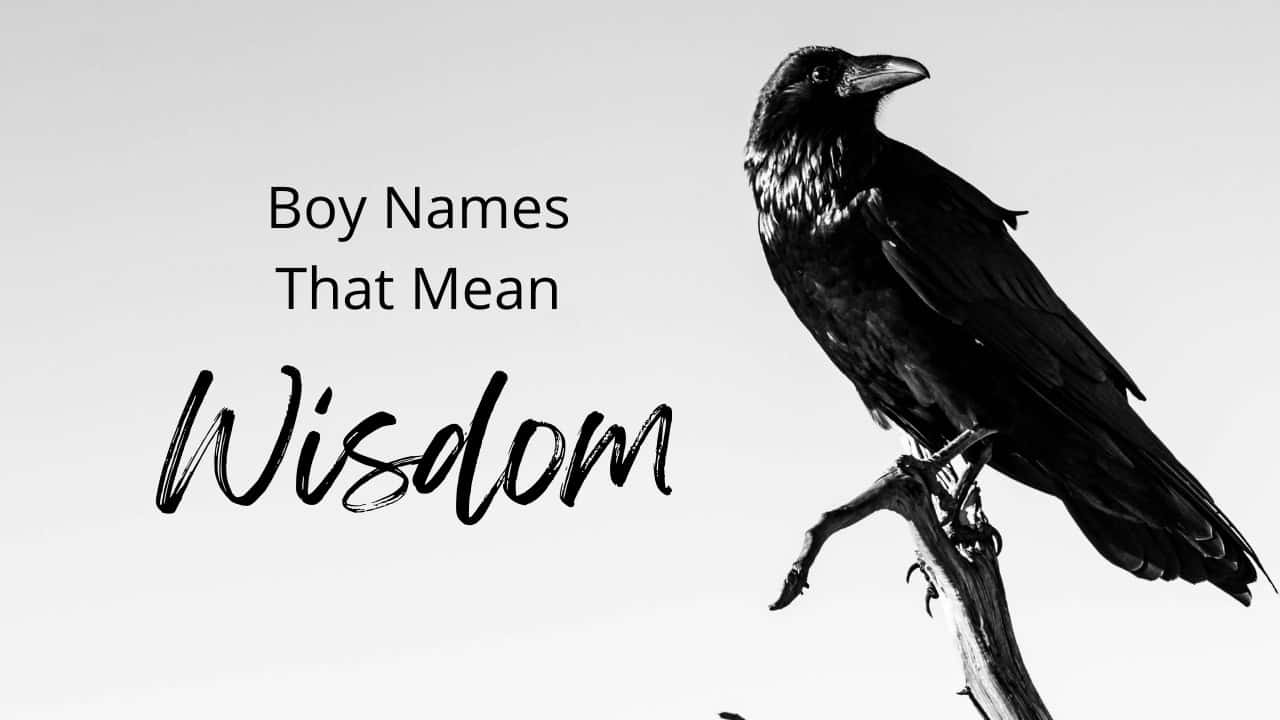 From Ethan to Alden to Conroy and beyond, this list of boy names that mean wisdom is filled with a wide variety of options. Explore the list to find the perfect name for your son.
RELATED: More Baby Names That Mean Wisdom
Alden

This classic name holds significant English heritage. It means wise. One of its more famous possessors is famed and historic American author Alden Partridge.

Fabian

Persons fond of the Latin language might name their sons Fabian. In English, the moniker is interpreted into the expression man of wisdom. Many closely associate the title with a 1960's male singing sensation.

Kendry

Kendry is a title handed down to boys. The designation's roots can be traced back to the Malagasy language and is interpreted to mean wise man.

Nestor

This Greek denomination is awarded to infant boys. It first took hold in ancient Greece and honors a king of the same title who served as a wise counselor. One famous bearer is actor Nestor Serrano.

Raymond

Parents of all cultures and traditions might label newborn boys this honorific. That said, Raymond's historical roots were planted in France. In French, the moniker recognizes wise protectors.

Ethan

The title Ethan holds appreciable Hebrew roots. When translated from said tongue, the masculine denomination symbolizes wisdom. However, the title also represents strength. American patriot Ethan Allen is one of its most famed possessors.

Hugo

Hugo is a powerful male title. Its origins are German and celebrates smart-minded people. That said, the name is popular in other countries and ethnic groups.

Alfred

This is a classic old English moniker. The boy's name honors wise counselors in the old English tongue. Arguably, its most famous holder was famed movie director Alfred Hitchcock.

Aldo

Mothers and fathers born in Italy or carrying Italian ancestry might designate newborn sons Aldo. When translated from Italian to English, the name means wise.

Conroy

The title Conroy's origins began in Ireland. In Irish tongues, the honorific salutes wisdom.

Farzan

Farzan is a male title holding Persian heritage. In said language, the name recognizes those displaying a wise nature and intelligence.

Eldridge

The Anglo-Saxon period is when the title Eldridge took hold. In these tongues, said masculine denomination means wise king. A noted bearer is the late civil rights activist Eldridge Cleaver.

Ogban

Persons born in Nigeria and in other locations where the Yoruba language is spoken might title their infant boys Ogban. When interpreted into English, the moniker equates to the expression person with wisdom.

Seanan

This Irish title is given to newborn boys. Seanan means wise man.

Fitzhugh

The male designation Fitzhugh is popular in the United Kingdom or in persons carrying ancestry of said nations. In English, the denomination is translated into the phrase the son of an intelligent man.

Manish

This ancient name first grew to prominence when Sanskrit was commonly spoken. Manish celebrates intelligence.

Cato

Cato is a title rooted in the Latin language. Language historians maintain that it translates to the expression a wise person who displays good judgment. It can be spelled several different ways. A noted bearer is Kato Kaelin, whose notoriety peaked during the O.J. Simpson trial.

Ronald

Many may be surprised to learn that this masculine title's historical roots are Norwegian. In the Norse language, Ronald means wise counselor.

Raghnall

New Dads and Moms who either speak or are fond of the Latin tongue might denominate newborn boys Raghnall. This moniker recognizes intelligence and power.

Mendel

Mendel is a name contributed to the world by the Yiddish culture and language. This male designation celebrates wisdom.

Vivek

Indian individuals may choose to title their infant boys Vivek. In various Indian dialects, the honorific symbolizes persons possessing intellect.

Socrates

Socrates is a famous Greek name awarded to boys. The moniker honors wisdom in addition to the legendary historical philosopher of the same name.

Alger

This masculine name possesses English roots. It means clever warrior. An infamous holder is the late American traitor Alger Hiss.

Reginald

The title Reginald's heritage dates back to the Norman period. It means wise king. Pop superstar Elton John's actual birth name is Reginald Dwight.

Boman

Those born in Iran and surrounding regions may name an infant son Boman. In Persian, the moniker recognizes great minds.
Peruse thousands of baby names on MomsWhoThink.com! And follow us on Pinterest for more parenting inspiration!