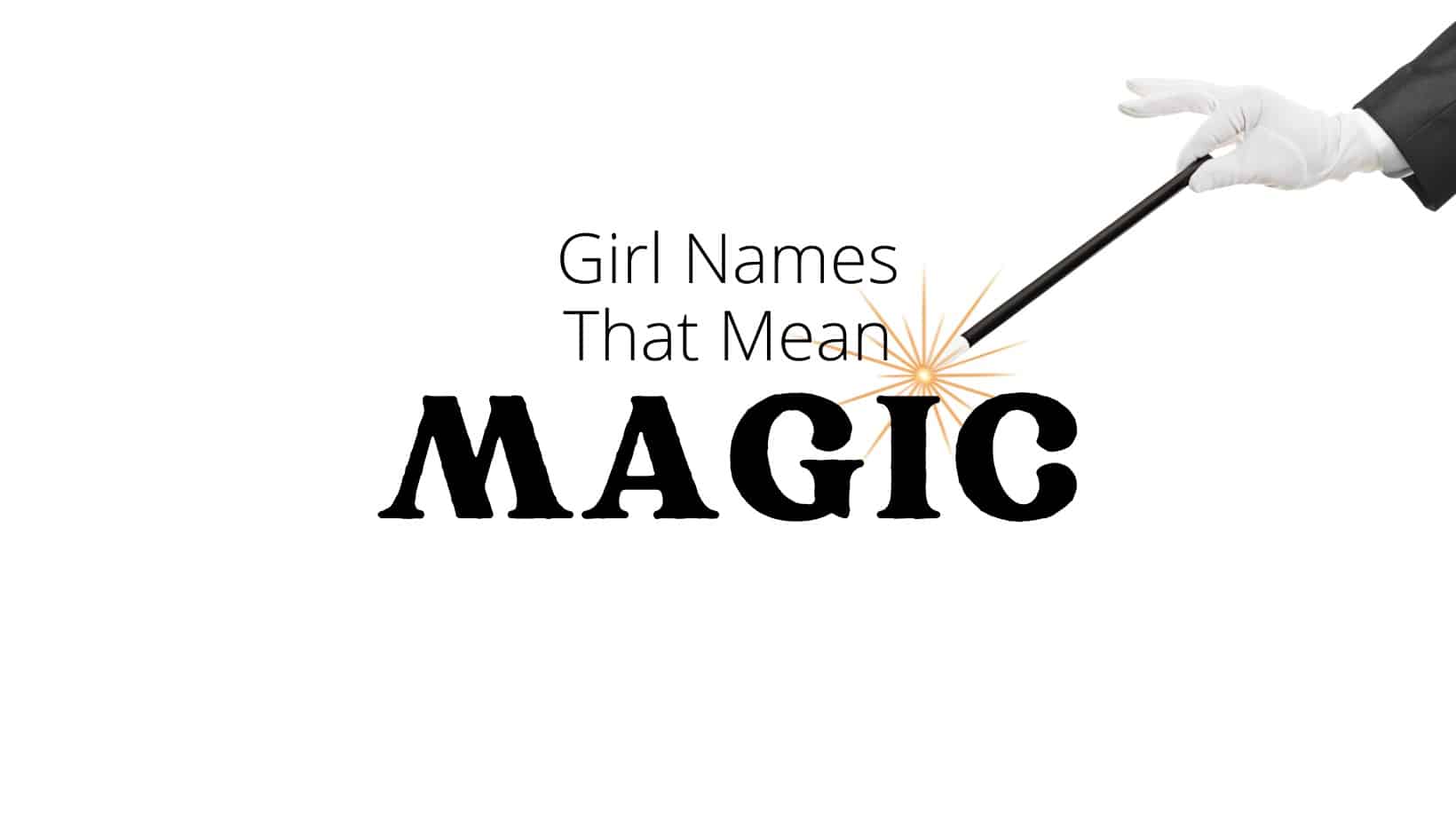 If you're looking for a name for your daughter that is both mysterious and feminine at once, select an option from this list of girl names that mean magic. Each is unique and intriguing — both qualities that will carry with her for a lifetime. Take a look!
RELATED: More Baby Names That Mean Magic
Alcina

Alcina is a feminine name of Greek origin that means "strong-willed". Alcina is best known as the name of the beautiful sorceress character featured in the eponymous Handel opera taken from the Orlando poems.

Althea – A name found in Ancient Greek pastoral poetry and mythology, Althea is an ethereal feminine name meaning "with healing power". It has been used as the name of a main character on the show Fear the Walking Dead.
Alyssa – Pay homage to your love for Charmed with the name Alyssa, after actress Alyssa Milano. Alyssa is of English origins and means "noble".

Angitia

Once worshipped in central Italy, Angitia is the goddess of magic and medicine.

Artemis

Known as the virgin goddess of the hunt in Greek mythology, Artemis is a cherished goddess among those who practice Paganism and Wicca.

Circe

In Greek mythology, Circe (pronounced KEER-keh) is the daughter of Helios (the sun god) and is a sorceress living on the island of Aeaea. Circe has the power to turn men into animals using her magic wand.

Cybele

Cybele is mother of all the gods in Greek mythology. She is also the goddess of health, healers, and is the mistress of wild nature and fertility.

Eir

Pronounced like "air", Eir is a name hailing from Norse mythology. Eir is the goddess of medicine.

Emma – Emma Watson certainly made the name magical when she starred as Hermione in the Harry Potter movies. Emma comes from the Germanic word ermen meaning "whole" or "universal". This name is also used as a diminutive of Emmeline and Amelia.

Galadriel

Coming from the magical world created by J.R.R. Tolkien, Galadriel is an elven queen. Her name means "maiden crowned with a radiant garland".

Helga

Meaning "holy" or "blessed", Helga is a name with its origins in Old Norse language.

Hermione – The feminine form of Hermes, Hermione can be taken to mean "messenger". Although this name was popularized by the Harry Potter series, it was used prior to this in the David Bowie song "Letter to Hermione".
Kemala – Indonesian in origin, this mystical-sounding name means "beautiful stone".

Kendra

A popular English name, Kendra means "knowledge", "magical", or "born of water."

Kiama

Swahili in its origin, Kiama (KEY-ah-mah) is a feminine name meaning "magic".

Manimekala

Originating in the Hindu language, Manimekala means "dancer with the magic bowl".

Mustika

Meaning "talisman" or "magical stone", Mustika is an Indonesian girl's name with a lot of power behind it.

Noelani

In Hawaiian, the girl's name Noelani means "dew" or "heavenly mist", evoking a sense of the ethereal.

Orenda

Coming from the Iroquois term for "God", Orenda means both "magical powers" and "great spirit".

Rhiannon

Popularized by the Stevie Nicks song of the same name, Rhiannon is a Welsh girl's name meaning "goddess" or "great queen".

Serket

Although she is the Ancient Egyptian goddess of scorpions, Serket (or Selket) is a helpful deity who guided spirits into the afterlife. She is also the goddess of magic.

Sirona

In Celtic mythology, Sirona is a goddess who was worshipped in East Central Gaul and along the Danubian limes. Snakes and eggs are attributed to this healer goddess who is said to reside in healing springs.

Somilge

Hailing from the Filipino language, Somilge is a feminine name that means "goddess of magic".

Taika

Although the Maori name Taika (as in actor/director/comedian Taika Waititi) means "tiger" for males, Finnish females are given this name. In Finnish, it means "magic".

Zywie

Stemming from the Slavic languages, Zywie is a magical feminine name that means "healer".
Peruse thousands of baby names on MomsWhoThink.com! And follow us on Pinterest for more parenting inspiration!