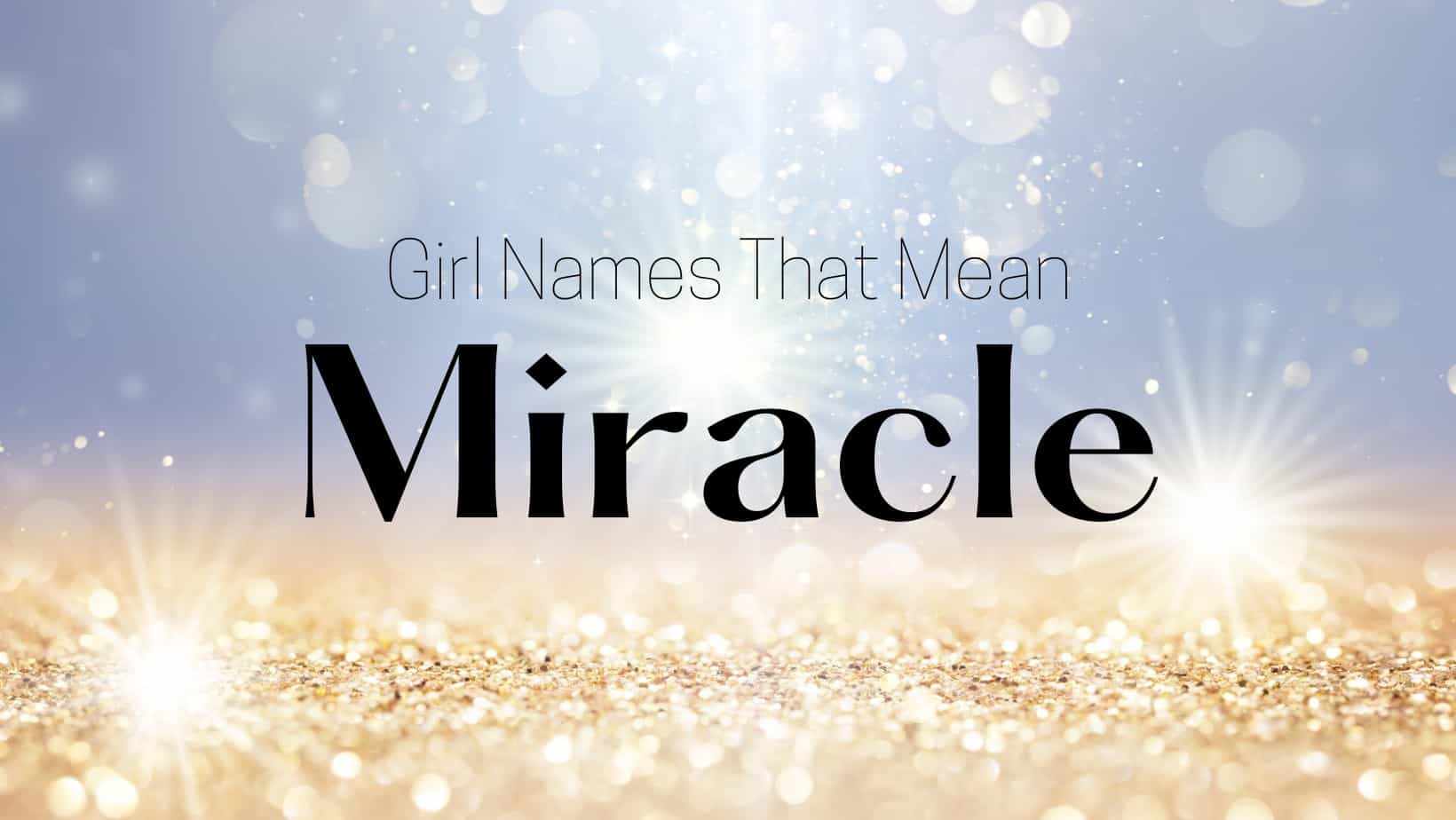 If you're looking for an inspiring and feminine name for your daughter, this list of girl names that mean miracle is filled with a bevy of delightful options. Explore the names included, including their meanings, and select the perfect option for your daughter.
RELATED: Baby Names That Mean Miracle
Arabella

Arabella is an old-fashioned Latin name for a baby girl that has been wished and prayed for a long time. Bella is a favorite nickname. A very fitting name for a "miracle" baby.

Alasne

This girl's name of Spanish origin means "miracle". It was taken from the traditional name of Alazne of the Basque people.

Althea

Althea is a Greek name for girls that means "healing powers" or "miracles". Derived from the Greek word 'althos' meaning 'healing.'

Ayah

This is an Arabic girl's name that is popular in Spain, Belgium, and France. Meaning "miracle" or "sign from God" is first meant "verse in the Islamic Quran."

Celeste

Celeste is a beautiful baby girl name. Coming from Latin origin, it can mean "heavenly" or "miracle from heaven".

Deanna

This pretty girl's name originated from Latin and is popular in the English language. A variant of the Moon goddess, Diana, means fertility and divinity in Roman mythology.

Dalila

Similar to Delila or Delilah, this is a female name of Swahili Origin. A lovely name that means "a sign of the gods".

Dionne

Dionne is of the Greek origin of Dione. It is also used as a French variance and is a popular name for a girl. It is also used by the English as a unisex name and means "divine".

Dorothea

Dorothea is a version of Dorthy and is of the feminine version of Theodore, or Thaddeus. Meaning "gift from God", it is of Greek origin.

Evelyn

This beautiful Victorian baby girl's name is in accordance with the wishes and miracle of a small new child. Several nicknames can be adopted under this formal name, such as Eve, Evie, Eva, and Lyn.

Gia

Gia is a cute sweet girl's name that is Italian in origin. It has gained popularity since the turn of the century and means "God's gracious gift".

Harika

Harika is of Arabic origin and is a sweet name for a baby girl. Meaning "wonderful, miracle, or beautiful", it is also a popular name of Turkey.

Janet

Janet is a variation of Jeannette, a derivative of Joan and another feminization of the name John. In Hebrew it means "God's gracious gift".

Marvella

This pretty female name comes from the Latin word mirabilia, meaning "wonderful things". The synonym of marvel is a miracle, making this a special baby name for a newborn.

Nadira

Nadira is a native Arabic name and is used for baby girls. This lovely name is also popular in Turkey, although rare. The ancient meaning is "miracles".

Nasya

Nasya or Nasia is a Hebrew girl's name that has several meanings. "Born on Christmas day", "miracle" or "miracle of Yaweh" is the most common. It is believed that Natalie is a variation of this pretty name.

Ohanna

Hebrew and meaning "God's gracious gift, it is used sparingly among the religious groups to hail praise to a remarkable "miracle". It is only used in the name of a baby girl about 3 times per year.

Orella

An Italian female name, Orella means "golden", but was originally from the Latin language. Its true meaning is "miracle". If you are looking for a sweet name that is selected by a few, this is a good name to choose.

Pella

Pella is a Hebrew baby girl name. Its roots come from Ella that take different forms around the world. The meaning is "marvel of God" or "miracle".

Rhiannon

Rhiannon is a girl's name of Welsh origin. According to Celtic legend, Rhiannon's birds sang more sweetly than others and the meaning became "divine Queen" or miraculous".

Sinead

A well known Irish girl's name, Sinead is the Irish form of Janet and means "God's gracious gift.

Thea

This name is the short version of Dorthea and means "miracle". Of Greek origin, this female name also means "gift from God".

Tiffany

Tiffany is a dazzling name that has become popular throughout the years. Of Greek origin, it is an honor to give this name to a newborn that means "God's appearance or "miracle of God".

Winifred

Winifred has various meanings depending on the nationality where used. An old English and Welsh Christian name, it is of the feminine gender and means "holy, blessed reconciliation, or joy and peace" in addition to "miracles".

Zevadiah

Often called Zev for short, this female name comes from Hebrew origin and means "God's gift"
Peruse thousands of baby names on MomsWhoThink.com! And follow us on Pinterest for more parenting inspiration!