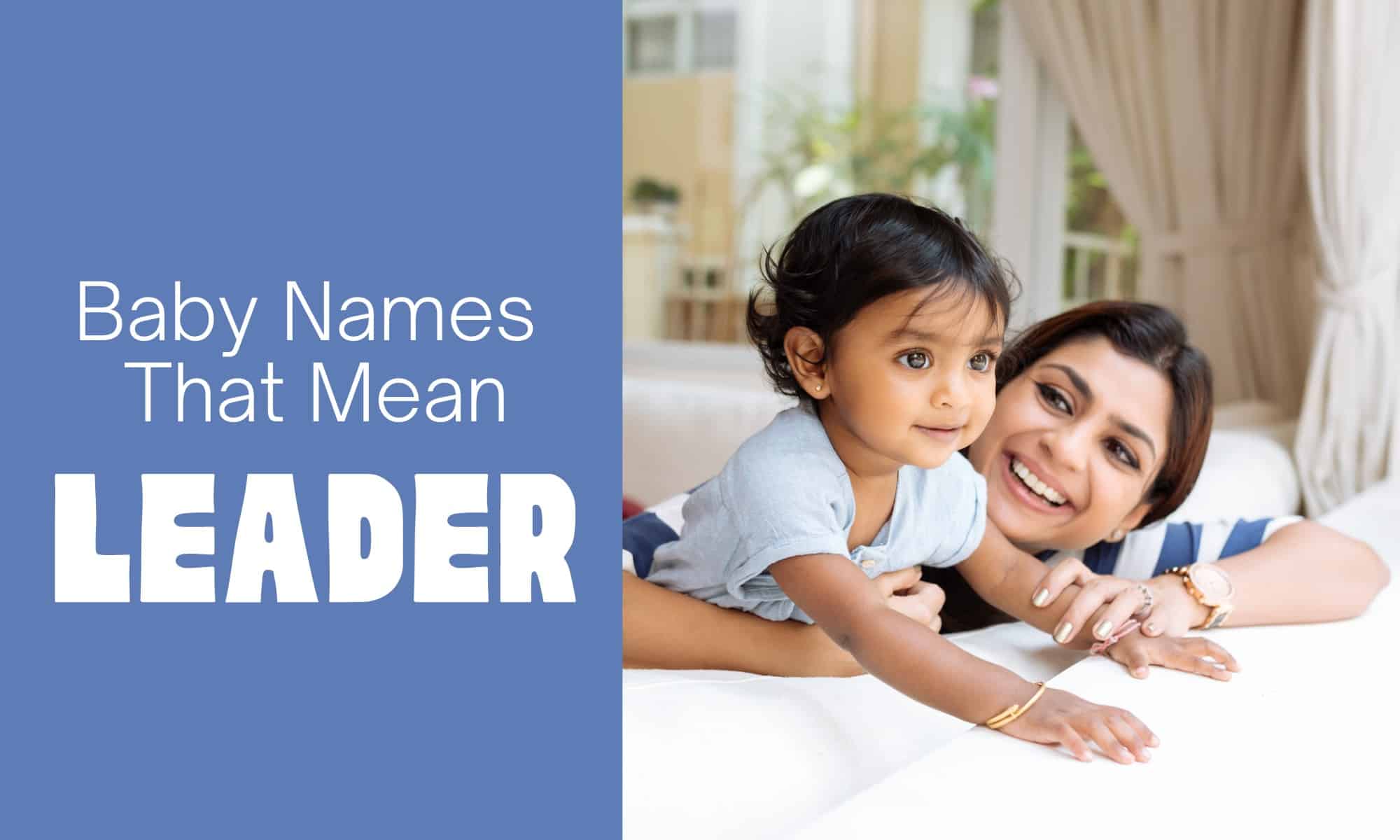 The world is filled with leaders and followers — and no matter what role a person plays, it's one of value. If you envision your child being a leader, then perhaps give them one of these baby names that mean leader. Explore the options below — for both boys and girls — and find a name you love for your little one.
RELATED: Baby Names That Mean Ruler
Ashur

The name Ashur has Assyrian roots where it appeared in mythology and stood for a wise leader. Most people pronounce it the same way as they do Asher.

Aubrey

Aubrey is a unisex name that means ruler or leader of the elves. This is a German name that started as a boy's name and later became a popular choice for girls.

Czar

Though Czar can be a title, it is also a first name that means ruler. Czar has a powerful meaning when given as a name to a baby boy.

Darius

Darius is a boy's name that means a leader who sits on a throne such as a king. It is also the name of popular singer Darius Rucker who started Hootie and the Blowfish.

Darya

This unique name means both kingly and leader. Darya is a Russian name for baby girls.

Empress

Empress comes from an ancient word that means ruler of a kingdom. It is now a girl's name that can also mean strong ruler.

Enzo

The boy's name Enzo has Italian and Spanish roots where it means leader. Enzo became popular in the United States among fans of The Vampire Diaries, which had a character who used this name.

Eric

Eric is the male version of Erica and means an eternal ruler. Other ways to spell this name include Erick and Erik.

Harry

Harry is more than just a nickname for Harold because it also means the ruler of an estate. Many parents use it to honor the character Harry Potter.

Hendrix

The name Hendrix relates to the name Harry and means estate ruler. Most people think of this name in terms of legendary guitarist Jimi Hendrix.

Isolde

The name Isolde means either ruler of the ice or ice ruler. Many associate this Welsh name with the story of Tristan and Isolde.

Juno

The name Juno means the queen or leader of the heavens. Juno is a unique name and became more popular after the release of the film of the same name.

Kala

Kala is a girl's name that stands for a leader such as a princess or a queen. This name comes from Hawaii.

Konrad

Konrad comes from a German word that means a bold leader or ruler. Also spelled as Conrad, it was the name of several German kings.

Maelie

As a girl's name, Maelie means little princess and has French roots. Maelie is an alternative to the name Miley and pronounced the same way.

Nestor

Nestor first appeared in Greek mythology and quickly became associated with royalty. This name means wise leader and was the name of a ruler during the Trojan War.

Nimue

Nimue is a classic name that means female leader. This name first appeared in King Arthur stories where it was the official name of the Lady of the Lake.

Orla

The name Orla has ancient roots and originally meant golden princess or ruler. This name gained some fame after an actress of the same name.

Othniel

A highly unique name for boys is this one, which means King of the Lions or Lion of the Kings. This name has Hebrew origins.

Pharaoh

Pharoah is an Egyptian name that stands for a powerful leader and was originally a royal title. It is now a top name for little boys.

Roark

The name Roark stands for an illustrious and distinguished ruler. Originally used by a family in Ireland, Roark later became a suitable first name for boys.

Rory

The name Rory has Irish roots and stands for a ruler or leader. It is a unisex name but is more popular as a girl's name in honor of the character from The Gilmore Girls.

Satish

Satish is an Indian name that usually translates to a leader. This boy's name can also mean a powerful ruler or king.

Terry

Though some think Terry is a nickname for Terrance, it's also a full name that means leader. It is a unisex name that began as a boy's name in the 1800s.

Theodoric

Theodoric is an ancient name used by several kings that now means king or leader. Teddy is a popular nickname for Theodoric.
Peruse thousands of baby names on MomsWhoThink.com! And follow us on Pinterest for more parenting inspiration!