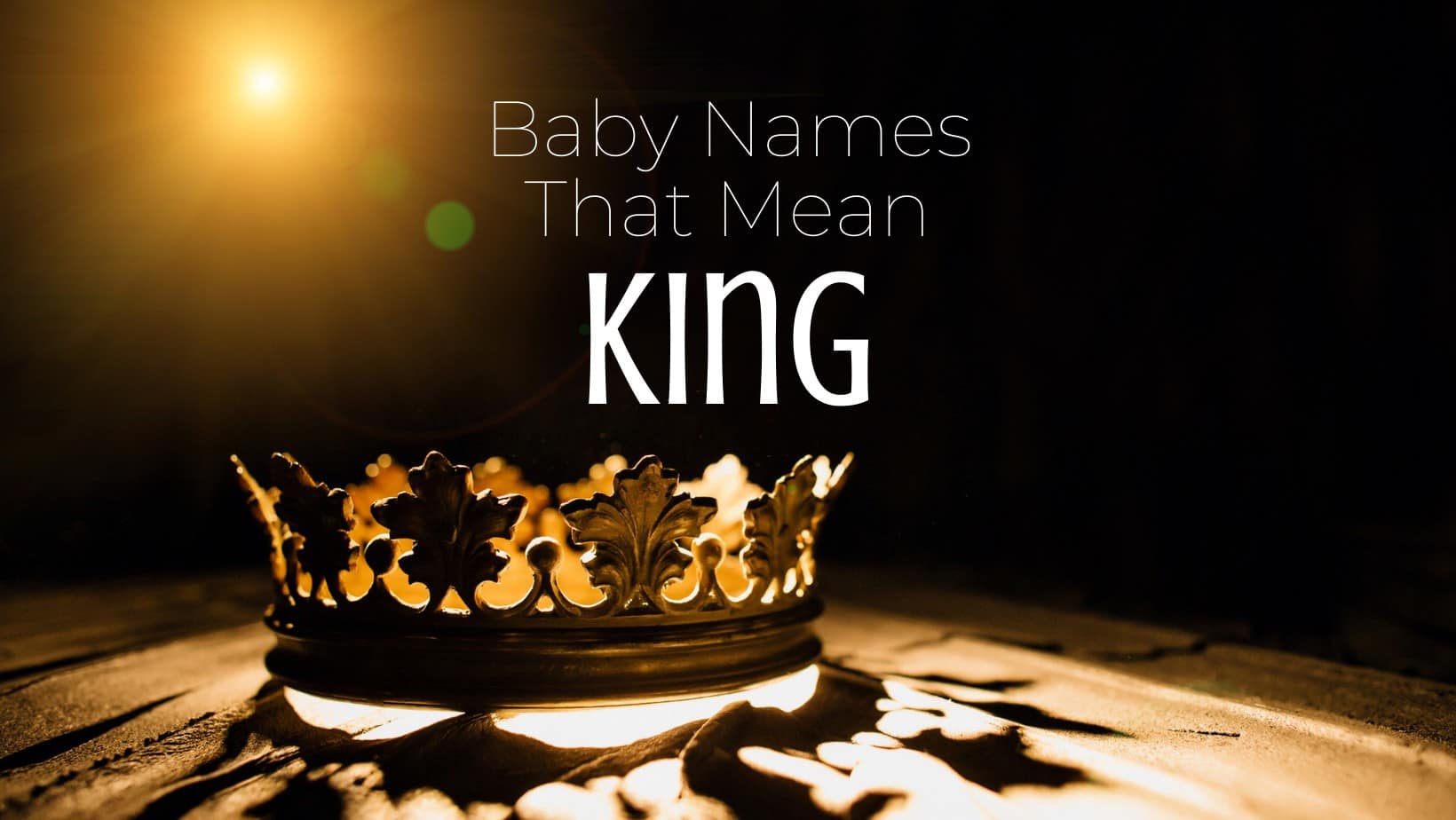 When many people think of power and influence, thoughts of kings, queens, and royalty often come to mind. New parents might find these qualities so impressive that they name their children in honor of such individuals. If you're looking to bestow a royal-sounding name on your little one, check out this list of baby names that mean king.
RELATED: Boy Names That Mean King
Adelio

This unisex name holds both Latin and Spanish origins. It means father of a noble prince or a regal subject.

Aubrey

Aubrey is a gender-neutral name parents might choose to title newborns. Language historians maintain that this moniker carries English and French roots and represents a noble leader or ruler.

Rian

Individuals of Irish decent might choose to name an infant son or daughter Rian. When translated from said tongue, the designation describes a king or persons possessing regal qualities.

Rory

Rory is an honorific that can be bestowed upon newborn boys or girls. Derived from the Celtic tongue, the title means red king.

Reagan

Proud parents may designate newborn babies Reagan. When interpreted from the Irish language, Reagan means little king. The moniker has grown exponentially in popularity as a first name following the time served by the late United States President Ronald Reagan.

Darius

Darius is a male moniker. Language experts suggest that the denomination holds Romanian, Lithuanian, and English heritage. It means kingly or wealthy. One of its more famous bearers in Hootie and the Blow Fish lead singer Darius Rucker.

Harriet

This feminine title possesses French and English roots. Historians maintain that the name is a version of the French, male honorific Henri, which stands for king or subject or regal upbringing.

Malik

Arabic-speaking persons might title a newborn son Malik. In said tongue, the designation represents a king or sovereign ruler. Its female version is Malikah, which means queen.

Sigourney

Sigourney is a name given to newborn girls. The denomination is French for daring king. One of its more noted holders is acclaimed actress Sigourney Weaver.

Vladimir

Russian citizens or those holding Russian ancestry might name a newborn boy Vladimir. In said language, the title symbolizes a great ruler. Currently, it is one of the most popular male monikers in Russia and other Slavic nations. Arguably, its most famous current bearer is Russian President Vladimir Putin.

Darya

Darya is a female designation typically given to Russian girls. The title means kingly.

Sultan

This is an Arabic honorific handed down to infant boys. When interpreted from the language widely spoken by persons practicing the Islamic faith, Sultan symbolizes a king or ruler. Historically, the name has been given to Islamic leaders. Moreover, it has grown in general popularity in other cultures and countries in recent years.

KInsley

English parents may title a newborn daughter Kinsley. It means king's meadow.

Basil

Basil carries Greek heritage and dates back to ancient times. This male moniker means royal or kingly.

Erica

This feminine name enjoys worldwide popularity. It carries English roots and symbolizes an eternal ruler or a powerful monarch.

Leroy

The title Leroy first gained popularity in France. When translated from French, the masculine denomination equates means the king.

Sadie

Sadie is a Hebrew name given to baby girls. It categorizes princesses or rulers. Moreover, it is a derivative of the designation Sarah.

Ara

Those holding Armenian roots might name a newborn son Ara. In said tongue, the designation means King. Amongst its more famed adherents is the late and celebrated University of Notre Dame Head Football Coach Ara Parseghian.

Mira

Persons of various cultures and backgrounds might title an infant daughter Mira. This name, which holds Arabic, Sanskrit, Slavic, and Latin roots symbolizes a female ruler. Additionally, language historians claim that the honorific means peace and someone with admirable character. One of its more famous bearers is Academy Award-winning actress Mira Sorvino.

Cyril

Boys born to eastern European cultures might be titled Cyril. The name's origins can be traced back to ancient Greece and represents a ruler, master, or lord.

Isolde

Isolde is a feminine designation carrying Welsh heritage. In the tongue spoken by the people of Wales, the moniker translates to ice ruler.

Emyr

Parents of Welsh ancestry might denominate an infant son Emyr. The name means king or lord.

Orla

Irish-born subjects may opt to designate a newborn girl Orla. The moniker symbolizes a golden princess.

Brennus

Those with Celtic heritage or fond of said language might name an infant son Brennus. The name's primary meaning is king. However, prince and raven are also acceptable definitions.

Juno

Juno is a girl's name. The moniker means queen of the heavens in Latin. This designation grew to prominence following the movie of the same name.
Peruse thousands of baby names on MomsWhoThink.com! And follow us on Pinterest for more parenting inspiration!