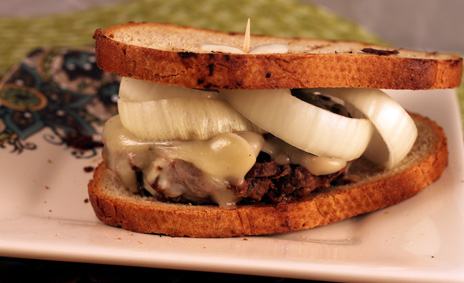 Grilled Porcini Mushroom Burger Melts
Ingredients:
1 ounce dried porcini mushrooms
2 pounds extra lean ground beef
1/4 cup snipped fresh basil
1 teaspoon snipped fresh thyme
1-1/2 teaspoon kosher salt
1 teaspoon freshly ground pepper
1 to 2 Tablespoons purchased garlic-flavored olive oil
12 slices rye bread
6 slices mozzarella cheese
onions for topping (optional)
Directions:
Place mushrooms in a small bowl; cover with boiling water. Let soak for 10 minutes. Drain, rinse well, and chop. Set aside.
Combine chopped porcini mushrooms, ground beef, basil, thyme, salt, and pepper in a large bowl. Mix well. Shape into 6 patties about 3/4-inch thick. Brush patties with garlic oil.
Place burger patties on the lightly oiled rack of an uncovered grill directly over medium heat.
Grill for 14 to 18 minutes or until an instant-read thermometer inserted in centers registers 160 degrees F, turning burgers once halfway through grilling. Top burgers with cheese during the last two minutes of grilling.
Remove burgers from grill, cover to keep warm.
Place rye bread slices on the grill rack; grill for 1 minute or until toasted.
Place each burger between two slices of toasted rye bread.