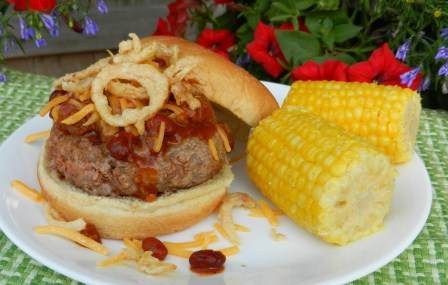 Chili Burgers and Buttered Corn
on the Cob
Ingredients:
1 pound ground beef
1½ teaspoons chili powder
1 can (15 ounces) chili with beans
4 hamburger buns, split and toasted
½ cup shredded cheddar cheese
1 can (2.8 ounces) French fried onions
Directions:
1. In a large bowl, combine beef and chili powder.
2. Shape into 4 patties. Pan fry, grill or broil until meat is no longer pink.
3. Meanwhile, in a small saucepan, bring chili to a boil.
4. Reduce heat, simmer for 5 minutes or until heated through.
5. Place burgers on bun bottoms, top with chili, cheese and onions. Replace bun tops. Serve with buttered corn on the cob. Makes 4 servings.
Try one of our favorite 30 Minute Meals: