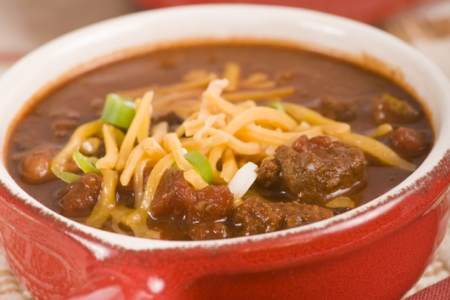 Quick and Easy Chili Recipe
Ingredients:
1 pound ground beef
1 medium onion, halved and thinly sliced
2 cans (16 ounces each) kidney beans, rinsed and drained
1 can (14½ ounces) diced tomatoes, undrained
½ to ¾ cup water
1 to 2 tablespoons brown sugar
1 tablespoon chili powder
2 teaspoons prepared mustard
1 teaspoon salt
1/8 teaspoon pepper
Directions:
1. In a large saucepan, cook beef and onion over medium heat until the meat is no longer pink. Drain.
2. Add the remaining ingredients. Bring to a boil, reduce heat.
3. Cover and simmer for 10 minutes or until heated through. Serve with saltine crackers. Makes 4 servings.
Try one of our favorite 30 Minute Meals: