While there are some similarities in the debate of Prosciuttini vs. prosciutto, there is a major difference, and that is that Prosciuttini is essentially a spicier version of prosciutto that is typically prepared with black pepper or a similar ingredient.
Prosciuttini vs. Prosciutto: What is the Difference?
Like we said, there are some similarities in the discussion of Prosciuttini vs. prosciutto. Both of these meats come from Italy. Both also are made from the hind leg of a white pig.
There are some differences between the two types of meat, and they primarily affect the taste. Prosciutto is a dry-cured salted Italian ham that is typically sliced thin, and it has a salty taste.
Prosciuttini is different because it looks more like a polished ham that is typically covered in black pepper to provide its unique flavor.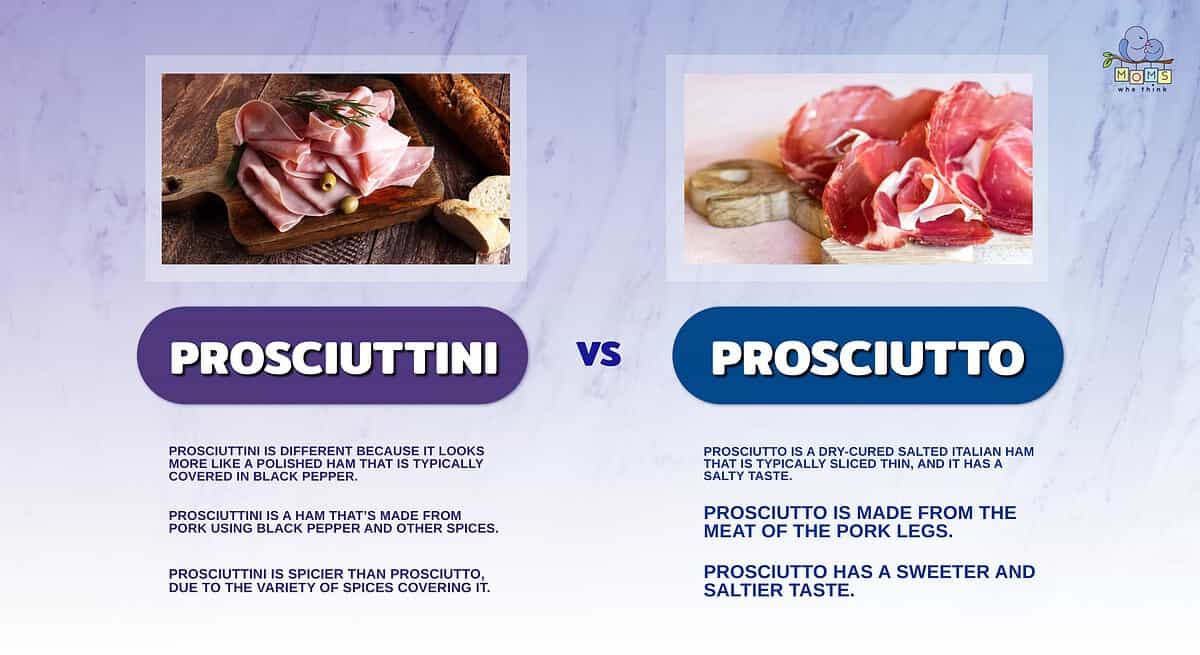 What is Prosciutto?
When translated, prosciutto is the Italian word for ham. The best way to understand the differences between Prosciuttini vs prosciutto is to learn more about each meat. Prosciutto is also made from the meat of the pork legs. It is prepared by covering the meat with salt, and then it is left to rest. During that time, the salt draws out the blood and all the moisture, and that's important because the process prevents bacteria from entering the meat. The salting also helps to give the meat more flavor.
Once the salting process is complete, the pork is washed, seasoned, and then left to age in a controlled temperature for 14 to 36 months. It's this combination of air, salt, and time that gives prosciutto its perfect taste.
Unlike Prosciuttini, which is typically a spicier option, prosciutto has a sweeter and saltier taste. It has a brownish-red color, and each slice is streaked with fat. Depending on the source, prosciutto may sometimes be seasoned with herbs, including rosemary, garlic, juniper, and sometimes black pepper. The longer that prosciutto is aged, the more flavorful it will be.
What Is Prosciuttini?
Prosciuttini is found in many delis and Italian specialty shops. Although it is made similarly to prosciutto, its claim to fame is that it's a ham that's made from pork using black pepper and other spices. So it is a spicier version of Prosciutto.
What are Substitutes for Prosciutto?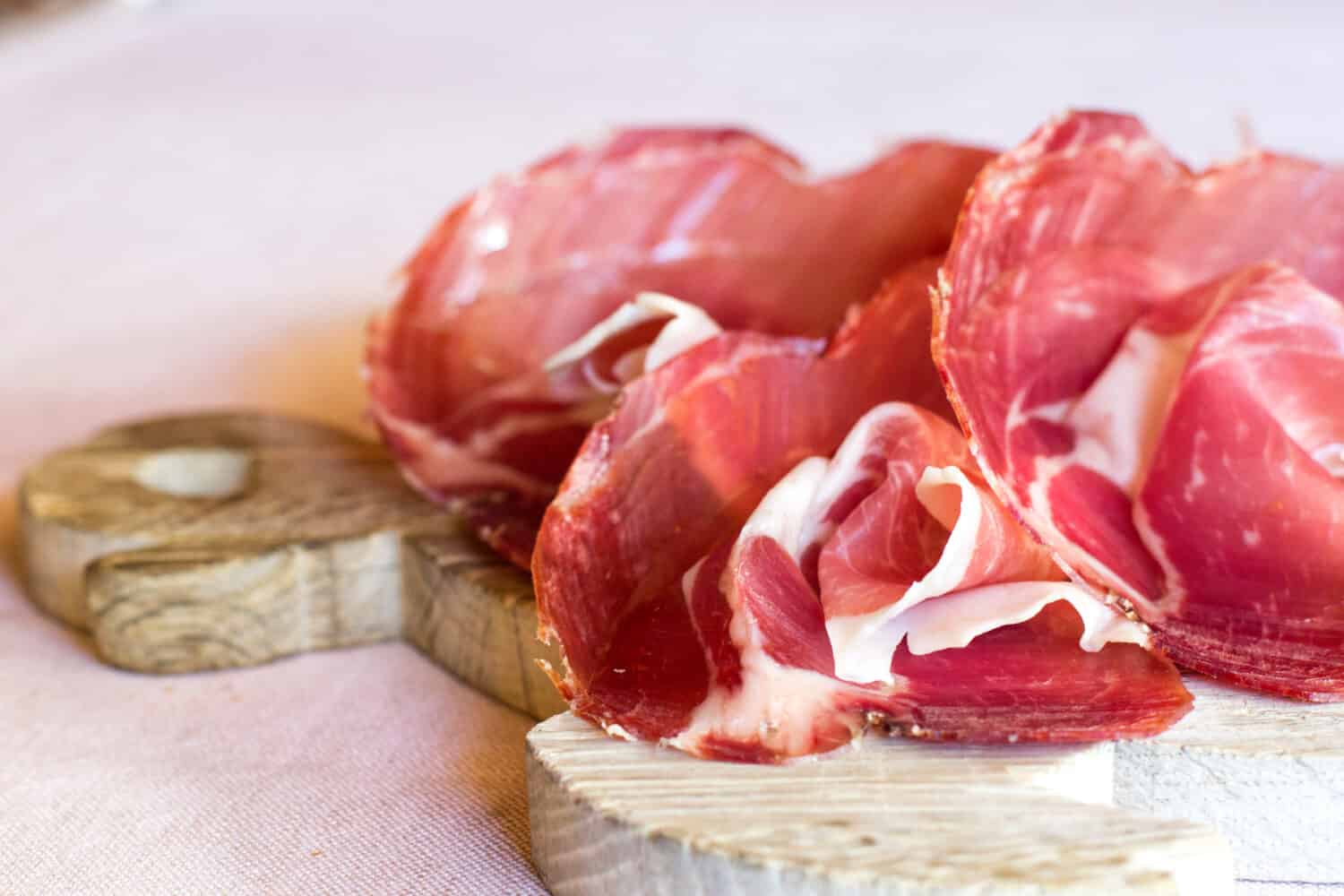 In many cases, Prosciuttini and prosciutto can be interchangeable, but if you aren't interested in any variation, then you'll be happy to know that there are many substitutes that you may like instead.
Ham
Yes, regular ham can be a great substitute, and it's a healthy alternative as well, offering a healthy source of calcium, iron, and phosphorus. Ham also tastes very similar to prosciutto, and it is also often thinly sliced, and it can be used in sandwiches or added to salads or pasta.
Pancetta
This is an Italian form of bacon that's made from pork belly, and it offers a similar taste to prosciutto. It's sliced thin, and it has a nutty flavor that can add a lot to a dish.
Capicola
While it will be less salty, Capicola is a delicious and tender companion to your sandwich or charcuterie board, just like prosciutto. Capicola takes a shorter time to cure, but it's still loaded with flavor.
Lean Bacon
This is a great substitute for prosciutto, but it also has its own flavor profile. It has a unique smoke factor but a high-fat content. You can eat lean bacon raw or use it as an ingredient in a larger dish.
Cheese
No, it's not meat, but if you want something similar to prosciutto, then cheese will do. This is a great substitute if you're vegan. Many types of cheese are rich in minerals, healthy fats, and protein. For the closest match, choose an aged cheese, like Asiago or Romano, as these are naturally salty, just like prosciutto.
Culatello
Like prosciutto, culatello, but be aged for a long time (at least 12 months) to get the perfect taste. Once you open the culatello, it must be kept in a cool place. Keep in mind that culatello is a bit saltier than prosciutto, but it's still delicious.
Prosciutto and Prosciuttini-Inspired Recipes
There are many tasty recipes that have prosciutto as a primary component. The meat really elevates the dishes, and in many cases, you can substitute prosciuttini into the recipe for some extra spice. Here are five recipes to try:
Print
Cheese Stuffed Chicken Breasts
---
Author:

Yield:

4

servings

1

x
4

(6 ounce) boneless, skinless chicken breast halves

4

(1/2 ounce) slices reduced fat Jarlsberg or other Swiss cheese

4

thin slices prosciutto di Parma or reduced fat and reduced sodium ham

1 Tablespoon

olive oil

1/2

cup

dry white wine

1/2 teaspoon

freshly ground black pepper

1/2 teaspoon

dried thyme leaves, crushed
---
Instructions
Cut a pocket in the thick side of each chicken breast, being careful not to cut through the sides.
Fold the cheese slices in half, with a slice of prosciutto in the middle of each slice.
Insert the cheese-prosciutto slices into the chicken.
Wrap a piece of chicken to cover the cut side, and secure with a wooden pick.
Grease a large nonstick skillet with nonstick cooking spray, add the oil, and heat over medium high heat until hot but not smoking.
Add the chicken, rounded sides up, to the pan and cook until lightly browned, about 1 minute.
Turn the chicken over, pour the wine onto the chicken, and sprinkle with the pepper and thyme.
Cover and cook over medium low heat until an instant read thermometer inserted in the chicken registers 160 degrees and the chicken is cooked through, about 20 minutes.
Serve with a side of green beans.
Nutrition
Calories:

141

Fat:

7g

Carbohydrates:

1g

Protein:

13g
Conclusion
As you can see, there aren't many major differences in the debate of Prosciuttini vs. prosciutto, but each meat does offer its own unique flavor. Consider eating these tasty ham variations as part of a charcuterie board or cook them into a larger dish. Try it at least once. You won't regret it.
The image featured at the top of this post is ©iStock.com/Natalia Semenova.