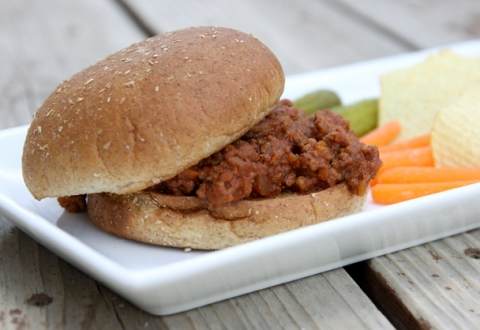 Sloppy Joes with Potato Chips
and Pickles
Ingredients:
2 Tablespoons vegetable oil
1 onion, minced
½ teaspoon chili powder
salt
2 garlic cloves, minced
1 pound lean ground beef
1 cup tomato puree
½ cup ketchup
¼ cup water
1 teaspoon brown sugar
Tabasco sauce
4 hamburger buns
Directions:
1. Heat oil in a 12 inch skillet over medium heat.
2. Add onion, chili powder, and ½ teaspoon salt. Cook until onion is softened, about 5 minutes.
3. Stir in garlic and cook until fragrant, about 30 seconds.
4. Add ground beef and cook, breaking up meat with a wooden spoon, until almost cooked through (about 3 minutes).
5. Stir in tomato puree, ketchup, water, brown sugar, and ¼ teaspoon Tabasco sauce.
6. Simmer until sauce is slightly thicker than ketchup, 8 to 10 minutes.
7. Season mixture with salt and Tabasco to taste. Spoon meat mixture onto hamburger buns and serve with a potato chips and crisp pickles. Makes 4 servings.
Try one of our favorite 30 Minute Meals: