If you love healthy oatmeal to start each day, then you're probably no stranger to tasty oats. When many people are hungry, they go for rolled oats or quick oats, but did you know they're not exactly the same? The difference is that rolled oats tend to be slightly more nutritious and they are steamed for a shorter time and then rolled into thicker flakes while quick oats are steamed longer and rolled into smaller pieces. Let's dive deeper into the differences between rolled oats vs. quick oats.
What are Rolled Oats?
Typical rolled oats are whole-grain cereal that's mostly natural but has been lightly processed. Many people also call them old-fashioned oats. They're produced by dehusking oat groats that are heated and then rolled with powerful rollers into flat flakes. After that, they're lightly roasted for taste and stability. That heat treatment helps to extend their shelf life. Rolled oats are thicker than quick oats, so they take a bit longer to cook.
You can either eat rolled oats on their own or as oatmeal or they can be used as an ingredient in biscuits, cookies, pancakes, porridge, and more.
What are Quick Oats?
Quick oats or instant oats are prepared in a similar way to rolled oats, except that there's an additional cutting process to make the flakes smaller so they're fit for fast preparation. Like rolled oats, quick oats contain some vitamins and minerals, and they eat great as a fast snack. You can eat quick oats by themselves or as part of a larger recipe.
Rolled Oats vs. Quick Oats: What are the Differences?
Besides the production, there are four other differences between quick and rolled oats.
1. Actual Cooking Time
When you're actually cooking each product, you'll have a bit of a difference in preparation time. Rolled oats require about five minutes of cooking time. As long as you have hot water to pour into them, quick oats only need to be stirred, and they're ready almost immediately.
2. Appearance
When you pour them into a bowl, you'll see a difference in appearance between the two products. Rolled oats are larger and uniform in an oval shape. They're also thick and darker than quick oats. When uncooked, quick oats are smaller, irregularly shaped, and thinner, and that's why they cook faster. Once cooked, rolled oats come out in a golden color, while quick oats will be a bit paler and mushier.
3. Taste
Since quick oats are just a faster cooking oat, they taste pretty similar to rolled oats. The difference lies in the texture. Quick oats are smooth and creamy, while rolled oats tend to be chewier. Rolled oats continue to hold their shape even after they're cooked, and so they work great in dessert recipes. Quick oats tend to blend better into recipes when you need a bit of texture.
4. Cost
Both products are fairly inexpensive, and they won't break the bank. In general, quick oats are less expensive than rolled oats, but not by much.
Rolled Oats vs. Quick Oats: Which Is Healthier?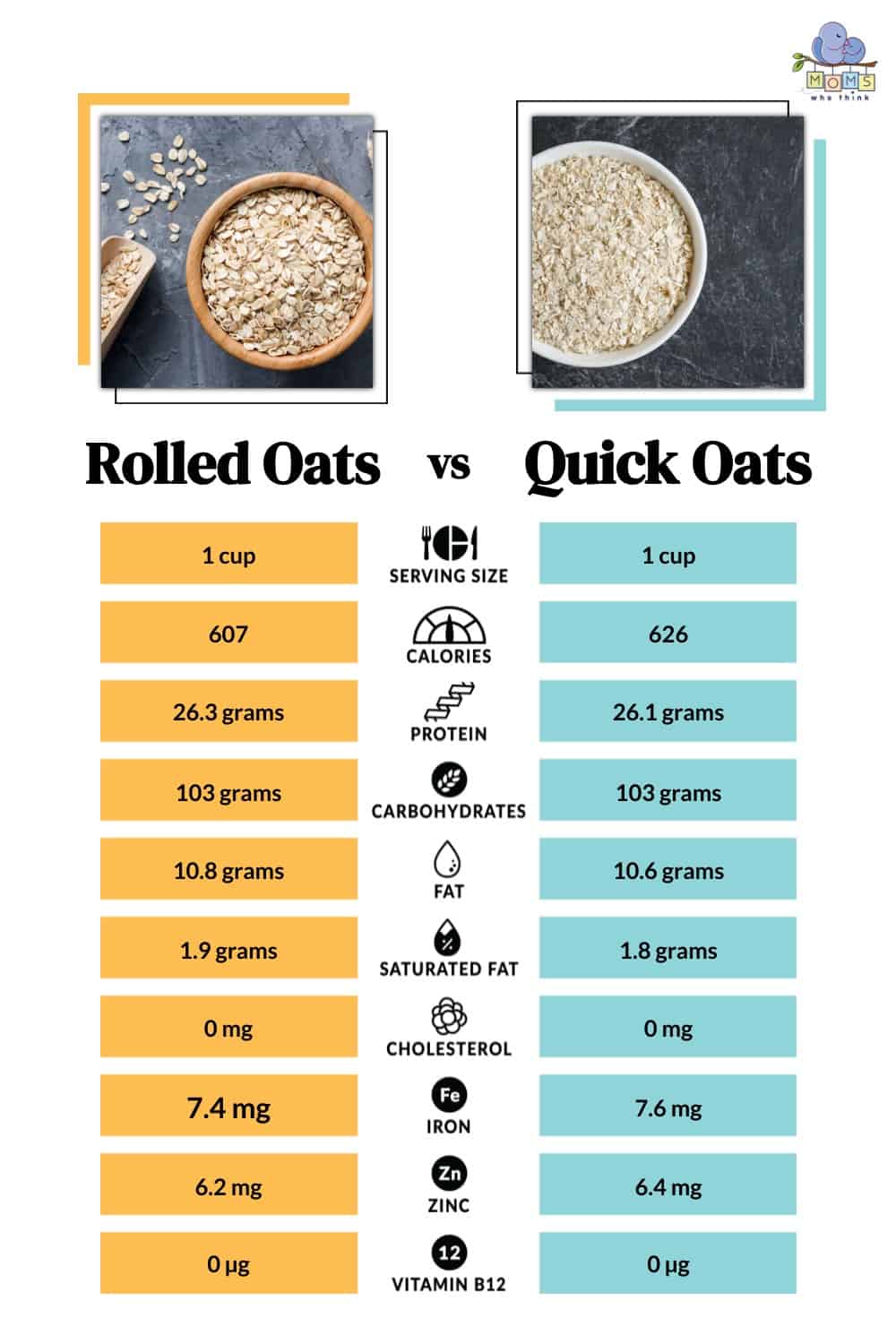 In a side-by-side comparison, you'll find that rolled and instant oats are equally nutritious. They have similar numbers as far as protein, calories, carbs, and important vitamins and minerals like iron, zinc, and vitamin B12.
The differences come in when you look at the Glycemic Index. That's a scale that determines how high a food can raise your blood glucose levels. The higher the score, the more likely to cause a health issue. On that scale, quick oats have a glycemic index of 66, and rolled oats have a glycemic index of 59. They're relatively close, but you could say that rolled oats are just a bit healthier.
That result can be due to the fact that many packages of quick oats contain salt and added sugars for flavoring. If you carefully monitor your health, then check the package before you buy.
What are Substitutes for Rolled or Quick Oats?
Whether you're looking for a different texture or something gluten-free, there are numerous alternatives for oats that can work great in a dessert or for your breakfast.
Buckwheat – It's a whole grain treat that's loaded with vitamins and minerals, and it has a similar texture to oats. It also contains fiber, which is great for managing your blood pressure.
Quinoa Flakes – These flakes are also sliced quite thin, so they'll offer a similar texture that's gluten-free.
Amaranth – This versatile grain is a superfood that is chock-full of plant-based protein, so it's good for your diet. It has a mild, nutty flavor and a crunchy texture.
Millet – This oat substitute is tiny, but it's packed with flavor in addition to its health benefits. Just make sure not to overcook them.
Conclusion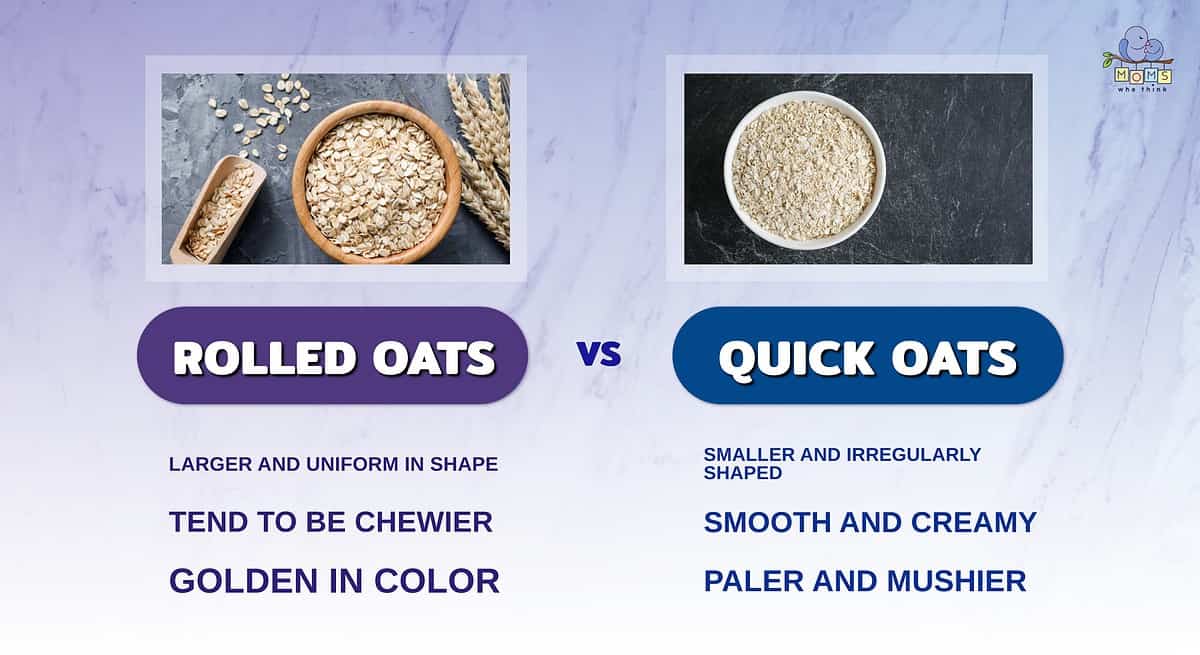 Rolled and quick oats can be told apart by size and shape. Rolled oats are large and uniform, while quick oats are smaller and irregularly shaped.
In terms of texture, both of these oats are very different. Rolled oats tend to be chewy, while quick oats are smooth and creamy.
Quick oats are pale and mushy in appearance, while rolled oats are golden in color.
As you can see, there's not a whole lot of difference in the battle of rolled oats vs. quick oats, so it ultimately comes down to preference. If you're looking for a quick breakfast, then either variation will fit the bill.
Print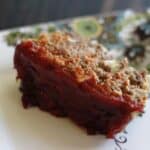 Brown Sugar Glazed Cheddar Meatloaf
---
Author:

Yield:

8

servings

1

x
2

egg whites, beaten

3/4

cup

2% reduced fat milk

1

cup

(4 ounces) shredded reduced-fat cheddar cheese

3/4

cup

quick-cooking oats

1

medium onion, chopped

1

medium carrot, shredded

1/2 teaspoon

salt

1

pound

lean ground beef (90% lean)

3/4

cup

ketchup

3 Tablespoons

brown sugar

1 teaspoon

yellow mustard
---
Instructions
In a large bowl, whisk egg whites and milk. Stir in the cheese, oats, onion, carrot and salt.
Add the ground beef to mixture, breaking the beef into small pieces while mixing well to combine.
Place mixture into a loaf pan coated with cooking spray.
In a small bowl, combine the ketchup, brown sugar and mustard. Spread evenly over top of meatloaf.
Bake, uncovered, at 350° for 50 to 60 minutes or until no longer pink and a meat thermometer reads 160°.
Nutrition
Serving Size:

1 slice

Calories:

210

Sodium:

550mg

Fat:

9g

Saturated Fat:

4.5g

Carbohydrates:

18g

Fiber:

1g

Protein:

21g

Cholesterol:

43mg