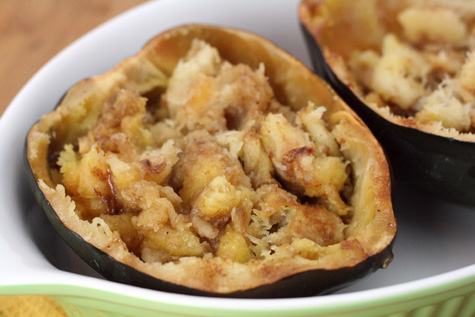 Spiced Acorn Squash
Ingredients:
2 small or 1 large acorn squash, halved and seeded
¾ Cup packed brown sugar
1 teaspoon cinnamon
1 teaspoon ground nutmeg
4 tablespoons butter, melted
½ cup water
Directions:
1.  Combine brown sugar, cinnamon and nutmeg and spoon into squash halves.
2.  Top each with 1 Tablespoon of melted butter.
3.  Wrap each half individually in foil, seal tightly.
4.  Pour water into slow cooker.
5.  Place squash, cut side up in slow cooker (packets may be stacked).
6.  Cover and cook on high for 4 hours or until squash is tender.
7.  Open foil packets carefully to allow steam to escape.
8.  Scrape squash and mix with brown sugar, serve in shell.
Try one of our favorite Crock Pot Meals: