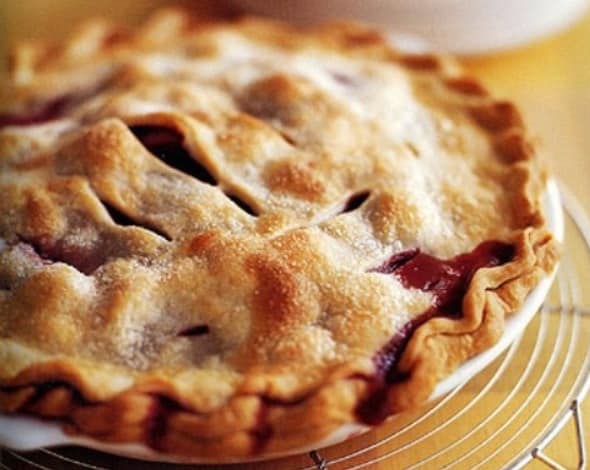 Strawberry Rhubarb Pie Recipe
This strawberry rhubarb pie recipe has a tasty strawberry rhubarb fruit filling inside a tender flaky crust. It is fabulous plain, or topped with vanilla ice cream for an indulgent dessert.
Strawberry Rhubarb Pie
Ingredients:
3 tablespoons quick-cooking tapioca
1 1/4 cups sugar
2 cups sliced fresh strawberries
3 cups rhubarb, cut into 1/2 inch pieces
1/4 teaspoon ground nutmeg
2 pie crusts (recipe here)
2 Tablespoons butter
Directions:
1. Stir together tapioca, sugar, nutmeg and add a dash of salt.
2. Add the sugar mixture to the strawberries and rhubarb; coating well. Let stand for 15 minutes.
3. Line a 9-inch pie plate with one pie crust pastry then fill with the strawberry rhubarb mixture.
4. Dot with butter. Place the second crust on top, pinch edges to flute. Cover the edge of the pie with foil.
5. Bake at 375 degrees F for 25 minutes. Remove foil and bake for 25 minutes more or until golden.