Macaroni and Cheese Recipe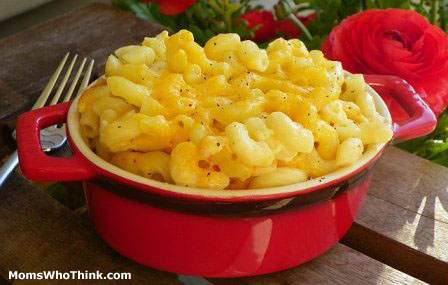 This great old fashioned macaroni and cheese recipe is the ultimate comfort food. It's creamy, cheesy, decadent and delicious!
It's the perfect family meal for long wintery nights when comfort food brings everyone to the table and helps chase away the winter doldrums.
Serve this macaroni and cheese recipe with Garlic Broccoli (recipe below) for a hearty meal everyone will love.
Macaroni and Cheese
Ingredients:
4 cups whole milk
5 Tablespoons butter
4 Tablespoons all-purpose flour
1 1/2 teaspoons salt
1/2 teaspoon dry mustard
1/4 teaspoon ground black pepper
3 cups grated mild cheddar cheese
3 cups grated sharp cheddar cheese
1 pound elbow macaroni
Directions:
1. Preheat oven to 375 degrees F.
2. In a medium saucepan set over medium heat, heat the milk (do not boil).
3. Add the butter. When butter is melted into the milk, add the flour while whisking. Continue cooking, whisking constantly, until the mixture is smooth.
4. Remove the pan from the heat. Stir in salt, dry mustard, black pepper, 2 1/2 cups of the mild cheddar cheese and 2 1/2 cups of the sharp cheddar cheese. Set cheese sauce aside.
5. Bring 2 quarts water to a boil. Add the macaroni, cook for the time specified on the package, making sure not to overcook it. Drain immediately and rinse under cold running water. Drain well.
6. Stir macaroni into the reserved cheese sauce.
7. Pour the mixture into a 3 quart casserole dish. Sprinkle remaining 1/2 cup mild cheddar and 1/2 cup sharp cheddar on top.
8. Bake until browned on top, about 20 to 25 minutes.
What goes with macaroni and cheese? Broccoli of course! It adds just the right texture and flavor as a side dish, especially when paired with garlic.
Garlic Broccoli
Ingredients:
1 bunch fresh broccoli , cut into small pieces (about 5 cups)
2 Tablespoons butter
1 garlic clove, minced
Freshly ground black pepper
1/4 teaspoon sea salt (kosher salt can be substituted)
Directions:
1. Cook the broccoli in boiling water until crisp but tender, 3 to 5 minutes. Drain.
2. Add the garlic and butter to the saucepan and cook until the garlic is softened, 1 to 2 minutes.
3. Add the salt and fresh pepper, toss well.
Easy Recipes
Main Page