Healthy Chicken Nuggets Recipe
Do your children love McNuggets? Do you cringe when you think of the fat and calories they're ingesting everytime they eat them?
The next time they're clamoring for fast food, stay home and try our healthy recipe for baked chicken nuggets instead. The crispy coating will remind them of their fast food favorites, but the spice blend make these so much better (in case you need to have a few yourself).
Once you make this healthy recipe for your kids, they may just forget all about their favorite fast food and the lack of nutrition that goes with it.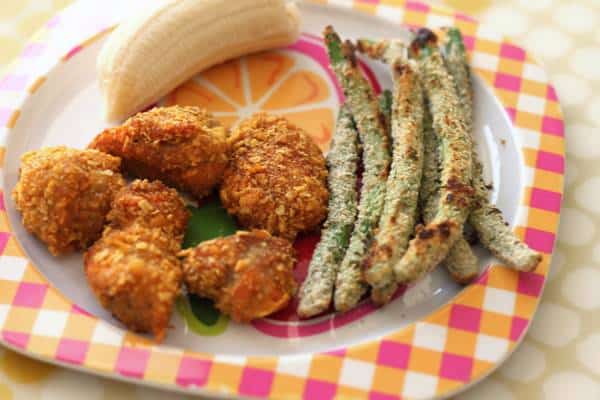 Ingredients:
1½ pounds boneless, skinless chicken thighs
1 cup cornflakes cereal
1 teaspoon paprika
½ teaspoon Italian herb seasoning
¼ teaspoon garlic powder
¼ teaspoon onion powder
Directions:
1. Remove skin and bone; cut thighs into bite-sized pieces.
2. Place cornflakes in plastic bag and crush by using a rolling pin.
3. Add remaining ingredients to crushed cornflakes. Close bag tightly and shake until blended.
4. Add a few chicken pieces at a time to crumb mixture. Shake to coat evenly.
CONVENTIONAL METHOD:
1. Preheat oven to 400 degrees F. Lightly grease a cooking sheet.
2. Place chicken pieces on cooking sheet so they are not touching.
3. Bake until golden brown, about 12 to 14 minutes. Serve with Green Bean 'Fries' (recipe below).
MICROWAVE METHOD:
1. Lightly grease an 8x12 inch baking dish.
2. Place chicken pieces on baking dish so they are not touching. Cover with waxed paper and cook on high.
3. Rotate chicken every 2 to 3 minutes. Cook until tender, about 6 to 8 minutes. Serve with Green Bean 'Fries' (recipe below).
Makes 4 Servings, about 3 ounces each

PER SERVING:
Calories 175
Total fat 8 grams
Saturated fat 2 grams
Cholesterol 67 milligrams
Sodium 127 milligrams
Crispy Green Bean Fries
Ingredients:
Olive oil spray
¾ cup breadcrumbs
2 tablespoon ranch dressing mix
2 eggs, beaten
1 pound fresh green beans, washed and trimmed

Directions:

1. Preheat oven to 400°F. Lightly spray baking sheet with olive oil spray.

2. Combine the breadcrumbs and ranch mix in a medium bowl.

3. Dip the green beans in the egg, then in the breadcrumb mixture to coat.

4. Place on baking sheet in single layer.

5. When green beans are all coated, lightly spray with olive oil spray.

6. Bake for 10 minutes, flip them, and bake for another 2 to 5 minutes until crispy.

Serves 4
Per serving:
Calories 170
Fat 4
Carbs 26
Sugar 12
Sodium 388
Protein 8