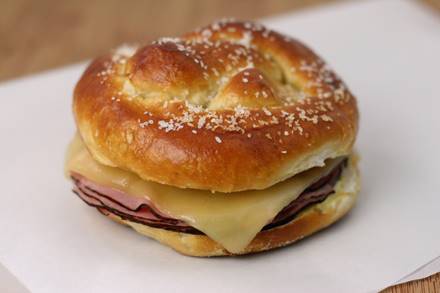 [addtoany]
When we think of Bavarian pretzels, we think of those bready pretzels that are sold in malls, amusement parks and county fairs. Rich and bready, these are comforting bits of deliciousness.
Not limited to snacks alone, pretzels can also be used to make bread. Pretzel bread gives sandwiches a great buttery taste that can take them to the next level.
There are many things you can put on a pretzel bread sandwich, but we believe we have provided a recipe with the perfect ingredients. Read on to find out how you can make this treat for your hungry crew.
Bavarian Sandwich Recipe
To make the recipe, start with 4 frozen soft pretzels and slice each in half crosswise.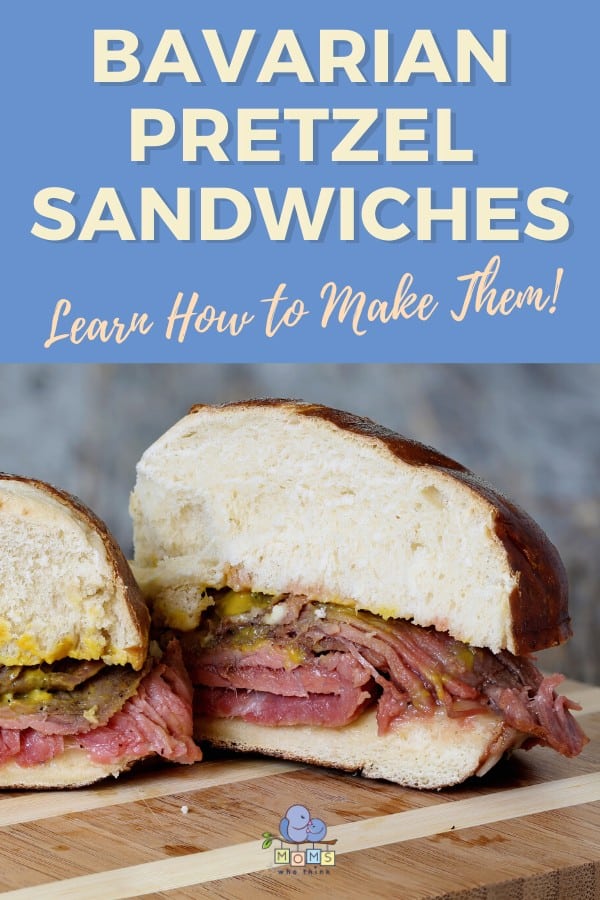 Combine 1 tbsp. spicy brown mustard and 2 tsp. mayonnaise in a bowl. Spread mixture onto the bottom half of the pretzels.
Top each with 2 slices of Black Forest ham and 1 slice of Gouda cheese.
Place on a baking sheet. Brush tops with water and sprinkle with salt. Bake 6-8 minutes until cheese is melted.
This is sandwich makes a perfect lunch or dinner. You can serve it with chips, fries, potatoes, vegetables, a salad or any side you prefer to make it into a filling meal.
The unique taste of the sandwich is largely due to the Bavarian pretzel bread. The origin of the pretzels can be traced back to 610 A.D. in the region that lies between the south of France and northern Italy.
The story goes that a monk was preparing unleavened bread for Lent. He formed the leftover dough into the shape of a pretzel, a shape that also resembled the way Christians prayed, with two arms folded across their chest. It is said the loops stood for the father, son and holy ghost.
The creation was name 'pretiola' which is Latin for 'little reward'. It grew in popularity and became a popular snack in Austria and Germany. In those regions, it became known as the 'Bretzel' or 'Pretzel'.
Pretzel Sandwich
We love the ham and cheese combination in this recipe, but when it comes to the fillings you can use in a pretzel sandwich, the sky is the limit. Here are some suggestions for what you can use to make delicious pretzel sandwiches for your family.
Turkey Pretzel Sliders: To make this recipe, start by mixing 2 tbsp. butter with 1 tsp. Worcestershire sauce. Place bottom halves of 6 small pretzel sandwich rolls in a baking pan and sprinkle with the butter mixture. Top with slices of turkey and cheddar cheese.
Mix 2 oz. Neufchatel cheese, softened, with 2 tsp. Dijon mustard. Spread on the tops of the bread and cover sandwiches. Bake for 20 minutes at 400 degrees.
Pretzel Rueben Sandwich: Place 6 soft pretzel rolls on a baking sheet and bake according to package directions. Cool and slice rolls in half horizontally.
Arrange slices of corned beef and Swiss cheese on the bottom half of each roll and cover with top of roll. Wrap each sandwich in aluminum foil and place on a baking sheet. Bake 8 to 10 minutes.
While sandwiches are baking, combine 1 cup chopped cabbage and ¼ cup thousand island dressing in a bowl. Remove sandwiches from aluminum foil and gently open them to add the cabbage mixture. Distribute evenly among sandwiches.
Serve with extra dressing if desired.
Pretzel Bread Veggie Sandwich: To make this recipe start with 1 pretzel roll. Layer 6-7 slices cucumber, ½ sliced tomato, 1-2 slices Gouda cheese and a handful of arugula on top of the bottom half of the sandwich.
Spread Dijon mustard on the top halves of the bread. Put the sandwich together and enjoy this treat which is perfect for the vegetarian in your life.
Hint: You can also make your own Dijon mustard vinaigrette by whisking together ½ tbsp white vinegar, ½ tbsp lemon juice, ¼ tbsp. olive oil and a pinch of kosher salt and pepper.
If you choose this vinaigrette version, sprinkle it directly onto the arugula.
No matter how you choose to make your pretzel bread sandwich, the bread will give it a wonderful taste that will take it to the next level. What fillings will you be adding to elevate the taste of your sandwich? 
If you enjoyed this recipe, make sure to check out our Maple Pecan Pork Chops and our Pork Chops Devine.
Print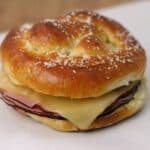 Bavarian Pretzel Sandwiches Recipe
---
Author:

Total Time:

30 minutes
Description
There are many things you can put on a pretzel bread sandwich, but we believe we have provided a recipe with the perfect ingredients
---
4

frozen soft pretzels, thawed

1 Tablespoon

spicy brown mustard

2 teaspoons

mayonnaise

8

slices Black Forest ham

4

slices Gouda cheese

1 Tablespoon

water
coarse pretzel salt
---
Instructions
Preheat oven to 350°F. Line baking sheet with parchment paper.
Carefully slice each pretzel in half crosswise.
Combine mustard and mayonnaise in small bowl. Spread mustard mixture onto bottom halves of pretzels.
Top with 2 slices ham, 1 slice cheese and top halves of pretzels.
Place sandwiches on prepared baking sheet.
Brush tops of sandwiches with water; sprinkle with salt.
Bake 6-8 minutes or until cheese is melted.
Prep Time:

10 Minutes

Cook Time:

20 Minutes

Category:

Side Dish

Method:

Baking

Cuisine:

German
Keywords: pretzel sandwich, bavarian sandwich recipe