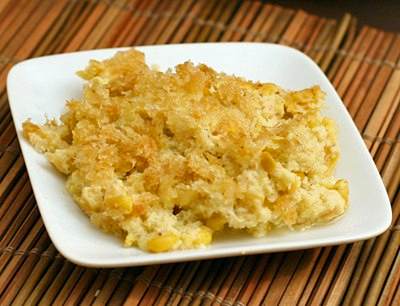 Cheddar Corn Bake
Cheddar Corn Bake Recipe
Let's Get Ready for Baby!
Sign up for our monthly pregnancy email series, and you'll get regular updates on your baby's development, helpful timelines to get ready for their arrival, must-have baby needs and so much more! PLUS, you'll get instant access to the MomsWhoThink "Ultimate Guide to Baby Naming in 2022."
CLICK HERE
to get started!
Ingredients:
1 stick butter, melted
1 large onion, chopped
1 small green bell pepper, chopped
1 small red bell pepper, chopped
3 eggs
1 cup sour cream
1 can (16 oz.) creamed corn
1/3 cup yellow cornmeal
1/4 teaspoon salt
1/4 teaspoon pepper
1 cup cheddar cheese, shredded
Directions:
1. In a medium saute pan, heat 2 tablespoons of butter over medium heat.
2. Add onion and peppers and cook until softened, stirring occasionally.
3. Remove from heat. Combine remaining 6 tablespoons butter, eggs, and sour cream in a large bowl. Whisk together until smooth.
4. Mix in corn, cornmeal, salt and pepper. Stir in cheese and onion−pepper mixture.
5. Turn into a 2−quart buttered baking dish. Bake in a preheated 350 degree F oven for 30 to 35 minutes, until puffed and golden.