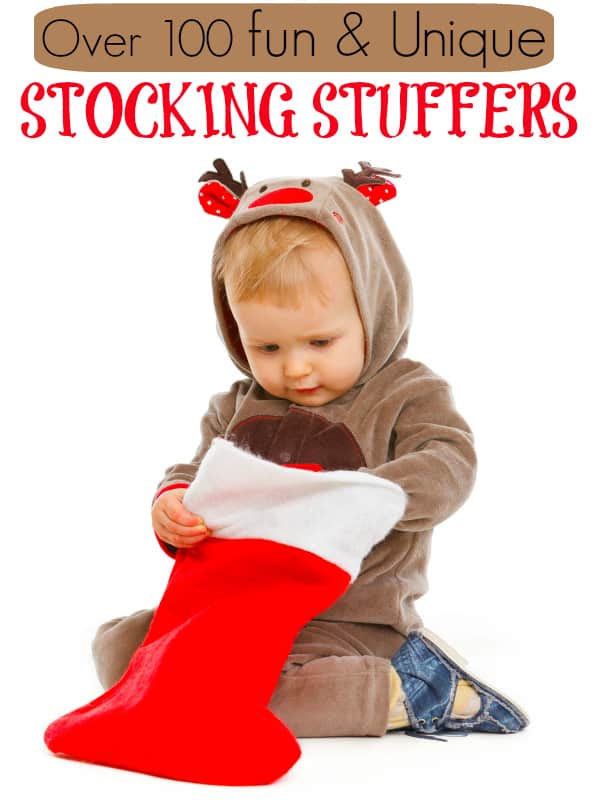 Let's Get Ready for Baby!
Sign up for our monthly pregnancy email series, and you'll get regular updates on your baby's development, helpful timelines to get ready for their arrival, must-have baby needs and so much more! PLUS, you'll get instant access to the MomsWhoThink "Ultimate Guide to Baby Naming in 2022."
CLICK HERE
to get started!
I love the holidays so much! I don't know why, but I particularly enjoy stuffing stockings much more than the actual presents for my kids. I think it's so fun to search out fun and unique items for each of my kids (and my husband), and I love compiling them all together and adding little love notes.
Some of you have asked, you can Get these cute stockings here.
Here are some ideas for Stocking Stuffers with some unique ones at the end.   If you have young children, make sure and read our post on fun stocking stuffers for babies and toddlers (and bookmark or pin these posts as they will be updated as the holidays get closer). And if you have brilliant or fun ideas for a stocking stuffer, I would LOVE to hear about it!
Over 100 Unique Stocking Stuffer Ideas
Toob Toys (the figures pictured above and come in SO MANY varieties)
Finger Puppets (MY FAVORITE stocking stuffer, and the most affordable. We now own the family, animals, Old McDonald, Sea Animals, 3 Pigs, Monkeys, etc.) They range from a little over a dollar, to less than 5. I still don't know how they are so cheap, but they rock. Also, for the ones that don't have prime shipping, they will say over a month to ship, but we got ours in two weeks. They came a month earlier than the shipping estimate (on multiple packages).
Animal Slap Watch (also pictured above and comes in 8 different styles)
MiniFigures (LEGO copycat) You can get 20 for less than $5!!!
Animal Erasers. These are adorable and you get a lot of them!
Foot Sock Rattles (for baby)
Smencils (gourmet scented pencils)
Earphones
Head Massagers (these are only a buck or two!)
Puzzles, coloring, and sketch books
journals
Small electronics
toothbrushes/toothpaste
bubbles
nail polish
Mom's One Line A Day Journal (perfect for new moms, busy moms, and moms in general)
fun water bottles (you can fill them with even more stocking stuffers)
mini lotions, hand sanitizers, etc.
Hot Wheels cars
Bananagrams and other fun games
Coupons for family activities
lip balm/chapstick
Hair Accessories
Glowing Rings
Lifesavers Books (I LOVED those as a kid)
Keychains
marbles/bouncy balls
Doll Clothes
Jump Ropes
DVDs
Fun eyeglasses/sunglasses
stocking stuffer assortment
fake mustaches
bath toys
batteries
yo-yo/slinky
Little plush animals
jump drive
small figurines
juice boxes
 fruit snacks
mittens/gloves
post its
ties/suspenders
chocolate orange
gum
temporary tattoos
Here are some Fun & unique Stocking Stuffers
Before you pass this one up and say "She's recommending a hair brush?" you have GOT to read the reviews on this thing. The wet brush is incredible and if you have any girls in your house, this needs to go in their stocking! My toddler now calls it the "magic brush" because she used to cry and scream everytime I brushed her hair. I don't know what it is about this brush, but it's different and it detangles so effortlessly. And it has over 700 awesome reviews to back me up.
Poppers These things have awesome ratings and come in all sorts of different styles (pig, cow, monkey, etc). Great for indoor OR Outdoor play!
Rockee toothbrush
Fruit Stickers (FUN for putting on oranges and other fruit going in the stockings)
Does your family have Christmas stocking traditions?  What are your favorite Christmas stocking stuffers?
photo credits: Amazon.com
Pantyhose Christmas Stocking Tradition
In my previous post Fun and Unique Christmas Traditions, I left out one of my very favorites!
My best friend and I were practically sisters growing up. My mom never let me have sleepovers, but I could with her. We couldn't play with friends on Christmas Day–unless it was at her house. My mom was good friends with her mom, and my sister with her sister. It was perfect.
Because of this, I spent a little bit of my Christmas at their house.  I was always in Complete AWE of their Christmas stockings! They had the coolest Christmas stocking tradition and I vowed all those years that when I grew up my family was totally copying their tradition.
Instead of traditional stockings, all of their goodies were stuffed into pantyhose and hung from their bedroom door! The pantyhose held most of the candy, fruit, peanuts and other edible items and then there were a bunch of fun toys and other small items hung from a string (parallel to the pantyhose).  I asked them if they would send me a picture so you all could see what they look like!
There's something about seeing your stocking start from the ceiling and droop to the floor that has incredible visual appeal to a kid. I remember my friend just wanted to go play and I just wanted to stare at her stocking and look at what was in it, it was just so fun-looking!
I tried to replicate it so that you can see more of a close up (pantyhose on the left):
They hang them on a tiny nail that is above each kid's room.  The nails just stay there year-round because you can't even notice them.  There is one nail for the stocking, and one for the string. I found it easier to tie and hook things to the string if you hang the string at the middle and tie things on using the two string ends.