While they are each basically made of the same ingredients, the primary difference between crunchy vs. creamy peanut butter is how the roasted nuts are prepared. In creamy peanut butter, all of the peanuts are ground to be the same texture. In crunchy peanut butter, some coarsely-ground peanut fragments are left to provide that extra texture.
Crunchy vs. Creamy Peanut Butter: What is the Difference?
The primary differences between crunchy and creamy peanut butter are the texture, taste, and nutrients. Crunchy peanut butter has a chunky texture while creamy peanut butter is blended to a smooth consistency that lacks peanut pieces. The primary advantage of creamy peanut butter is that it's easier to spread whereas crunchy peanut butter retains a more pronounced peanut flavor.
Nutrients-wise, crunchy peanut butter typically contains slightly more fiber while creamy butter often includes slightly more protein.
Which Is Healthier? Crunchy vs. Creamy Peanut Butter Nutrition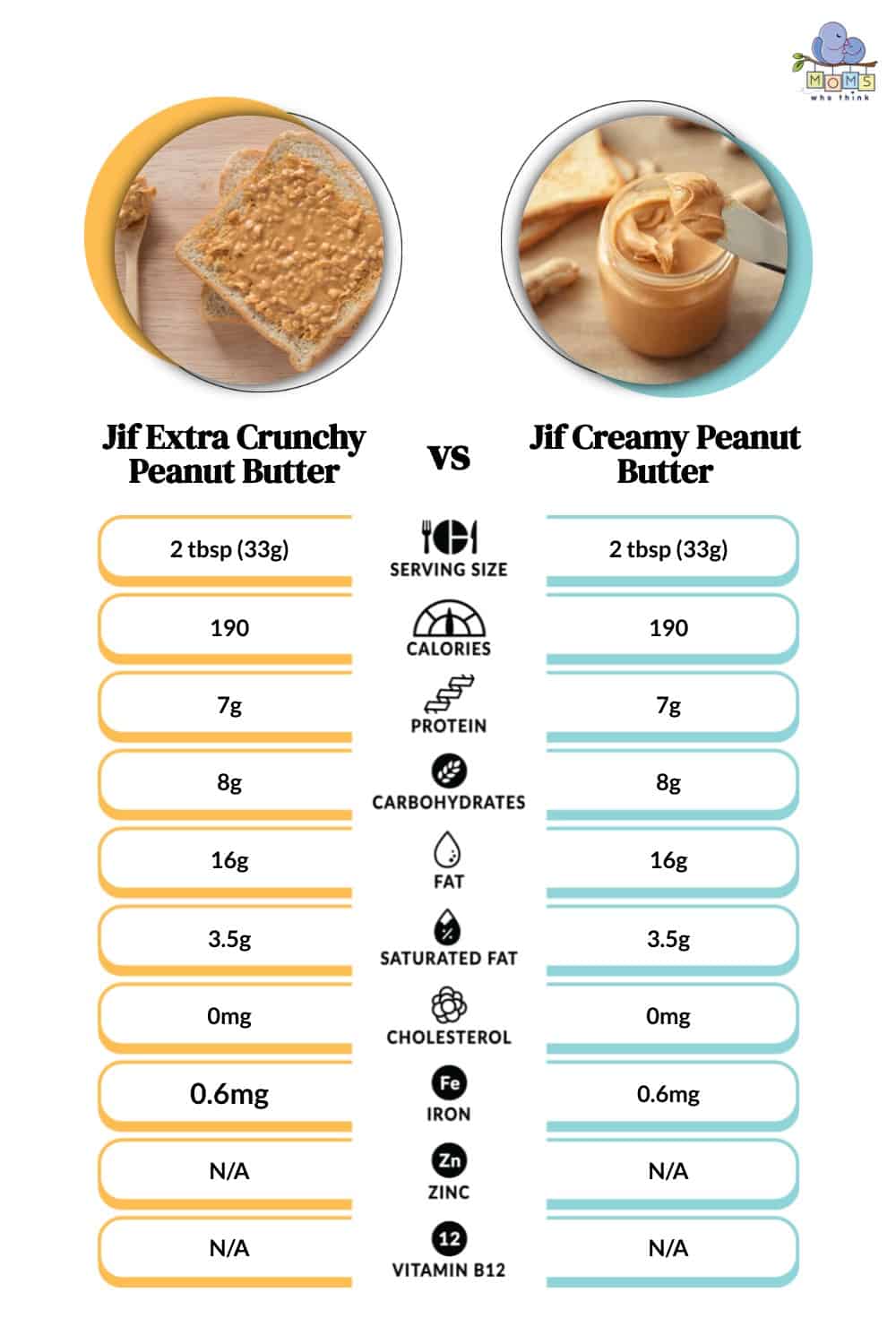 The short answer is that crunchy peanut butter and creamy peanut butter are extremely similar from a nutrition standpoint. Crunchy peanut butter has health benefits like slightly more fiber and folate while creamy peanut butter sometimes offers more protein. However, as you can see above, the nutritional values of JIF extra crunchy and creamy peanut butter are almost identical.
That is to say, the brand of peanut butter you're choosing is more important than whether it's labeled crunchy, creamy, or smooth. In general, look for peanut butter brands that avoid added sugars and you'll be taking care of your health far more than choosing crunchy or smooth peanut butter!
What is Peanut Butter?
Peanut butter has been around since the 1800s and is primarily made out of roasted and ground-up peanuts. In fact, 90% of it is strictly peanuts. The other 10% is made up of salt, dextrose, vegetable oil, and corn syrup to ensure it's smooth and tasty flavor.
Nutritional Benefits of Crunchy and Smooth Peanut Butter
Although the numbers may be slightly different between the two varieties, in essence, both crunchy and smooth peanut butter are very healthy in a number of ways.
For instance, about 20% of peanut butter is protein, which enhances your metabolism and makes you feel full for longer so you can manage your weight. With that in mind, it's important to not go overboard when eating it as too much of anything can be unhealthy. Also, the protein content in peanut butter helps you to preserve your muscle mass and keep your bones healthy.
The reason peanut butter is so healthy is because of the nutritional value of the peanuts themselves. They contain resveratrol, which is an antioxidant that reduces cardiovascular inflammation and lowers your blood pressure which is key to avoiding harmful diseases.
Peanut butter is also good for your health due to the fact that it includes monounsaturated fatty acids, which keep your heart strong. The antioxidants (vitamin B, magnesium, and vitamin E) are also essential for fighting off various types of cancer. Finally, peanut butter doesn't contain much in the way of sugar. Adding it to your diet can contribute to lower blood sugar levels.
Why Some Prefer Smooth Peanut Butter
While it's great that there are many options, many people still reach for the smooth peanut butter when given a choice. In fact, studies by the National Peanut Board say that 56% of people prefer smooth vs. crunchy. There are several reasons why this is so:
Crunchy Can Be Hard on Soft Bread
If you primarily use your peanut butter to make sandwiches, then you may find that crunchy peanut butter can be a bit hard to handle. The large peanut chunks can get stuck in the bread and make the sandwich less than desirable.
Creamy Peanut Butter Is Typically Better for Baking
Depending on the recipe, creamy peanut butter may be the better option for your next treat. Especially if you're looking for smooth textures for brownies and frosting. You could put crunchy peanut butter in a blender, but it may not be worth the extra work.
Sticking With Tradition
Some people just like the tradition of eating smooth peanut butter and want to avoid the extra chewing necessary to get through the chunky stuff.
Alternatives to Peanut Butter
If you're not on either side of the crunchy vs. creamy peanut butter argument and you want to try something different that doesn't involve peanuts, then you're in luck. Consider some of these peanut butter alternatives:
Cashew Butter
Folks who love the protein and nutty taste of peanut butter but don't want the peanuts can try cashew butter, which is made from roasted cashews. In addition to being delicious, cashew butter is also loaded with healthy amino acids and magnesium for a growing body.
Almond Butter
Another nutty alternative is almond butter, which is just as rustic but with less sugar and more nutrients. The flavor of almond butter is a bit richer than the flavor of peanuts, making this a suitable alternative.
Walnut Butter
If you're looking for a great source of magnesium and iron, and you love the nutty flavor of peanut butter, try walnuts. This alternative will provide a sweeter and milder flavor than traditional peanut butter, and it has a similar texture.
Pistachio Butter
If you love pistachios, then you can add them into your sandwich and get a great nutty, earthy, and sweet flavor while eating the same amount of calories as peanut butter. Pistachios are also loaded with potassium, which helps control your blood pressure.
Brazil Nut Butter
Those not crazy about the sweetness of peanut butter can try Brazil nut butter. It has a similar texture and a creamy flavor. It's also a great source of zinc, iron, and vitamin B.
Options If You Don't Like Peanut Butter but Still Want the Crunch
If you don't like nuts at all, then there are other alternatives that you can try. These options substitute nuts with a variety of other ingredients that offer a similar texture:
Sunflower Seed Butter
This is about as close as you'll get to the texture of peanut butter without including any actual peanuts. It still has a nice nutty flavor, and it's very spreadable.
Tahini
You can get a similar texture to peanut butter and get a unique Middle Eastern nutty flavor with Tahini. It's also very low on sugar, so it's healthy, but if you want to add some flavor, pair it with honey or jam.
Soy Nut Butter
Similar to peanut butter, the soy nuts in soy nut butter are roasted to provide that rustic taste. Plus, soy milk is dairy- and gluten-free and is packed with protein.
Coconut Butter
Coconut butter is a fine paste made with shredded coconut, so it provides a unique flavor that's very rich and tasty when paired with jam.
Peanut Butter Recipes
There are countless different ways that you can use peanut butter to make your next treat or full-on dish. Here at Moms Who Think, we have a few recipes you may like:
Print
Peanut Butter Cake
---
1 cup all-purpose flour
1 cup plus 2 Tablespoons sugar
3 1/2 teaspoons baking powder
1 teaspoon salt
2 cups graham cracker crumbs
3/4 cup peanut butter
1/2 cup shortening
1/2 cup semi-sweet chocolate chips (optional)
1 cup plus 2 Tablespoons milk
1 teaspoon vanilla extract
3 eggs
Frosting Ingredients:
2 cups confectioners' sugar
2 Tablespoons cocoa
8 Tablespoons (1 stick) butter
1/3 cup heavy cream
1/2 cup peanuts, salted
2 teaspoons vanilla extract
---
Instructions
1. Preheat oven to 375 degrees F if baking with a metal dish; 325 degrees F if using a glass dish.
2. Sift flour, sugar, baking powder, and salt together. Add graham cracker crumbs, peanut butter, chocolate chips (if using), shortening, milk, and vanilla.
3. Beat mixture with electric mixer on low until moistened, and then beat on medium for 2 minutes.
4. Add eggs and beat for 1 minute. Bake in greased 9-inch by 13-inch pan for 30 to 35 minutes. Do not remove from pan to cool.
Frosting Directions:
1. Mix all of the ingredients together. Pour into a saucepan and bring mixture to a boil.
2. Boil for 1 minute. Cool slightly.
3. With a wooden spoon handle, poke a few holes in the cake, and then pour the warm frosting over it.
Cheesecake With Peanut Butter – The perfect cheesecake can be made with peanut butter, vanilla, whipping cream, and a bit of love.
Peanut Butter Fudge – If you love fudge, you'll adore this peanut butter take on the dessert that also has vanilla and marshmallows!
Chocolate Peanut Butter Fudge – Peanut butter plus cocoa and a handful of other tasty ingredients create this perfect treat.
Peanut Butter Pie – This amazing pie incorporates peanut butter, whipping cream, and more to create a new family favorite.
Conclusion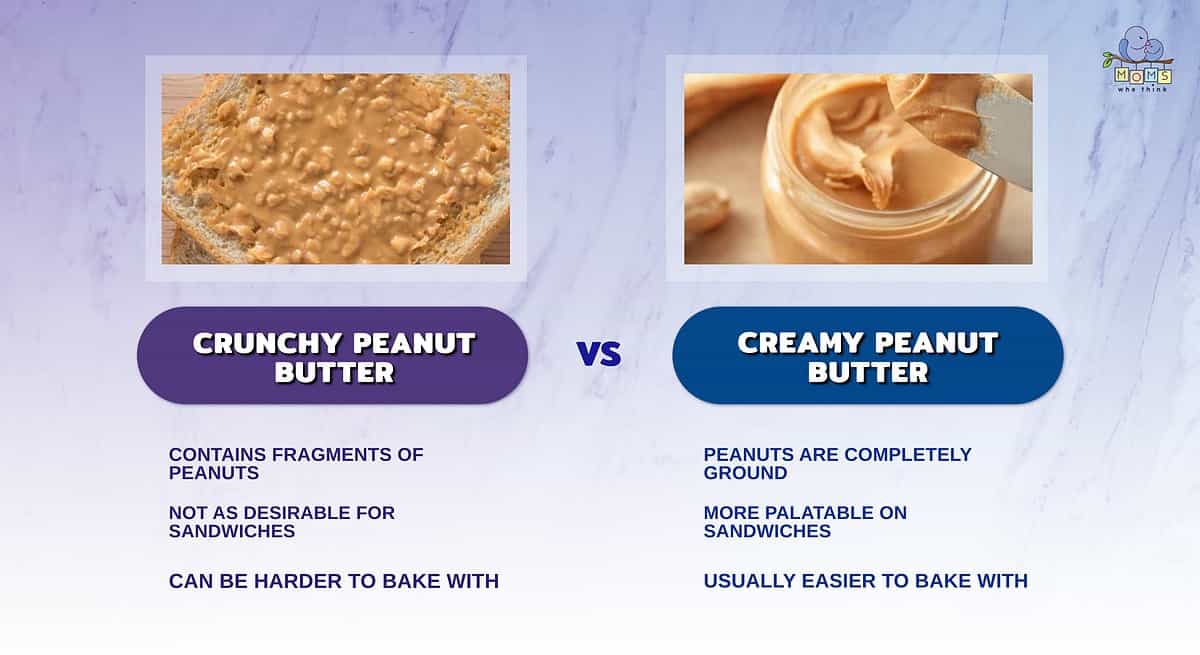 Crunchy peanut butter contains fragments of peanuts, giving it a chunky texture. When creamy peanut butter is made, the peanuts are completely ground to give it a smooth texture.
Because of the extra texture it adds, many people feel that crunchy peanut butter isn't ideal for sandwiches. Smooth peanut butter blends into a sandwich much better.
Creamy peanut butter is generally easier to bake with, due to the lack of the extra texture that comes with crunchy peanut butter.
There may be no real end to the crunchy vs. creamy peanut butter debate, but one thing is for sure, both options are tasty and good for you. Try both options when you get the chance and elevate your next snack or dinner dish.