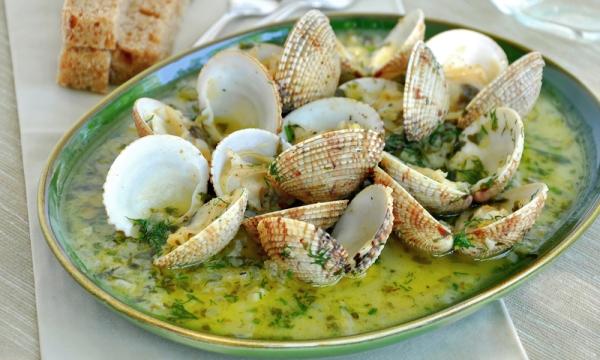 Foods High in Iron
Foods high in iron are good for the body and blood. Miners aren't the only people who should be concerned about getting enough iron.
Most of the news we hear about iron lately seems to be centered on paint and toys manufactured off shore, but iron is more than just a news story. Iron is among the most plentiful metals on earth and an essential nutrient for good health.
Protein and enzymes necessary for human health are laden with iron. In other words…if you don't eat enough iron your body can't build or process what you need for growth.
Without proper amounts of iron the body's hemoglobin (red blood cell) production slows to a trickle. In addition to production problems, iron deficiencies also create a problem with the body's ability to deliver oxygen to working muscles, your heart, lungs, brain, and well everything! This results in fatigue, decreased immunity and poor work performance. Loss of appetite and headaches can also point to low iron stores.
The FDA recommends about 10-14 mg of iron each day depending on age and gender. Girls usually need more iron than boys. Foods high in iron are listed below:
USDA National Nutrient Database
Iron, Fe ( mg ) Content of Selected Foods per Common Measure
| | | |
| --- | --- | --- |
| Description | Common Measure | Content per Measure |
| Mollusks, clam, mixed species, canned, drained solids | 3 oz | 23.77 |
| Cereals ready-to-eat, KELLOGG, KELLOGG'S PRODUCT 19 | 1 cup | 18.09 |
| Cereals ready-to-eat, GENERAL MILLS, TOTAL Raisin Bran | 1 cup | 18.00 |
| Cereals ready-to-eat, GENERAL MILLS, TOTAL Corn Flakes | 1-1/3 cup | 18.00 |
| Cereals ready-to-eat, GENERAL MILLS, Whole Grain TOTAL | 3/4 cup | 18.00 |
| Cereals ready-to-eat, KELLOGG, KELLOGG'S ALL-BRAN COMPLETE Wheat Flakes | 3/4 cup | 17.98 |
| Cereals, Malt-o-Meal, plain, prepared with water, without salt | 1 serving (3 Tbsp. dry cereal) | 17.23 |
| Cereals ready-to-eat, KELLOGG'S FROSTED MINI-WHEATS, original | 1 cup | 16.32 |
| Cereals ready-to-eat, KELLOGG, KELLOGG'S FROSTED MINI-WHEATS, bite size | 1 cup | 15.40 |
| Cereals, farina, enriched, assorted brands including CREAM OF WHEAT, quick | 1 cup | 12.74 |
| Mollusks, clam, mixed species, raw | 3 oz | 11.88 |
| Cereals ready-to-eat, KELLOGG, KELLOGG'S RICE KRISPIES | 1-1/4 cup | 11.35 |
| Turkey, all classes, giblets, cooked, simmered, some giblet fat | 1 cup | 11.18 |
| Cereals, oats, instant, fortified, plain, prepared with water | 1 packet | 10.55 |
| Cereals ready-to-eat, GENERAL MILLS, Rice CHEX | 1-1/4 cup | 10.33 |
| Chicken, broilers or fryers, giblets, cooked, simmered | 1 cup | 10.21 |
| Wheat flour, white, cake, enriched | 1 cup | 10.03 |
| Rice, white, long-grain, parboiled, enriched, dry | 1 cup | 9.73 |
| Cereals ready-to-eat, KELLOGG, KELLOGG'S CRISPIX | 1 cup | 9.61 |
| Cereals ready-to-eat, GENERAL MILLS, KIX | 1-1/3 cup | 9.60 |
| Cereals ready-to-eat, GENERAL MILLS, CHEERIOS | 1 cup | 9.53 |
| Cereals, CREAM OF WHEAT, regular (10 minute), cooked with water, no salt | 1 cup | 9.39 |
| Cereals, QUAKER, corn grits, instant, plain, prepared without salt | 1 packet | 9.19 |
| Cereals ready-to-eat, GENERAL MILLS, Honey Nut CHEX | 3/4 cup | 9.00 |
| Cereals ready-to-eat, GENERAL MILLS, Corn CHEX | 1 cup | 9.00 |
| Cereals ready-to-eat, QUAKER, QUAKER OAT LIFE, plain | 3/4 cup | 8.99 |
| Soybeans, mature cooked, boiled, without salt | 1 cup | 8.84 |
| Cereals ready-to-eat, QUAKER, QUAKER toasted Oatmeal Cereal, Honey Nut | 1 cup | 8.64 |
| Cereals ready-to-eat, GENERAL MILLS, Wheat CHEX | 1 cup | 8.64 |
| Cereals ready-to-eat, GENERAL MILLS, WHEATIES | 1 cup | 8.40 |
| Cereals ready-to-eat, KELLOGG, KELLOGG'S SPECIAL K | 1 cup | 8.37 |
| Beans, baked, canned, with pork and tomato sauce | 1 cup | 8.20 |
| Cereals ready-to-eat, KELLOGG, KELLOGG'S Corn Flakes | 1 cup | 8.12 |
| Cereals, CREAM OF WHEAT, mix'n eat, plain, prepared with water | 1 packet | 8.09 |
| Rice, white, long-grain, regular, raw, enriched | 1 cup | 7.97 |
| Beans, white, mature seeds, canned | 1 cup | 7.83 |
| Tomato products, canned, paste, without salt added | 1 cup | 7.81 |
| Cereals ready-to-eat, KELLOGG, KELLOGG'S RAISIN BRAN | 1 cup | 7.79 |
| Cereals ready-to-eat, GENERAL MILLS, WHEATIES Raisin Bran | cup (1 NLEA serving) | 7.48 |
| Cereals ready-to-eat, QUAKER, QUAKER OAT CINNAMON LIFE | 3/4 cup | 7.42 |
| Cereals ready-to-eat, KELLOGG, KELLOGG'S FROSTED FLAKES | 3/4 cup | 7.26 |
| Cereals ready-to-eat, KELLOGG, KELLOGG'S COCOA KRISPIES | 3/4 cup | 6.88 |
| Lentils, mature seeds, cooked, boiled, without salt | 1 cup | 6.59 |
| Cornmeal, self-rising, degermed, enriched, yellow | 1 cup | 6.53 |
| Frybread, made with lard (Navajo) | 10-1/2″ bread | 6.46 |
| Spinach, cooked, boiled, drained, without salt | 1 cup | 6.43 |
| Braunschweiger (a liver sausage), pork | 2 slices | 6.35 |
| Fast foods, hotdog, with corn flour coating (corndog) | 1 corn dog | 6.18 |
| Wheat flour, white, bread, enriched | 1 cup | 6.04 |
| Duck, domesticated, meat only, cooked, roasted | 1/2 duck | 5.97 |
| Cornmeal, degermed, enriched, yellow | 1 cup | 5.96 |
| Mollusks, oyster, eastern, cooked, breaded and fried | 3 oz | 5.91 |
| Bread crumbs, dry, grated, seasoned | 1 cup | 5.90 |
| Fast foods, hamburger; double, large patty; with condiments and vegetables | 1 sandwich | 5.85 |
| Wheat flour, white, all-purpose, self-rising, enriched | 1 cup | 5.84 |
| Wheat flour, white, all-purpose, enriched, bleached | 1 cup | 5.80 |
| Chili con carne with beans, canned entree | 1 cup | 5.79 |
| Beef stew, canned entree | 1 cup | 5.75 |
| MORNINGSTAR FARMS Grillers Burger Style Recipe Crumbles, frozen | 1 cup | 5.72 |
| Cereals ready-to-eat, KELLOGG, KELLOGG'S APPLE JACKS | 1 cup | 5.60 |
| Mollusks, oyster, eastern, wild, raw | 6 medium | 5.59 |
| Fast foods, hamburger; double, regular patty; with condiments | 1 sandwich | 5.55 |
| Cereals ready-to-eat, GENERAL MILLS, LUCKY CHARMS | 1 cup | 5.52 |
| Cereals ready-to-eat, GENERAL MILLS, CINNAMON TOAST CRUNCH | 3/4 cup | 5.48 |
| Bagels, plain, enriched, with calcium propionate (includes onion, poppy, sesame | 4″ bagel | 5.38 |
| Cereals ready-to-eat, KELLOGG, KELLOGG'S ALL-BRAN Original | 1/2 cup | 5.28 |
| Candies, semisweet chocolate | 1 cup | 5.26 |
| Beef, variety meats and by-products, liver, cooked, pan-fried | 3 oz | 5.24 |
| Beans, kidney, red, mature seeds, cooked, boiled, without salt | 1 cup | 5.20 |
| Pie crust, standard-type, prepared from recipe, baked | 1 pie shell | 5.20 |
| Cereals ready-to-eat, QUAKER, CAP'N CRUNCH | 3/4 cup | 5.19 |
| Fast foods, chili con carne | 1 cup | 5.19 |
| Pie crust, cookie-type, prepared from recipe, graham cracker, baked | 1 pie shell | 5.19 |
| Jerusalem-artichokes, raw | 1 cup | 5.10 |
| Oat bran, raw | 1 cup | 5.09 |
| Cereals ready-to-eat, QUAKER, CAP'N CRUNCH with CRUNCHBERRIES | 3/4 cup | 5.02 |
| Barley, pearled, raw | 1 cup | 5.00 |
| Cereals ready-to-eat, QUAKER, CAP'N CRUNCH'S PEANUT BUTTER CRUNCH | 3/4 cup | 4.96 |
| Snacks, trail mix, regular, with chocolate chips, salted nuts and seeds | 1 cup | 4.95 |
| Baking chocolate, unsweetened, squares | 1 square | 4.93 |
| Fast foods, hamburger; single, large patty; with condiments and vegetables | 1 sandwich | 4.93 |
| Spinach, canned, regular pack, drained solids | 1 cup | 4.92 |
| Buckwheat flour, whole-groat | 1 cup | 4.87 |
| Cereals ready-to-eat, GENERAL MILLS, HONEY NUT CHERRIOS | 1 cup | 4.82 |
| Chickpeas (garbanzo beans, bengal gram), mature seeds, cooked, boiled, without salt | 1 cup | 4.74 |
| Fast foods, chicken fillet sandwich, plain | 1 sandwich | 4.68 |
| Wheat flour, whole-grain | 1 cup | 4.66 |
| Fast foods, chimichanga, with beef | 1 chimichanga | 4.54 |
| Cereals ready-to-eat, GENERAL MILLS, GOLDEN GRAHAMS | 3/4 cup | 4.50 |
| Cereals ready-to-eat, GENERAL MILLS, COCOA PUFFS | 1 cup | 4.50 |
| Soybeans, green, cooked, boiled, drained, without salt | 1 cup | 4.50 |
| Cereals ready-to-eat, GENERAL MILLS, BERRY BERRY KIX | 3/4 cup | 4.50 |
| Cereals ready-to-eat, GENERAL MILLS, REESE'S PUFFS | 3/4 cup | 4.50 |
| Cereals ready-to-eat, GENERAL MILLS, APPLE CINNAMON CHERRIOS | 3/4 cup | 4.50 |
| Cereals ready-to-eat, GENERAL MILLS, RAISIN NUT BRAN | 1 cup | 4.50 |
| Cereals ready-to-eat, GENERAL MILLS, BASIC 4 | 1 cup | 4.50 |
| Cereals ready-to-eat, GENERAL MILLS, HONEY NUT CLUSTERS | 1 cup | 4.50 |
| Lima beans, large, mature seeds, cooked, boiled, without salt | 1 cup | 4.49 |
| Beans, baked, canned, with franks | 1 cup | 4.48 |
| Tomato products, canned, puree, without salt added | 1 cup | 4.45 |
| Cereals ready-to-eat, rice, puffed, fortified | 1 cup | 4.44 |
| Lima beans, large, mature seeds, canned | 1 cup | 4.36 |
| Cowpeas, common (blackeyes, crowder, southern), mature seeds, cooked, boiled, no salt | 1 cup | 4.32 |
| Bagels, plain, enriched, with calcium propionate (includes onion, poppy, sesame) | 3-1/2″ bagel | 4.30 |
| Beans, navy, mature seeds, cooked, boiled, without salt | 1 cup | 4.30 |
| Fast foods, cheeseburger, regular, double patty and bun, plain | 1 sandwich | 4.26 |
| Cereals ready-to-eat, KELLOGG, KELLOGG'S FROOT LOOPS | 1 cup | 4.23 |
| Fast foods, roast beef sandwich, plain | 1 sandwich | 4.23 |
| Cereals ready-to-eat, GENERAL MILLS, TRIX | 1 cup | 4.22 |
| Cornmeal, whole-grain, yellow | 1 cup | 4.21 |
| Refried beans, canned, traditional style | 1 cup | 4.21 |
| Beans, baked, canned, with pork and sweet sauce | 1 cup | 4.17 |
| Potatoes, baked, skin, without salt | 1 skin | 4.08 |
| Fast foods, cheeseburger; single, large patty; with condiments and vegetables | 1 sandwich | 4.07 |
| Fast foods, cheeseburger; single, large patty; with condiments and bacon | 1 sandwich | 4.04 |
| Cereals, QUAKER, Instant Oatmeal, apples and cinnamon, prepared with boiling water | 1 packet | 3.84 |
| Peas, edible-podded, frozen, cooked, boiled, drained, without salt | 1 cup | 3.84 |
| Cereals, QUAKER, Instant Oatmeal, maple and brown sugar, prepared with boiling water | 1 packet | 3.81 |
| Cereals ready-to-eat, wheat, puffed, fortified | 1 cup | 3.80 |
| Beans, great northern, mature seeds, cooked, boiled, without salt | 1 cup | 3.77 |
| Malted drink mix, chocolate, with added nutrients, powder, prepared with whole milk | 1 cup | 3.76 |
| Spinach, frozen, chopped or leaf, cooked, boiled, drained, without salt | 1 cup | 3.72 |
| Fast foods, taco | 1 large | 3.71 |
| Snacks, trail mix, tropical | 1 cup | 3.70 |
| Fast foods, cheeseburger; double, regular patty; plain | 1 sandwich | 3.67 |
| Malted drink mix, chocolate, with added nutrients, powder | 3 heaping tsp | 3.65 |
| Frybread, made with lard (Navajo) | 5″ bread | 3.64 |
| Beans, black, mature seeds, cooked, boiled, without salt | 1 cup | 3.61 |
| Cowpeas (blackeyes), immature seeds, frozen, boiled, without salt | 1 cup | 3.60 |
| Malted drink mix, natural, with added nutrients, powder, prepared with whole milk | 1 cup | 3.60 |
| Beans, pinto, mature seeds, cooked, boiled, without salt | 1 cup | 3.57 |
| Bagels, egg | 4″ bagel | 3.54 |
| Spaghetti with meat sauce, frozen entree | 1 package | 3.54 |
| Lima beans, immature seeds, frozen, baby, cooked, boiled, drained, without salt | 1 cup | 3.53 |
| Pie crust, standard-type, frozen, ready-to-bake, enriched, baked | 1 pie shell | 3.53 |
| Turkey, all classes, neck, meat only, cooked, simmered | 1 neck | 3.50 |
| Fast foods, fish sandwich, with tartar sauce and cheese | 1 sandwich | 3.50 |
| Sauerkraut, canned, solids and liquids | 1 cup | 3.47 |
| Bulgur, dry | 1 cup | 3.44 |
| Fast Foods, biscuit, with egg and sausage | 1 biscuit | 3.42 |
| Fast foods, cheeseburger; double, regular patty, with condiments and vegetables | 1 sandwich | 3.42 |
| Pumpkin, canned, without salt | 1 cup | 3.41 |
| Tomatoes, red, ripe, canned, stewed | 1 cup | 3.39 |
| Bagels, cinnamon-raisin | 4″ bagel | 3.38 |
| Cherries, sour, red, canned, water pack, solids and liquids | 1 cup | 3.34 |
| (includes USDA commodity red tart cherries, canned) |   |   |
| Pie, cherry, prepared from recipe | 1 piece | 3.33 |
| Pasta with meatballs in tomato sauce, canned entree | 1 cup | 3.30 |
| Fast foods, hotdog, with chili | 1 sandwich | 3.28 |
| Beans, kidney, red, mature seeds, canned | 1 cup | 3.25 |
| Chickpeas (garbanzo beans, bengal gram), mature seeds, canned | 1 cup | 3.24 |
| Soup, bean with ham, canned, chunky, ready-to-serve | 1 cup | 3.23 |
| Turnip greens, frozen, cooked, boiled, drained, without salt | 1 cup | 3.18 |
| Rice, white, long-grain, parboiled, enriched, cooked | 1 cup | 3.17 |
| Peas, edible-podded, boiled, drained, without salt | 1 cup | 3.15 |
| Cookies, graham crackers, plain or honey (includes cinnamon) | 1 cup | 3.13 |
| Beef, chuck, blade roast, separable lean only, trimmed to 0″ fat, all grades, braised | 3 oz | 3.13 |
| Snacks, pretzels, hard, plain, salted | 10 pretzels | 3.12 |
| Lima beans, immature seeds, frozen, fordhook, cooked, boiled, drained, without salt | 1 cup | 3.09 |
| Beets, canned, drained solids | 1 cup | 3.09 |
| Fast foods, clams, breaded and fried | 3/4 cup | 3.05 |
| Beans, baked, canned, plain or vegetarian | 1 cup | 3.02 |
| Prune juice, canned | 1 cup | 3.02 |
| Soup, clam chowder, new england, canned, prepared with equal volume low fat (2%) milk | 1 cup | 3.00 |
| Fast foods, shrimp, breaded and fried | 6-8 shrimp | 2.95 |
| Biscuits, plain or buttermilk, prepared from recipe | 4″ biscuit | 2.93 |
| Rice, white, long-grain, precooked or instant, enriched, prepared | 1 cup | 2.92 |
| Fast foods, english muffin, with egg, cheese, and canadian bacon | 1 muffin | 2.90 |
| Bagels, egg | 3-1/2″ bagel | 2.83 |
| Fast foods, submarine sandwich, with roast beef | 1 sandwich, 6″ roll | 2.81 |
| Beet greens, cooked, boiled, drained, without salt | 1 cup | 2.74 |
| Raisins, seedless | 1 cup | 2.73 |
| Mushrooms, white, cooked, boiled, drained, without salt | 1 cup | 2.71 |
| Fast foods, cheeseburger; single, regular patty; plain | 1 sandwich | 2.71 |
| Beef Macaroni, frozen entree | 1 package | 2.71 |
| Fast foods, french toast sticks | 5 sticks | 2.71 |
| Bagels, cinnamon-raisin | 3-1/2″ bagel | 2.70 |
| Fast foods, hamburger; single, regular patty; with condiments | 1 sandwich | 2.68 |
| Malted drink mix, natural, with added nutrients, powder | 4-5 heaping tsp | 2.67 |
| Fast foods, submarine sandwich, with tuna salad | 1 sandwich, 6″ roll | 2.64 |
| Fast foods, pancakes with butter and syrup | 2 pancakes | 2.62 |
| Beef, chuck, blade roast, separable lean and fat, trimmed to 1/8″ fat, choice, cooked, braised | 3 oz | 2.62 |
| Fast foods, cheeseburger; single, regular patty, with condiments | 1 sandwich | 2.54 |
| Peas, split, mature seeds, cooked, boiled, without salt | 1 cup | 2.53 |
| Fast foods, submarine sandwich, with cold cuts | 1 sandwich, 6″ roll | 2.51 |
| Tomato products, canned, sauce | 1 cup | 2.50 |
| Turkey, all classes, meat only, cooked, roasted | 1 cup | 2.49 |
| Fish, sardine, Atlantic, canned in oil, drained solids with bone | 3 oz | 2.48 |
| MORNINGSTAR FARMS Grillers Vegan, frozen, unprepared | 1 patty | 2.47 |
| Fast foods, tostada, with beans, beef, and cheese | 1 tostada | 2.45 |
| Fast foods, burrito, with beans and meat | 1 burrito | 2.45 |
| Beef, round, bottom round, steak, separable lean only, trimmed to 1/8″ fat, all grades, cooked, braised | 3 oz | 2.44 |
| Peas, green, frozen, cooked, boiled, drained, without salt | 1 cup | 2.43 |
| English muffins, plain, toasted | 1 muffin | 2.42 |
| Fast foods, taco | 1 small | 2.41 |
| Tapioca, pearl, dry | 1 cup | 2.40 |
| Muffins, oat bran | 1 muffin | 2.39 |
| Chicken pot pie, frozen entree, prepared | 1 small pie | 2.39 |
| Noodles, egg, cooked, enriched | 1 cup | 2.35 |
| Fast Food, Pizza Chain, 14″ pizza, pepperoni topping, regular crust | 1 slice | 2.33 |
| Tomatoes, red, ripe, canned, packed in tomato juice | 1 cup | 2.33 |
| Cowpeas, common (blackeyes, crowder, southern), mature seeds, canned, plain | 1 cup | 2.33 |
| Fast foods, potato, french fried in vegetable oil | 1 large | 2.32 |
| Fast foods, hotdog, plain | 1 sandwich | 2.31 |
| Lamb, domestic, shoulder, arm, separable lean only, trimmed to 1/4″ fat, choice, cooked, braised | 3 oz | 2.30 |
| Seeds, pumpkin and squash seed kernels, roasted, with salt added | 1 oz (142 seeds) | 2.29 |
| Waffles, plain, frozen, ready -to-heat, toasted | 1 waffle | 2.28 |
| English muffins, plain, enriched | 1 muffin | 2.28 |
| Chicken, liver, all classes, cooked, simmered | 1 liver | 2.28 |
| Fast foods, taco salad | 1-1/2 cups | 2.28 |
| Sweet potato, canned, vacuum pack | 1 cup | 2.27 |
| Beef, round, bottom round, steak, separable lean and fat, trimmed to 1/8″ fat, all grades, cooked, braised | 3 oz | 2.27 |
| Macaroni and Cheese, canned entree | 1 cup | 2.27 |
| Doughnuts, yeast-leavened, glazed, enriched (includes honey buns) | 1 medium | 2.25 |
| Chicken, canned, meat only, with broth | 5 oz | 2.24 |
| Fast foods, frijoles with cheese | 1 cup | 2.24 |
| Beef, ground, 85% lean meat / 15% fat, patty, cooked, broiled | 3 oz | 2.21 |
| Lettuce, iceberg (includes crisphead types), raw | 1 head | 2.21 |
| Collards, cooked, boiled, drained, without salt | 1 cup | 2.20 |
| Fast foods, croissant, with egg, cheese, and bacon | 1 croissant | 2.19 |
| Potato, baked, flesh and skin, without salt | 1 potato | 2.18 |
| Plums, canned, purple, heavy syrup pack, solids and liquids | 1 cup | 2.17 |
| Cake, gingerbread, prepared from recipe | 1 piece | 2.13 |
| Noodles, chinese, chow mein | 1 cup | 2.13 |
| Beef, ground, 80% lean meat / 20% fat, patty, cooked, broiled | 3 oz | 2.11 |
| Cereals, oats, regular and quick and instant, unenriched, cooked with water | 1 cup | 2.11 |
| Beef, round, eye of round, roast, separable lean only, trimmed trimmed to 1/8″ fat, all grades, cooked, roasted | 3 oz | 2.09 |
| Barley, pearled, cooked | 1 cup | 2.09 |
| Peas, green (includes baby and lesuer types), canned, drained solids | 1 cup | 2.07 |
| Cookies, molasses | 1 cookie, large (3-1/2″ to | 2.06 |
| Fish, tuna salad | 1 cup | 2.05 |
| Lamb, domestic, shoulder, arm, separable lean and fat, trimmed trimmed to 1/4″ fat, choice, cooked, braised | 3 oz | 2.03 |
| Fish, haddock, cooked, dry heat | 1 fillet | 2.03 |
| Lettuce, butterhead (includes boston and bibb types), raw | 1 head | 2.02 |
| Toaster pastries, brown-sugar-cinnamon | 1 pastry | 2.02 |
| Beef, rib, whole (ribs 6-12), separable lean and fat, trimmed to 1/8″ fat, all grades, cooked, roasted | 3 oz | 2.01 |
| Beef, ground, 75% lean meat / 25% fat, patty, cooked, broiled | 3 oz | 2.01 |
| Toaster pastries, fruit (includes apple, blueberry, cherry, strawberry) | 1 pastry | 2.00 |
| Chicken, stewing, meat only, cooked, stewed | 1 cup | 2.00 |
| Pie, pumpkin, prepared from recipe | 1 piece | 1.97 |
| Turkey, all classes, dark meat, cooked, roasted | 3 oz | 1.96 |
| Beef, round, eye of round, roast, separable lean and fat, trimmed to 1/8″ fat, all grades, cooked, roasted | 3 oz | 1.95 |
| KELLOGG'S Eggo Lowfat Homestyle Waffles | 1 waffle | 1.95 |
| Oat bran, cooked | 1 cup | 1.93 |
| Cereals ready-to-eat, KELLOGG, KELLOGG'S CORN POPS | 1 cup | 1.92 |
| Entrees, fish fillet, battered or breaded, and fried | 1 fillet | 1.92 |
| Collards, frozen, chopped, cooked, boiled, drained, without salt | 1 cup | 1.90 |
| Soup, bean with pork, canned, prepared with equal volume water | 1 cup | 1.90 |
| Rice, white, long-grain, regular, cooked | 1 cup | 1.90 |
| Dandelion greens, cooked, boiled, drained, without salt | 1 cup | 1.89 |
| Fast foods, french toast with butter | 2 slices | 1.89 |
| Brussels sprouts, cooked, boiled, drained, without salt | 1 cup | 1.87 |
| Rolls, hard (includes kaiser) | 1 roll | 1.87 |
| Couscous, dry | 1 cup | 1.87 |
| Sweet potato, canned, syrup pack, drained solids | 1 cup | 1.86 |
| Cereals ready-to-eat, KELLOGG, KELLOGG'S RICE KRISPIES TREATS Cereal | 3/4 cup | 1.86 |
| Cowpeas (Blackeyes), immature seeds, cooked, boiled, drained, without salt | 1 cup | 1.85 |
| Fast foods, danish pastry, cheese | 1 pastry | 1.85 |
| Fast foods, potato, french fried in vegetable oil | 1 medium | 1.84 |
| Soup, pea, green, canned, prepared with equal volume water | 1 cup | 1.83 |
| Toaster Pastries, KELLOGG, KELLOGG'S POP TARTS, Frosted chocolate fudge | 1 pastry | 1.82 |
| Dates, deglet noor | 1 cup | 1.82 |
| Crustaceans, shrimp, mixed species, canned | 3 oz | 1.81 |
| Pie, blueberry, prepared from recipe | 1 piece | 1.81 |
| Pie, pecan, prepared from recipe | 1 piece | 1.81 |
| Lamb, domestic, leg, whole (shank and sirloin), separable lean only, trimmed to 1/4″ fat, choice, cooked, roasted | 3 oz | 1.80 |
| Cake, snack cakes, creme-filled, chocolate with frosting | 1 cupcake | 1.80 |
| Sauce, pasta, spaghetti/marinara, ready-to-serve | 1 cup | 1.80 |
| Snacks, KELLOGG'S, NUTRI-GRAIN Cereal Bars, fruit | 1 bar | 1.80 |
| Spaghetti, cooked, enriched, without added salt | 1 cup | 1.79 |
| Macaroni, cooked, enriched | 1 cup | 1.79 |
| Nuts, coconut meat, dried (desiccated), sweetened, shredded | 1 cup | 1.79 |
| Beef, cured, corned beef, canned | 3 oz | 1.77 |
| Cabbage, chinese (pak-choi), cooked, boiled, drained, without salt | 1 cup | 1.77 |
| Chicken, broilers or fryers, breast, meat and skin, cooked, fried | 1/2 breast | 1.75 |
| Bulgur, cooked | 1 cup | 1.75 |
| Noodles, egg, spinach, cooked, enriched | 1 cup | 1.74 |
| Biscuits, plain or buttermilk, prepared from recipe | 2-1/2″ biscuit | 1.74 |
| Pie, apple, prepared from recipe | 1 piece | 1.74 |
| Soup, minestrone, canned, reduced sodium, ready-to-serve | 1 cup | 1.74 |
| Waffles, plain, prepared from recipe | 1 waffle | 1.73 |
| Nuts, cashew nuts, oil roasted, with salt added | 1 oz (18 nuts) | 1.72 |
| Miso | 1 cup | 1.71 |
| Vegetables, mixed, canned, drained solids | 1 cup | 1.71 |
| Cake, pineapple upside-down, prepared from recipe | 1 piece | 1.70 |
| Fish, halibut, Atlantic and Pacific, cooked, dry heat | 1/2 fillet | 1.70 |
| Nuts, cashew nuts, dry roasted, with salt added | 1 oz | 1.70 |
| Lamb, domestic, loin, separable lean only, trimmed to 1/4″ fat, choice, cooked, broiled | 3 oz | 1.70 |
| Lamb, domestic, leg, whole (shank and sirloin), separable lean and fat, trimmed to 1/4″ fat, choice, cooked, roasted | 3 oz | 1.68 |
| Bread, white, commercially prepared (includes soft bread crumbs) | 1 cup | 1.68 |
| Pork, fresh, shoulder, arm picnic, separable lean only, cooked, braised | 3 oz | 1.66 |
| Cake, shortcake, biscuit-type, prepared from recipe | 1 shortcake | 1.65 |
| Snacks, popcorn, caramel-coated, with peanuts | 1 cup | 1.64 |
| Soup, chunky vegetable, canned, ready-to-serve | 1 cup | 1.63 |
| Bread, cornbread, prepared from recipe, made with low fat (2%) milk | 1 piece | 1.63 |
| Raspberries, frozen, red, sweetened | 1 cup | 1.63 |
| Potato salad, home-prepared | 1 cup | 1.63 |
| Spinach souffle | 1 cup | 1.62 |
| Muffins, corn, commercially prepared | 1 muffin | 1.60 |
| Beans, snap, yellow, cooked, boiled, drained, without salt | 1 cup | 1.60 |
| Soup, chicken noodle, canned, prepared with equal volume water | 1 cup | 1.59 |
| Beef, top sirloin, separable lean only, trimmed to 1/8″ fat, all grades, cooked, broiled | 3 oz | 1.59 |
| Peaches, dried, sulfured, uncooked | 3 halves | 1.58 |
| Poultry food products, ground turkey, cooked | 1 patty | 1.58 |