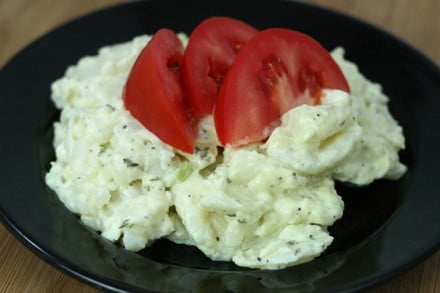 French Style Potato Salad Recipe
Let's Get Ready for Baby!
Sign up for our monthly pregnancy email series, and you'll get regular updates on your baby's development, helpful timelines to get ready for their arrival, must-have baby needs and so much more! PLUS, you'll get instant access to the MomsWhoThink "Ultimate Guide to Baby Naming in 2022."
CLICK HERE
to get started!
There are so many different styles of the beloved potato salad recipe. Most common are German, red potato and mom's classic potato salad.
This recipe is a little different. What makes it French style is the Dijon mustard, the dry white wine and of course, the tarragon (vinegar and herb itself). Tarragon is an integral player of French Cuisine. It's unmistakable anise-like aroma and flavor is so desirable in French cooking, from the professional chefs, who are truly artists, to the rustic kitchens of the countryside.
Ingredients:
6 medium potatoes
1 clove garlic, cut into halves
1/4 teaspoon instant beef bouillon
1/3 cup hot water
1/3 cup dry white wine
Tarragon Dressing Ingredients:
3 Tablespoons olive oil
2 Tablespoons tarragon vinegar
2 teaspoons chives, snipped
1 teaspoon salt
1 teaspoon Dijon mustard
1/2 teaspoon dried tarragon
1/8 teaspoon pepper
To Prepare Salad:
1. Heat 1-inch salted water (1/2 teaspoon salt to 1 cup water) to boiling. Add potatoes. Heat to boiling. Reduce heat. Cover and cook until tender, 30 to 35 minutes. Drain, cool and peel.
2. Rub 2- quart bowl with garlic. Discard garlic. Cut potatoes into 1/4-inch slices and place in bowl.
3. Dissolve bouillon in hot water. Add wine.
4. Pour over potatoes. Cover and refrigerate, stirring once or twice. Drain.
To Prepare Dressing:
1. Shake all ingredients in tightly covered jar and gently toss with potatoes. Sprinkle with parsley. Garnish with tomato wedges if desired.