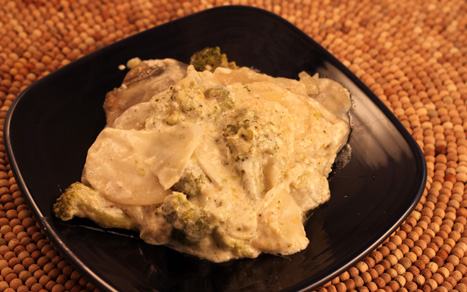 Gratin Potatoes with Asiago Cheese and Broccoli
Ingredients:
2 Tablespoons olive oil
6 medium baking potatoes, peeled and thinly sliced
1 small (approx. 10 ounce) package frozen broccoli florets
1 cup grated Asiago cheese
1 cup Parmesan cheese
1 teaspoon salt
1/2 teaspoon black pepper
2 cups heavy cream
Directions:
1. Boil potatoes over medium heat, uncovered for about 10 minutes (until partially done, still firm in center).
2. Drain and rinse potatoes in cold water and set aside.
3. Pour olive oil into crockpot. Layer one fourth of potatoes on bottom of crockpot.
4. Layer one fourth of broccoli florets over the potatoes.
5. Top with one fourth of the Asiago cheese and one fourth of the Parmesan cheese.
6. Sprinkle salt and pepper evenly on top.
7. Repeat layers: potatoes, broccoli, cheeses. Slowly pour the cream over everything.
8. Cover; cook on LOW 7 to 9 hours or on HIGH 5 to 6 hours.