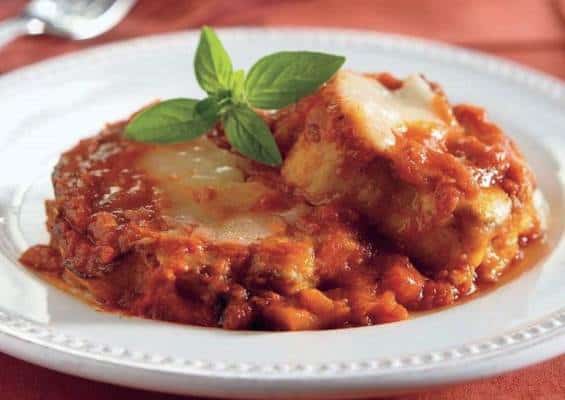 Manchego Italian Eggplant
Ingredients:
4 large eggplants
1 cup flour
2 Tablespoons olive oil
1 teaspoon minced garlic
25-1/2 ounces roasted garlic flavor pasta sauce, divided
3 Tablespoons Italian seasoning, divided
1 cup grated manchego cheese, divided
24 ounces marinara sauce, divided
Directions:
1. Peel eggplants and slice horizontally into 3/4-inch-thick pieces.
2. Place flour in shallow bowl. Dredge each slice of eggplant in flour to coat.
3. Heat oil in large skillet over medium-high heat. Add minced garlic to oil, brown slightly.
4. In batches, lightly brown eggplant on both sides.
5. Pour a thin layer of roasted garlic flavor pasta sauce into bottom of crockpot.
6. Top with eggplant slices, Italian seasoning, manchego cheese and marinara sauce.  Repeat layers until all Ingredients: have been used.
7. Cover and cook on HIGH 2 hours.