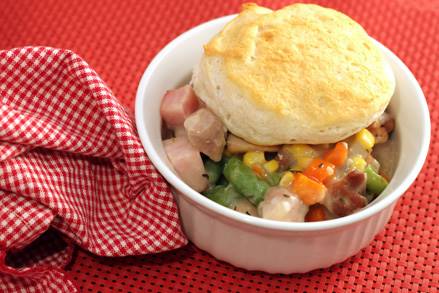 Ham and Chicken Biscuit Pie
Ingredients:
1 (7 ½ ounce) package refrigerated buttermilk biscuits
1 Tablespoon butter
1 pound skinless boneless chicken thighs, cut into cubes
1 (8 ounce) ham steak, cut into cubes
2 garlic cloves, minced
1 onion, chopped
1 (10 ounce) package frozen mixed vegetables
1 cup chicken broth
1 teaspoon dried thyme
½ teaspoon ground black pepper
2 Tablespoons cornstarch
¾ cup milk
Directions:
1. Preheat the oven to 400 degrees F. Prepare the biscuits according to package directions
2. Meanwhile, melt butter in a large nonstick skillet over medium-high heat.
3. Add the chicken and ham; cook, stirring occasionally, into the chicken is almost cooked through, about 6 minutes.
4. Add the garlic, onion, and mixed vegetables.
5. Cook, stirring occasionally, until the vegetables are tender, about 4 minutes.
6. Stir in broth, thyme, and pepper; cook 2 minutes.
7. Blend cornstarch with the milk in a small bowl, and stir into the skillet. Bring mixture to a boil and cook, stirring constantly until thickened, about 1 minute.
8. Top the skillet with the biscuits and serve. Makes 6 servings.
Try one of our favorite 30 Minute Meals: