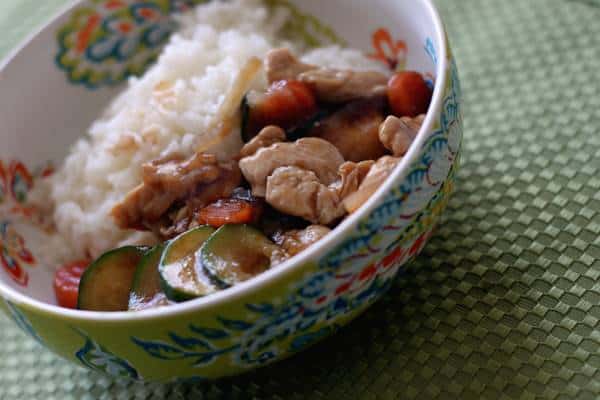 Healthy Turkey Stir-Fry Recipe
Let's Get Ready for Baby!
Sign up for our monthly pregnancy email series, and you'll get regular updates on your baby's development, helpful timelines to get ready for their arrival, must-have baby needs and so much more! PLUS, you'll get instant access to the MomsWhoThink "Ultimate Guide to Baby Naming in 2022."
CLICK HERE
to get started!
Put down that take out menu! We've got a great, healthy recipe for turkey stir fry that will make your favorite take out restaurant obsolete.
The fact that you can get it on the table in less then 30 minutes is an added bonus, it takes longer then that for the food to be delivered from the take out restaurant of your choice. We've packed in lots of delicious veggies, so you can feel good about serving it to your family and friends.
Ingredients:
1 chicken bouillon cube
½ cup hot water
2 Tablespoons soy sauce
1 Tablespoon cornstarch
2 Tablespoons vegetable oil
½ teaspoon garlic powder
1 pound turkey, cubed
1¾ cups carrots, thinly sliced
1 cup zucchini, sliced
½ cup onions, thinly sliced
¼ cup hot water
Directions:
1. Combine chicken bouillon cube and hot water to make broth; stir until dissolved.
2. Combine broth, soy sauce, and cornstarch in small bowl. Set aside.
3. Heat oil in skillet over high heat. Add garlic and turkey. Cook, stirring, until turkey is thoroughly
cooked and no longer pink in color.
4. Add carrots, zucchini, onion, and water to cooked turkey. Cover and cook, stirring occasionally, until vegetables are tender-crisp, about 5 minutes. Uncover, bring turkey mixture to boil. Cook until almost all liquid has evaporated.
5. Stir in cornstarch mixture. Bring to boil, stirring constantly until thickened. Serve as is or over hot cooked rice or quinoa.
Makes 4 Servings, about ½ cup each
PER SERVING:
Calories 195
Total fat 9 grams
Saturated fat 2 grams
Cholesterol 44 milligrams
Sodium 506 milligrams