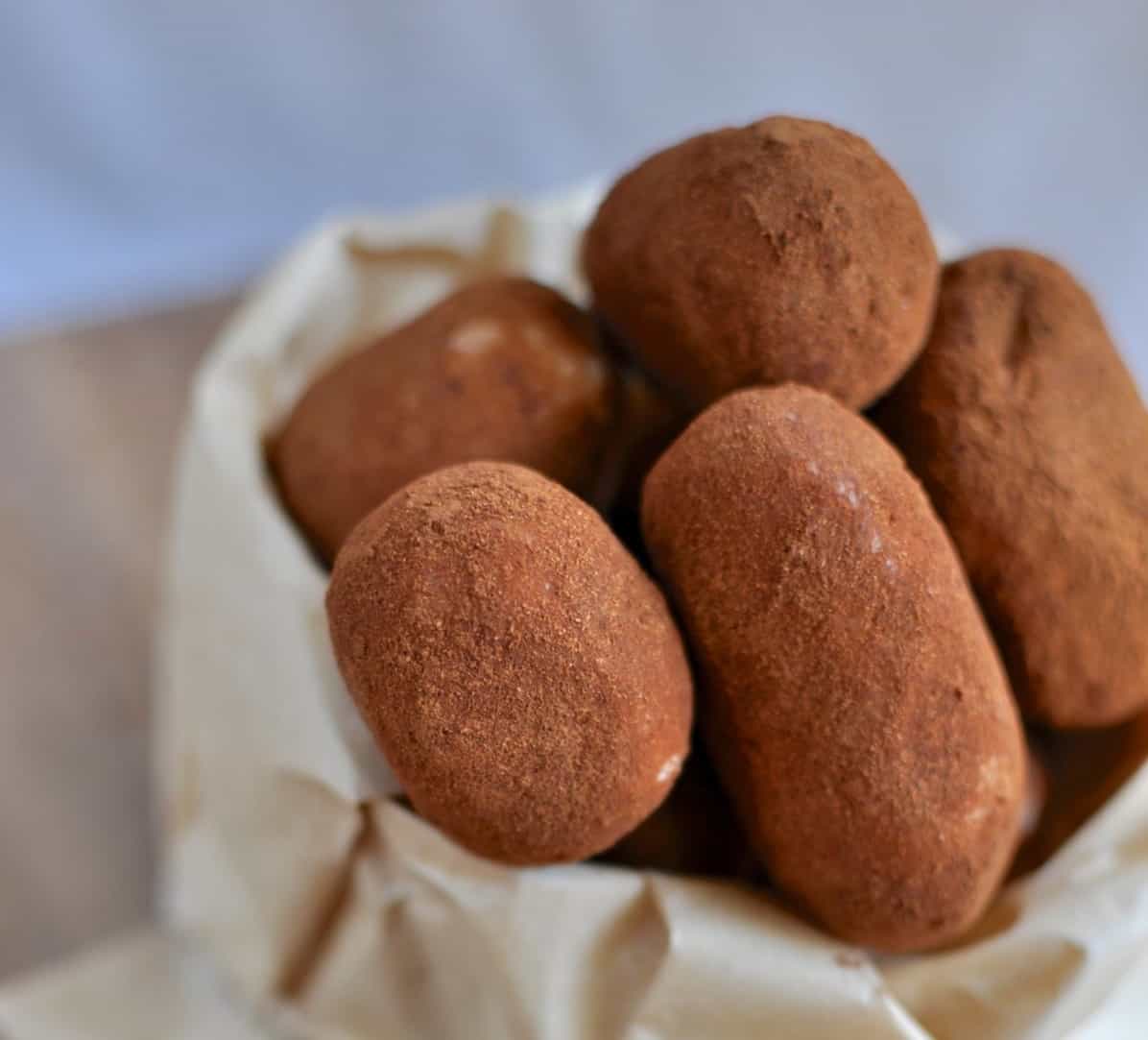 Irish Potato Candy Recipe
Let's Get Ready for Baby!
Sign up for our monthly pregnancy email series, and you'll get regular updates on your baby's development, helpful timelines to get ready for their arrival, must-have baby needs and so much more! PLUS, you'll get instant access to the MomsWhoThink "Ultimate Guide to Baby Naming in 2022."
CLICK HERE
to get started!
If you've never eaten Irish Potato Candy, what are you waiting for?
Though a candy made from potato may not sound like the most delectable treat, you may be surprised to find out that these are neither authentically Irish nor are they made from potato. Rather, these potato looking treats originated in Philadelphia. The cream is made from coconut, confectioner's sugar, cream cheese and vanilla. They are then rolled in cinnamon giving them the appearance of small potatoes.
Like many households, we've always had Irish Potato Candy in our house around Saint Patrick's Day. These are the true candy made with cream cheese and coconut. There is another version of Irish Potatoes that uses mashed potatoes, but it just never sounded good enough to replace what we've been making.
The photo above is the pretty version of an Irish potato, it almost looks like a real potato. However, they can be made in a variety of ways.
I've also made the "I want them now and they need to be the size of a log" version. I make these once a year, they're so addictive and sugary and sweet but not grossly so…which means I eat far too many (the reason why I only make them once a year).  
By the time it's Irish Potato Candy making time, I want them bad. I know they whip up quick, but to get the best texture and creaminess factor, they need to chill in the fridge. Because of that, I tend to hurry up the design process to get them in the fridge quicker. They don't suffer taste-wise by being homely looking and no one seems to complain!
Once they are ready, I serve them to my family for a delicious holiday treat. It just wouldn't be St. Patrick's Day without them!
Irish Potato Candy
Makes about 4 dozen pieces of potato candy
Ingredients:
1/4 cup butter, softened
4 ounces cream cheese
1 teaspoon vanilla extract
3-4 cups confectioners sugar (it needs to be firm, the average is 3 1/2 cups)
2 1/2 cups flaked coconut
1 Tablespoon ground cinnamon
1/2 Tablespoon cocoa powder (optional, for those who think the cinnamon is too strong)
Directions:
1. In a medium bowl, beat the cream cheese and softened butter together until smooth.
2. Add the vanilla. Slowly add the confectioners sugar, beating well to mix with every addition.
3. Add the coconut (you may need to lower the mixer speed to blend the coconut into the mixture evenly).
4. Chill mixture for 30 minutes.
5. Roll the mixture in balls, then mold each ball to resemble a potato shape.
6. Roll balls in cinnamon (and cocoa if using).
7. Place the "potato" on a cookie sheet lined with foil. Chill for an additional 30 minutes, then enjoy!