While most people associate watermelon with summertime picnics and outdoor gatherings, it is a versatile fruit that many enjoy year-round. Famous for its juicy texture and natural sweetness, how healthy is watermelon, really? We will take a closer look at watermelon and explore both its health benefits and possible downsides. Additionally, we will suggest some creative ways to eat your next watermelon.
What Is Watermelon?
Watermelon, the juicy red fruit most associated with summertime, is a member of the Cucurbitaceae family, a type of gourd that includes squash, pumpkin, cucumber, and zucchini. While there are over 1,000 varieties, the five most common types of watermelons are seeded and seedless, mini watermelons, and yellow and orange watermelons.
This large fruit with a red juicy interior and hard exterior rind grows in tropical or temperate climates. In 2020, farmers produced 101.6 million tonnes (metric tons) of watermelon worldwide. Watermelons are grown in forty-four US states, with Florida as the top producer. The largest watermelon ever recorded weighed 351 pounds and was grown in Tennessee.
The Health Benefits of Watermelon
Watermelon contains a number of nutrients, including vitamins and antioxidants. Moreover, watermelons are ninety-two percent water, meaning they are an excellent hydration source. If that was not impressive enough, watermelon is also a low-calorie food despite its density. Research suggests that eating high-density, low-calorie foods aids in losing weight because you feel fuller longer.
Here is the nutritional breakdown for one cup of diced watermelon.
| | |
| --- | --- |
| Water | 139g |
| Sodium | 1mg |
| Fat | 0g |
| Sugar | 9g |
| Vitamin C | 12mg |
| Magnesium | 15mg |
| Calcium | 10mg |
Table showing the nutritional value of one cup of diced watermelon
Furthermore, watermelon contains several heart-healthy nutrients, including citrulline, magnesium, and potassium. Citrulline lowers blood pressure by helping your blood vessels to expand. Also, watermelon includes Vitamins A, B6, and C, all of which support a healthy heart. Studies also suggest that watermelon lowers inflammation in the body, promotes healthy skin, improves digestion, and helps sore muscles recover.
And it is not just the red, juicy fruit itself. Both the rind and seeds of watermelon also have nutrients. Dried or raw watermelon seeds have magnesium, folate, and fatty acids that reduce bad cholesterol. The rind, which is rich in magnesium and potassium, can be added to smoothies, salads, or even pickled. Since you can eat the watermelon's fruit, seeds, and rind, it is a zero-waste food, making it also good for the planet.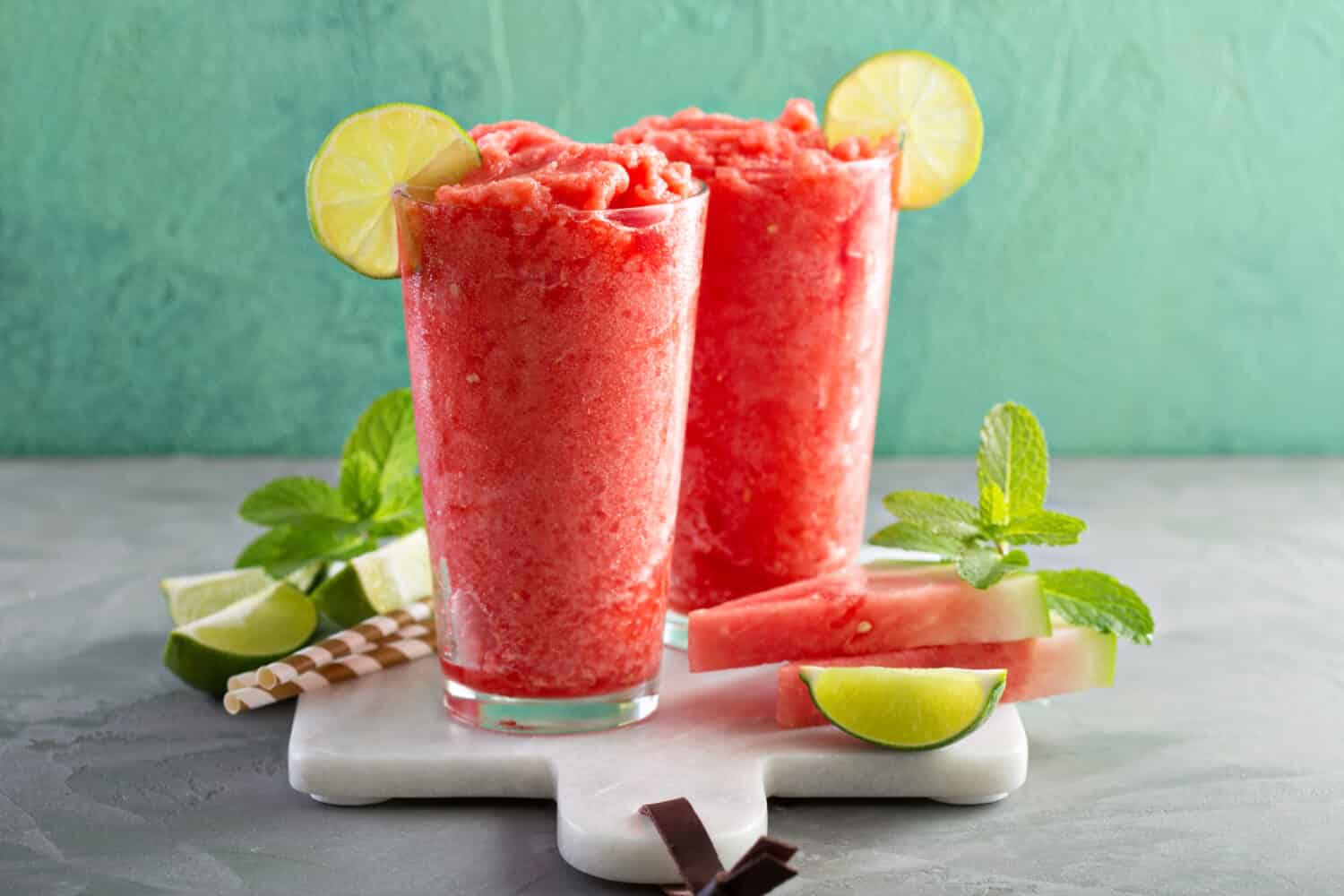 The Downsides of Watermelon
While it has many health benefits, watermelon does have its downsides. While it is generally considered good for digestion, those with Irritable Bowel Syndrome (IBS) and other similar conditions may have trouble digesting watermelon due to the fermentable oligosaccharides, disaccharides, monosaccharides, and polyols (FODMAPs). These are carbohydrates that people with digestive issues have trouble with because their intestines struggle to absorb them. These carbs also tend to draw more water into the intestines, causing discomfort.
If you are allergic to grass or ragweed, you may want to avoid watermelon because you may have an allergic reaction, like hives or swelling. People with diabetes should also avoid or limit the amount of watermelon they consume due to the amount of natural sugar it contains. Finally, if you are prone to migraines, watermelon contains tyramine, an amino acid known to trigger migraine headaches.
Can You Eat Watermelon Every Day?
The Centers for Disease Control and Prevention (CDC) recommends eating two servings of fruit per day. If you love watermelon and have no health concerns, you can safely enjoy watermelon every day. Why limit this delicious fruit to the summertime? However, it is always a good idea to eat a variety of fruits and vegetables for maximum health benefits. If you are looking for creative ways to incorporate more watermelon into your diet, here are some ideas.
Blend frozen watermelon into your smoothies. You can also make a watermelon slushie using watermelon and ice.
Add watermelon as a salad topping.
Spice up your watermelon with black pepper, salt, or lime.
Add feta cheese to your watermelon.
Use watermelon to make delicious freezer pops.
To make flavored water, simply add watermelon to a pitcher of water.
Add watermelon juice to lemonade.
A delicious cocktail can be made by mixing vodka with watermelon juice.
If mocktails are more your speed, you can use watermelon to make agua fresca.
Fun Facts About Watermelon
Now that we know how good watermelon is for us, here is some fun trivia:
Watermelons date back 4,000 years to Ancient Egypt. In fact, watermelon seeds were found in King Tutankhamun's tomb.
While botanically, watermelon is a fruit, it is also classified as a gourd. Moreover, watermelons contain seeds like fruit. However, many gardeners consider them a vegetable because they grow in their summer gardens with peas and corn.
The debate over whether watermelon is a fruit or a vegetable sparked controversy in 2007 when Oklahoma named it the state vegetable.
Hybridization is the process responsible for the creation of seedless watermelons, which occur naturally. Many people mistakenly believe seedless watermelons are genetically modified.
In Japan, square watermelons are grown by placing them inside square containers. Why? It makes it easier to store and transport them.
Watermelon seed spitting contests are popular. The world record for watermelon seed spitting is seventy-five feet.
In Summary
While watermelon is typically associated with the summer, it is a versatile, delicious food with numerous health benefits that can be enjoyed year-round. Watermelon contains heart-healthy minerals like magnesium and potassium. Moreover, watermelon has Vitamins A, B6, and C, vitamins that also promote heart health. Furthermore, it is an excellent source of hydration and a great food choice for losing weight.
However, if you have digestive issues or diabetes, you may need to avoid watermelon or eat it in moderation. It is always best to check with your family doctor regarding your specific health needs. Overall, the evidence suggests that watermelon is a healthy food that can be enjoyed as part of a balanced diet.
Refreshing Watermelon Slushie Recipe
Print
Watermelon Slushie
---
1 pint

fresh strawberries (cleaned & hulled)

2 1/2 cups

watermelon (seeded & cubed)

1/3 cup

sugar

1/4 cup

lemon juice

2 cups

ice cubes
---
Instructions
Combine all of the ingredients except the ice in a blender, and blend well.
While blending, gradually add the ice, continuing to blend until smooth.
Serve immediately.
The image featured at the top of this post is ©MariaTsygankova/Shutterstock.com.